It's been just over a year since Augusta University President Brooks A. Keel, PhD, and other university leaders announced AU's new strategic plan, Creating a Legacy Like No Other, and in the year since the roll-out, colleges and schools, departments, and smaller teams and units have worked to align their respective goals and strategic plans with the greater university plan.
Outlined within Creating a Legacy are three aspirational imperatives supported by five strategic priorities and three interwoven priorities, all aimed at elevating Augusta University into an institution of higher education like no other, not just in the state of Georgia, but across the region, nation and beyond.
"When we announced Creating a Legacy Like No Other, we understood the scope of the lofty goals we placed upon ourselves, but we truly believe that Augusta University is a one-of-a-kind institution for student success, research and community engagement," Keel said. "In the last year alone, we have seen significant achievements and innovative partnerships that point to a brighter future for Augusta University."
Aspirational Imperative 16×30
The strategic plan's first aspirational imperative is reaching an enrollment of 16,000 students by 2030. This includes enrolling more new students and keeping them here once they arrive.
"Our enrollment at Augusta University has grown every year since 2015, and we expect continued growth in fall 2023," said Susan Davies, PhD, vice president for enrollment and student affairs. "From new educational programs and exciting new partnerships to new initiatives aimed at setting our students up for success, everything we are doing is strategically aligned to not only grow our student population, but also to make sure the Augusta University student experience is like no other."
One of the biggest components of reaching the 16×30 goal will be the success of Augusta University Online.
Over the last year, Marc Austin, PhD, associate provost and dean of Augusta University Online, has assembled a team to get the new academic support unit off the ground and ready for students to enroll for the fall 2023 semester. Augusta University Online has introduced three graduate-level online programs and will expand in the coming years at a measured pace based on needs of the workforce and students.
Augusta University Online will directly benefit from a memorandum of understanding (MOU) that was signed between AU and the U.S. Army Cyber Center of Excellence, which will enable soldiers to earn a Master of Science in Information Security Management or a Master of Arts in Intelligence and Security Studies from Augusta University completely online.
Unique partnerships like the MOU with ARCYBER will be a strong driving force behind AU's projected growth. Other partnerships that have been announced and are continuing to grow include Augusta Advantage, which offers Augusta Tech students a more efficient pathway to transition from a two-year associate's degree to a four-year bachelor's degree, and Pounce to Your Profession, a dual-enrollment partnership with Columbia County schools.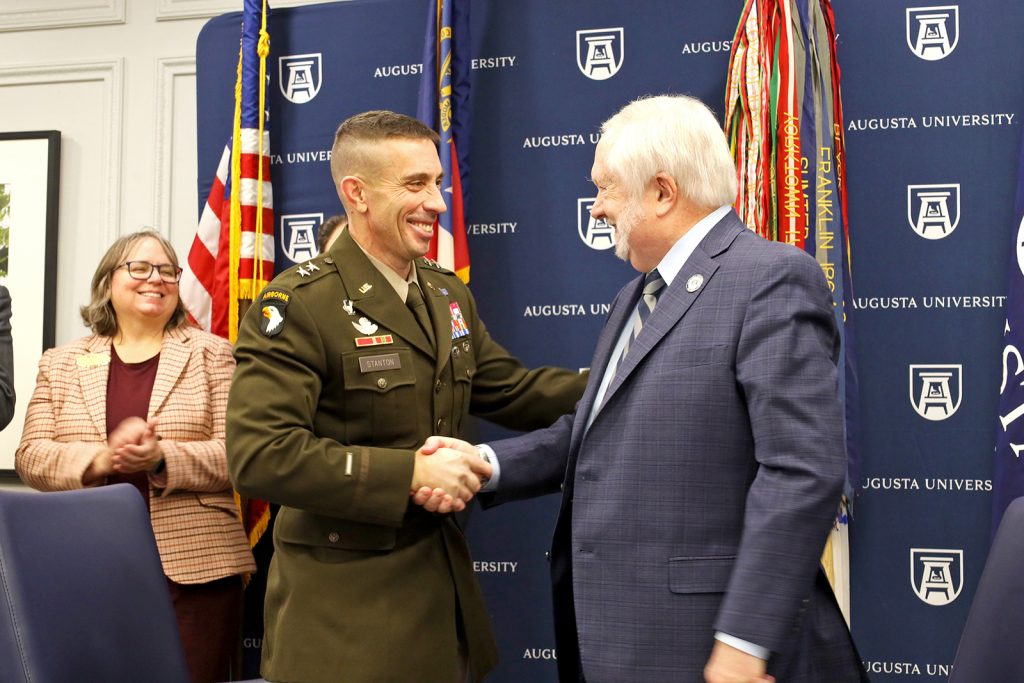 Another initiative getting off the ground will be the new School of Public Health, combining Augusta University's foundational public health pieces into a unified effort. Teresa M. Waters, PhD, will join AU in August as the inaugural dean of the new school, and she will be tasked with getting the School of Public Health up and running quickly.
Other recently announced programs that are on schedule to begin in the coming years, all of which will further support students' ability to fulfill Georgia's workforce needs, include undergraduate programs in biomedical systems engineering, neuroscience and a unique Bachelor of Arts in Sports Management, as well as a new graduate certificate in epidemiology intelligence. On top of the new programs, already established degree offerings are set to expand in the near future, including the animation program that has the infrastructure in place to grow from 40 students to 400, as well as an experiential learning experience around sports broadcasting.
But new schools, programs and partnerships aren't the only way to keep students interested in Augusta University. It takes support services to match and create an experience like no other for Augusta University's students, including scholarships.
Some of the notable scholarship activity taking place at the university include a new scholarship from Chick-fil-A and AU Faculty Club health sciences scholarships being expanded. In the 2022 Georgia legislative session, and with the support of Gov. Brian Kemp, the Georgia General Assembly allocated $8.7 million in state funding for the Medical College of Georgia at Augusta University's 3+ Primary Care Pathway program, and the MCG Foundation is providing $8.7 million in scholarships to match the original allocation.
Numerous alumni, current faculty and staff and long-time supporters have also stepped up to bolster AU's scholarship offerings, including the Usry family adding scholarships to students in the James M. Hull College of Business and a College of Nursing program chair and her mother creating a scholarship. Local entrepreneur and alumnus of Hull College of Business Mason McKnight III and his wife Lou were awarded the President's Award after they continued their tremendous contributions to AU by committing funds for Augusta University Athletics.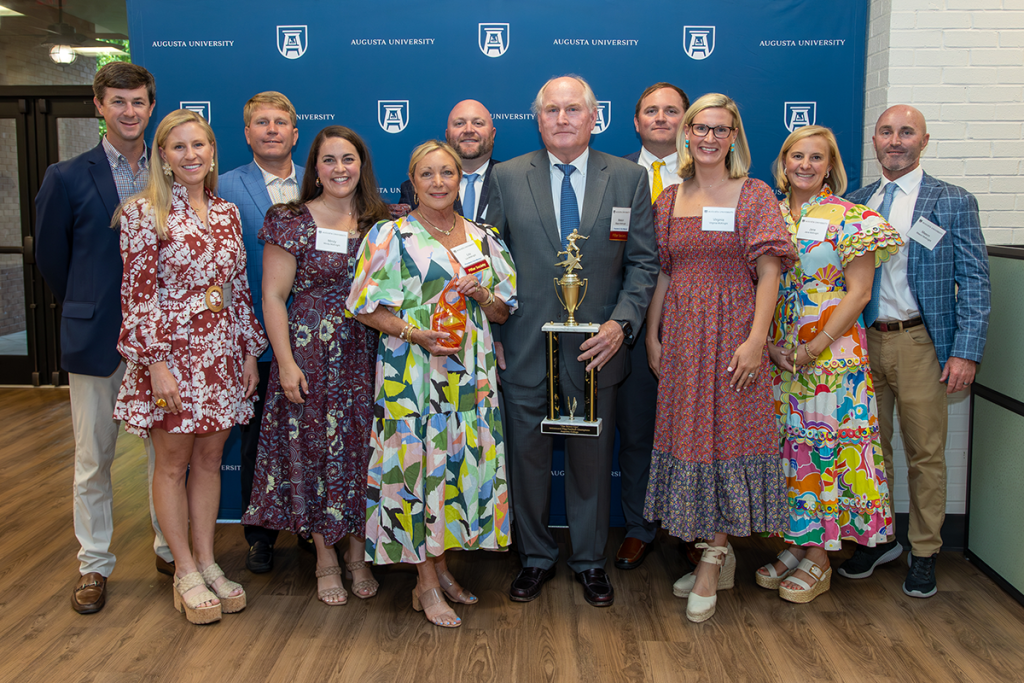 "Scholarships are vital to our students. They have the power to change lives by making education accessible and affordable, essentially leveling the playing field," said Brandon T. McCray, vice president for development in philanthropy & alumni engagement. "We are very grateful for the philanthropic support over the years that has produced our current scholarships, and we plan to create many more student opportunities through scholarships as Augusta University continues to grow."
On top of new degree offerings and scholarships, the recently-announced Jags4Jags Mentorship Program is aimed at helping first-year students better transition to college life and continuing on a pathway to success by offering a close-knit network of mentors. The new program will pull all previously established mentorship programs under one banner, offering students a one-stop shop for finding a mentor or becoming a better mentor.
Another area in which Augusta University has focused resources to aid in student success are Living Learning Communities, which offer students a dynamic residential experience tailored to their programs. Students in the JAGByte LLC attended a laser-cutting workshop during fall 2022. The workshop included the use of vector graphics software and was hosted by the Georgia Cyber Center. Also in the realm of computer and cyber, students involved with the School of Computer and Cyber Sciences' VICEROY program and JAGByte LLC students had the unique opportunity to learn from industry leaders at Fort Gordon about career paths working with agencies in the Department of Defense, just one of the many opportunities to visit industry partners to see how the content in the classroom is applied in the real world.
To further support student success, the Center for Writing Excellence celebrated the opening of a larger space in Allgood Hall to accommodate its expanded array of services and support to students, faculty and staff, which include one-on-one and small-group consultations, writing retreats and publication workshop series.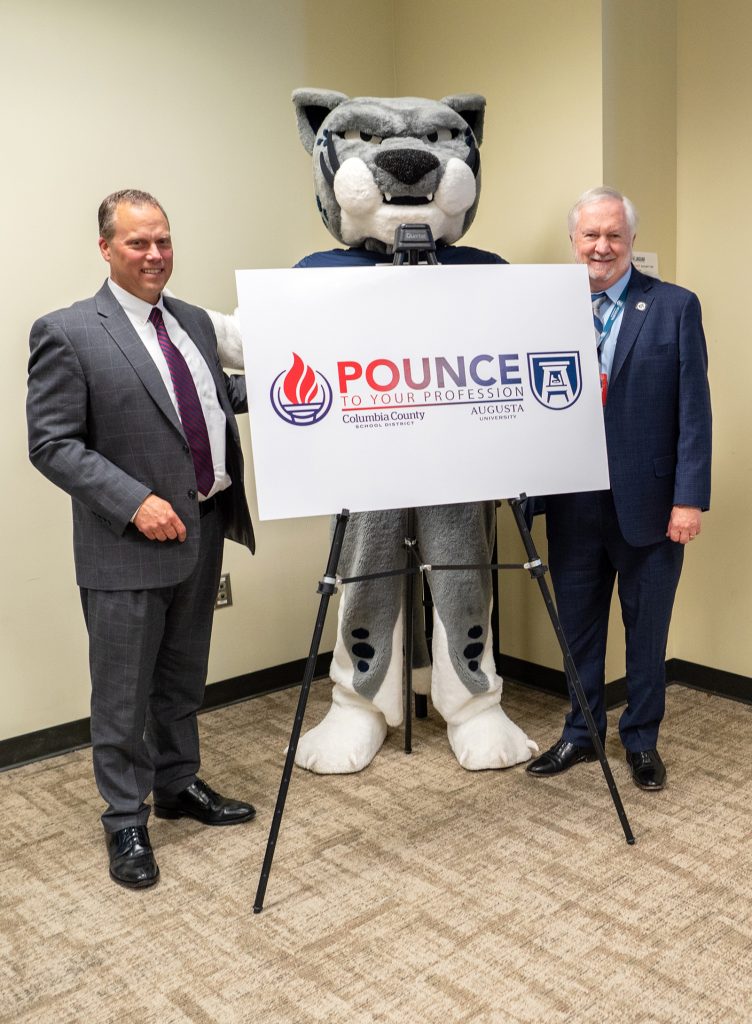 Aspirational Imperative 60×30
The strategic plan's second aspirational imperative is earning a top-60 NIH ranking by 2030 and becoming an R1 research university.
"President Keel originally charged us to build a bold strategic plan, and our first-year efforts have demonstrated success in that. Through our Living Learning Communities and annual Undergraduate Research and Fine Arts Conference, for example, we are continuing to create personalized student connections that support the whole student, and I continue to be amazed by their success," said Neil J. MacKinnon, PhD, executive vice president for academic affairs and provost.
In the last year, faculty researchers have received several notable awards, including Justin X. Moore, PhD, being recognized with the AACR Minorities Research Award, Teal Benevides, PhD, having her research ranked in the top 20 for autism, Jennifer Sullivan, PhD, earning a prestigious award for her research in physiology and Betty Pace, MD, being awarded the American Medical Women's Association's 2023 Woman in Science Award.
These and other awards recognize the significant research that AU faculty are conducting, but many researchers are involved in multiple projects. Many are lead researchers on projects and corresponding researchers on others, including Alejandro Baez, MD, and Craig Albert, PhD, who teamed up on several projects, including reflecting on their work on fusion centers to battle the COVID-19 pandemic and misinformation around it and used that research as a spring board for the new epidemiology intelligence degree.
In a huge step forward in bolstering research at Augusta University, David C. Hess, MD, dean of MCG, named immunologists and vascular biologists Lynn Hedrick, PhD, and Klaus Ley, MD, from the prestigious La Jolla Institute for Immunology in California co-directors of the new Center for Immunology at Augusta University. Their work will complement the efforts already being conducted throughout MCG, the Georgia Cancer Center, the Dental College of Georgia, the Institute of Public and Preventive Health and more.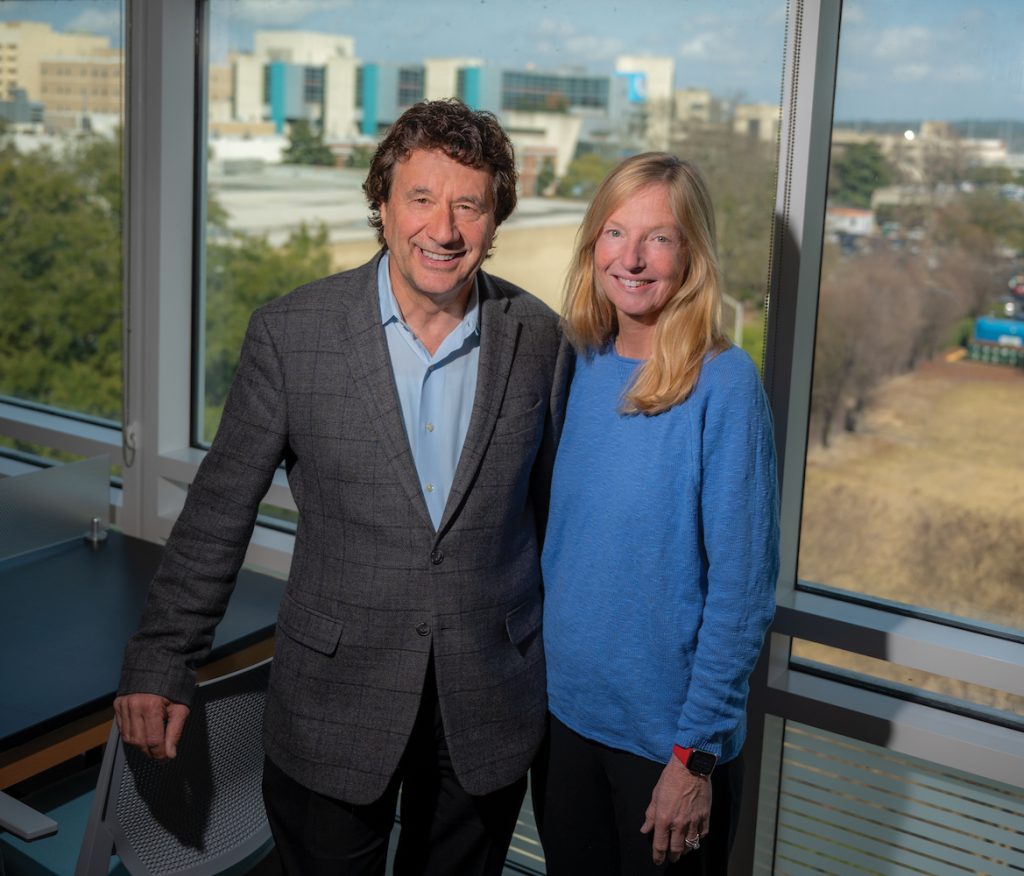 "We are excited about new initiatives over the past year that support the research goals outlined in the strategic plan," said Mark Hamrick, PhD, senior associate dean for Research at MCG. "These include our recent partnership agreement with Wellstar that is now being reviewed for regulatory approval, new recruitments in our Immunology Center of Georgia and related core lab investments in flow cytometry, spatial transcriptomics and multi-photon imaging, and additional pilot funding support for new program project grant applications to the National Institutes of Health."
Part of the research at the university revolves around the Healthy Georgia Report. 2023 marked the second year for this new endeavor aimed at helping legislators understand where Georgia is lacking in health care and steps that can be actively taken to help the entire state be healthier.
This effort ties in directly with another two-year-old program, Converge International Rural Health Symposium. In the fall of 2022, the second annual international symposium took place, and MacKinnon was able to award four $10,000 grants to collaborative research projects based around advancing rural health in both Georgia and Scotland for the second consecutive year.

Some other notable research projects being conducted by researchers at AU include Richard McIndoe, PhD, directing the coordinating unit for a national research initiative in diabetes and obesity, Lance Hunter, PhD, publishing research regarding social media being linked with civil disobedience, $11 million being granted for bone and muscle research and the Department of Defense awarding a grant for prostate cancer research at AU.
To aid current research pursuits, as well as new research that will begin in the coming years, a new qualitative research lab opened up in the Center for Social Science Research. From consultation on research design to conducting interviews and focus groups and data analysis, the lab is able to service research projects at all levels.
Research and discovery are a cornerstone of Augusta University, but to achieve this aspirational imperative, more research will need to be done, especially outside of STEM fields and health care.
In the realm of computer and cyber sciences, Albert and Ahmed Aleroud, PhD, an associate professor in the School of Computer and Cyber Sciences, were awarded a $500,000 grant, and a prestigious NIH grant is supporting student researchers at AU. Encouraging and enabling students, including undergraduates, to get involved in research will be key to helping achieve this imperative, as can be seen every year during Undergraduate Research Day.
Through his research, William Hatcher, PhD, chair of the Department of Social Sciences in Pamplin College of Arts, Humanities, and Social Sciences, co-authored Work-Life Balance in Higher Education. The book contains published essays from the Journal of Public Affairs Education, and topics include flexibility and a sense of job control.
Aspirational Imperative CCEx26
Creating a Legacy's third aspirational imperative is earning Carnegie Community Engagement Classification by 2026.
"Community engagement is one of the most important ways that Augusta University builds bridges with people and organizations for mutually beneficial outcomes," said Russell T. Keen, EdD, executive vice president for administration and chief of staff to the president. "Cultivating and stewarding community relationships and partnerships as a part of our strategic focus will set us apart from many other institutions of higher education."
Community engagement and service to the Augusta community, the state of Georgia, the region and beyond has always been a major focal point of the Augusta University experience, but as with the other two aspirational imperatives, there are more steps that can be taken to transition from a community service approach to a community engagement strategy.
"Our Carnegie Community Engagement Project team and strategic planning units have been working diligently to establish practices and infrastructure that will support institutional efforts to build a strong culture of community-engaged scholarship at Augusta University," said Tina Baggott, associate vice president for volunteer services and community engagement. "Our AU family is talking about community engagement and how they can play a part in achieving our shared aspirational goal of achieving the Carnegie Classification for Community Engagement by 2026. The best part is that you can visibly see this shift by just reading through Jagwire each week and looking at the number of stories that feature community-engaged learning, research and outreach efforts. It's so exciting to see our faculty, staff and students collaborating with community partners – and more importantly, seeing the positive impact that comes out of these collaborations that benefits both our campus and our shared community. It's truly a win-win."
Similar to the new programs that are helping Augusta University achieve the other two aspirational imperatives, a new program JagPulse was launched to help AU students, faculty and staff connect with community partners to find community engagement opportunities across the CSRA and Georgia. The new online platform allows Baggott's staff to collect data and report on the engagement that students, faculty and staff pursue in the community each year. Carnegie Community Engagement Classification requires multiple data points to show how an institution is positively impacting the local community and beyond.
One community engagement initiative unique to Augusta because of the strong computer and cyber sciences fields in the area is Augusta University's SIEGE CyberOps that provides cybersecurity services throughout Georgia.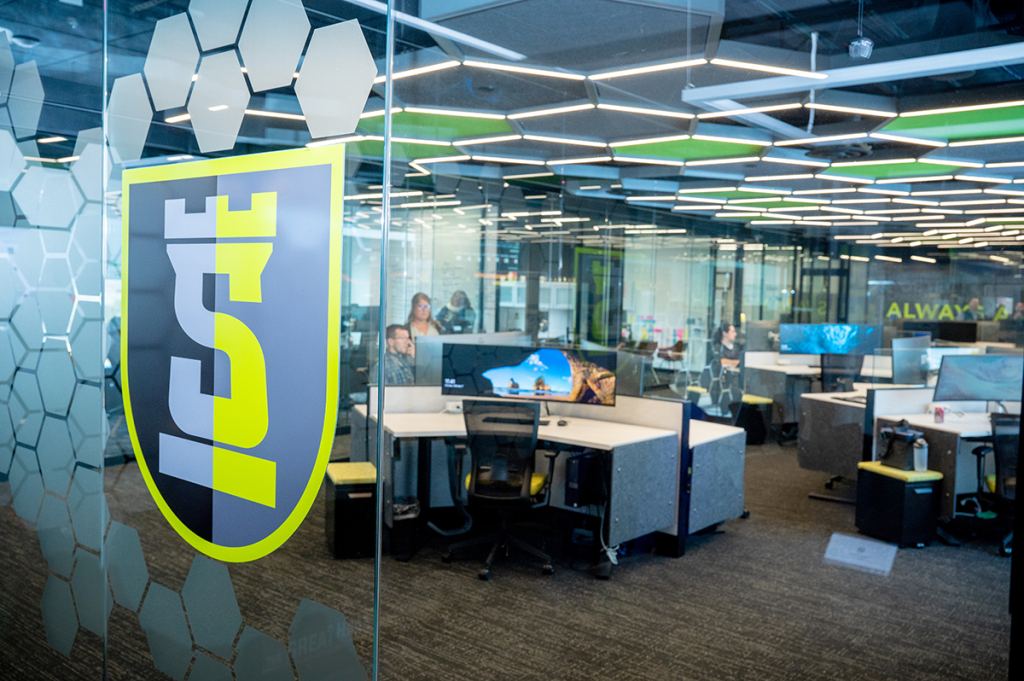 Many of AU's previously established community engagement events, including Days of Service and DCG's Give Kids a Smile Day, are already great ways to showcase AU's commitment to Augusta, but even more initiatives have been added in the last year.
Members of the College of Nursing supported local women who suffer from substance abuse and mental health challenges and teamed up with DCG to host a health fair for truck and bus drivers this year. AU's Institutional Review Board stepped up with numerous community outreach and engagement events aimed at helping bridge the gap between the health care and research industries and the general public, and Clínica Latina is closing in on the completion of new space that will allow MCG students to better serve an under-represented community.
Mentorship programs that stretch beyond the AU campus have been created, including students from MCG who were mentors to students at Tutt Middle School, helping them learn about the dangers of opioids and the importance of staying drug free. Laura Williamson, PhD, director of the Center for Bioethics and Health Policy within IPPH, created a new mentorship program for AU students to help high school students at Lucy Craft Laney High School, and Marlo Vernon, PhD, introduced the CHANGE initiative, which has provided fresh produce to the Peabody Apartment Complex and an exercise program to Ervin Towers, as well as more recently creating a story walk for the MM Scott Community.
Another way in which Augusta University has continued to engage the local and broader communities are through various visiting scholars series, including the Faculty Inclusive Excellence Initiative beginning a visiting scholars program and IPPH beginning a new visiting scholars lecture series on bioethics. Both series bring in voices from faculty researchers and experts from around the country to benefit faculty, staff, students and community members.
The Augusta University Literacy Center moved into its new location at the HUB for Community Innovation Augusta, and a new endowment from an alumna and board member of the Literacy Center will bolster program offerings. AU also partnered with Augusta Tech to offer free adult education classes, and the Office of Military and Veteran Services created a new council on veterans aimed at helping service members and veterans navigate the college landscape.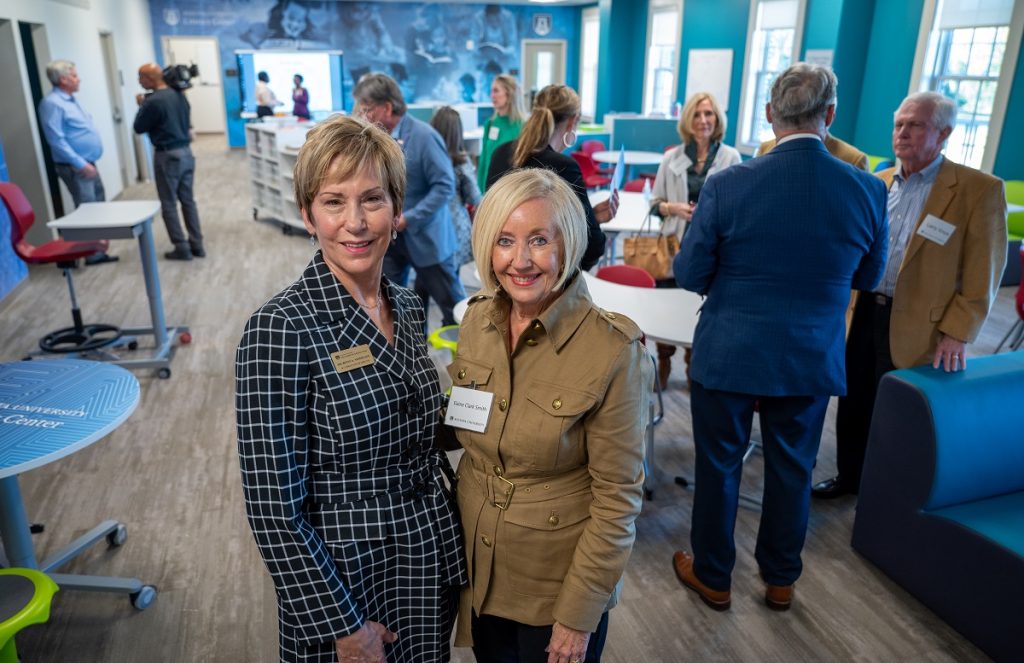 Where Augusta University goes from here
The strategic plan states, "Augusta University provides an experience like no other …a world-class academic and social community that is inclusive and diverse and positions students for opportunity and success. Our vision is to be a top-tier university that is a destination of choice for education, health care, discovery, creativity and innovation. We are proud to be a dynamic, comprehensive research university. We strive to implement our mission, vision and core values in every aspect of our university. We have three aspirational imperatives guiding our work as we move into the next phase of our strategic plan. Our progress toward achieving these imperatives will indicate the effectiveness of our strategic actions."
While Creating a Legacy was being developed, AU leaders knew that resources would need to be allocated to strategic investments that would propel AU closer to reaching its three aspirational imperatives. Recent investments include a $4.9 million renovation to the Robert B. Greenblatt, M.D. Library, which includes doubling the number of group study spaces on the second floor and creating a one-stop shop for student support services.
While the ribbon cutting and grand opening for the College of Science and Mathematics building occurred in September 2021, the Board of Regents authorized Augusta University to increase the budget for the completion of the building's fourth floor. Construction to this space, which is over 28,000 square feet, is expected to be completed soon.
In FY23, the institution committed over $33 million total to strategic investments, many of which align with Creating a Legacy. Investments include faculty affairs support, funding for promotion and tenure, strategic enrollment management support, partnering with Gray Associates, Inc. to analyze data on academic programs and markets, stipends for graduate research assistantships, grants for the Israel/AU partnership, the WebMBA, library subscriptions, infrastructure updates to the Science Hall, Benet House and Forest Hills campus to include capital improvements, IT initiatives to include Wi-Fi, access control and cybersecurity research equipment and iLab, contribution toward a parking deck and contributions toward electronic health record system at the Medical College of Georgia to correspond with the funding approved by Gov. Kemp and the Georgia General Assembly.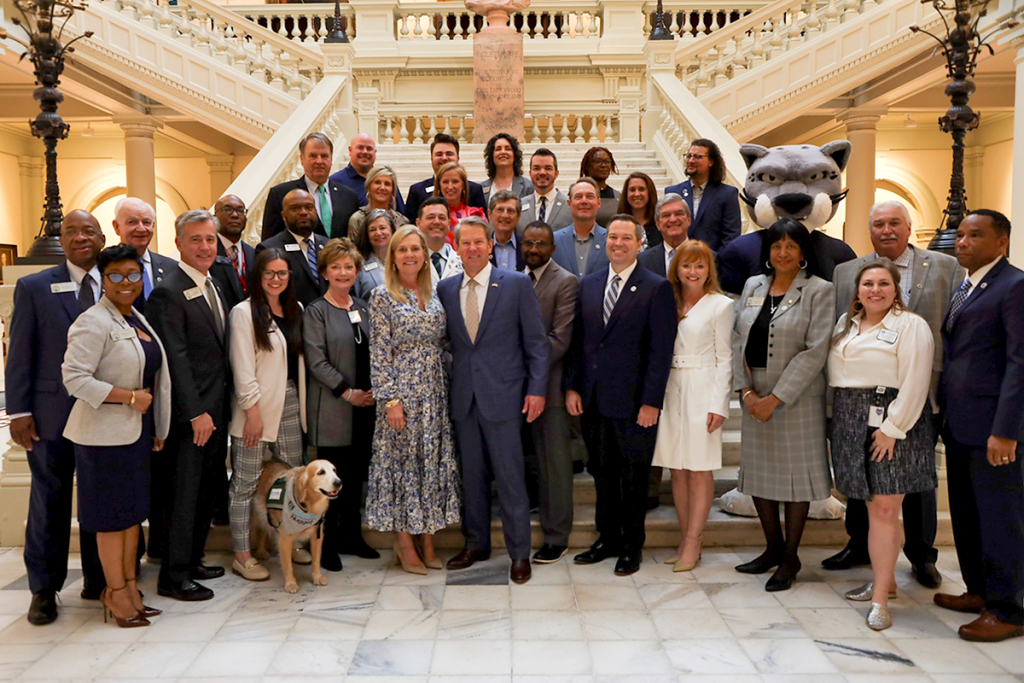 "Throughout our strategic plan, you see our commitment to providing the necessary infrastructure to achieve our goals," said Yvonne Turner, executive vice president of finance and chief business officer. "Departments and units are using innovative budgeting strategies, from streamlining processes to reallocating tasks, and team members are working to create a culture of financial stewardship. I am looking forward to continuing to work with units to creatively use existing funds to meet their needs and leverage operational efficiencies."
Over the coming year, AU members will develop a scorecard for Creating a Legacy to facilitate transparency and progress monitoring for the institution's achievement of the three aspirational imperatives.
One of the ways leaders across the university have been working together to achieve the strategic plan's goals has been a series of strategic alignment workshops. These workshops have allowed leaders from every school, college, division and unit to take part in roundtable discussions and learn from others who have successfully transitioned their areas under the new vision.
To conclude the first year of the new strategic plan, President Keel will deliver the State of the University Address at 1:30 p.m. on Wednesday, May 24 in the Maxwell Performing Arts Theatre, providing his assessment of the strategic plan's successes to date and the direction AU will be heading in the year to come.