As Georgia's only public academic medical center, Augusta University has a significant public health responsibility: a duty to support the health and wellness of the local and state community. One way the university realizes that mission is by providing vulnerable populations with access to medical care.
Clínica Latina is a free clinic managed by the Asociación Latina de Servicios del CSRA (ALAS), a nonprofit organization established in 2005 that supports the wellbeing of Hispanic people and other underserved populations in the CSRA. The clinic is presently run on the Health Sciences Campus at Augusta University.
ALAS offers several other free clinics and even extends past health care, also offering interpreter and identification services, English language education and cultural education to the community.
Daniel Herrera, a second-year medical student at the Medical College of Georgia, is head clinic coordinator for Clínica Latina, where he manages eight other coordinators that oversee the facility and support the patients.
"We really see uninsured or underinsured patients that are usually 200% under the federal poverty line. A majority of our patients have Hispanic or Latinx heritage, but it's not exclusive to them," he said. "We're willing to see anybody."
The clinic, which is open on the first and third Wednesday of every month, sees patients for a variety of health concerns — and sometimes, the appointments unearth serious medical issues.
"The other day we had a patient who came in with complaints of headache, and long story short, we ended up having to send her to get imaging done, and it turns out she had a brain tumor," he said.
"We were able to find her someone through AU Health that will see her, and all the costs of the treatment that she needs are going to be covered. That's the great thing about this clinic: We will go however many miles we need to go with a patient. We'll always go the extra mile."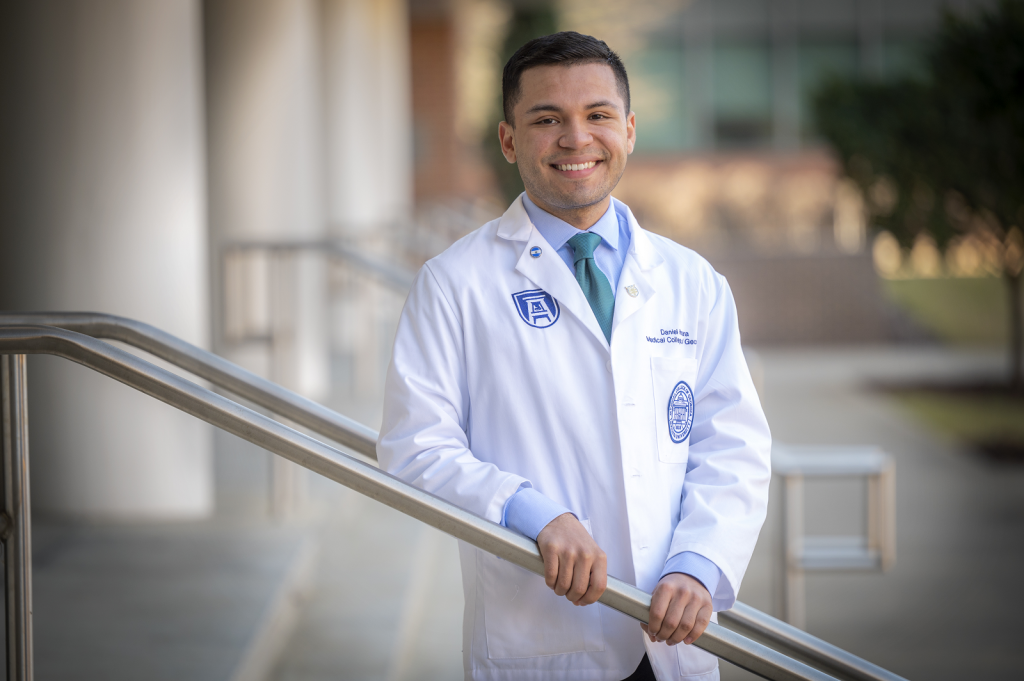 Herrera, a Gwinnett County native whose family is from El Salvador, is passionate about medicine — and specifically care for the Hispanic community — because he knows firsthand the obstacles that many Hispanic patients face. He remembered his aunt's struggle with illness many years ago, and how her concerns were dismissed by various physicians until she was admitted to the ER and finally diagnosed with hepatitis.
"I see a lot of these patients and they remind me of my aunts, my uncles, my cousins — because I know what they went through. I know what it's like to not have the help when you need the help."
Alvaro Cortez, a first-year medical student interested in primary care, also faced family health issues that drove him to medicine.
"I had a sister born with Trisomy 18 and I saw firsthand the challenges my Mexican immigrant parents faced, like many other Hispanic and Latinx patients encounter, when navigating health care in the United States and having limited English proficiency. I want to be a physician to help be an agent of change for this patient population," Cortez said.
"The presence and influence of Clínica Latina shows that the community needs support, and I really admire the standard of care the student clinic provides to any and all patients who come to receive culturally sensitive and quality care."
Cortez has volunteered at the clinic once before as an interpreter and is considering becoming a clinic coordinator himself.
Clínica Latina is typically booked three months in advance, Herrera said, with many patients regularly returning.
"That, I think, is the biggest testament to how much we've helped. If people weren't getting the help they needed, if they didn't feel welcome — didn't feel safe — coming to this clinic, we wouldn't be booked out like that," he said.
Herrera plans to work with the Hispanic and Latinx demographic throughout his medical career because he feels the community is so deserving of help.
"A lot of Hispanics and Latinos work in jobs that are hard labor. It's jobs that no one wants to work and they're very underpaid, and a lot of times they're taken advantage of because they don't have documents and if they needed to take legal action, they wouldn't be able to. So people can really do whatever they want with them. But the fact is, they can come to this clinic and get the health care that they deserve just like any other person."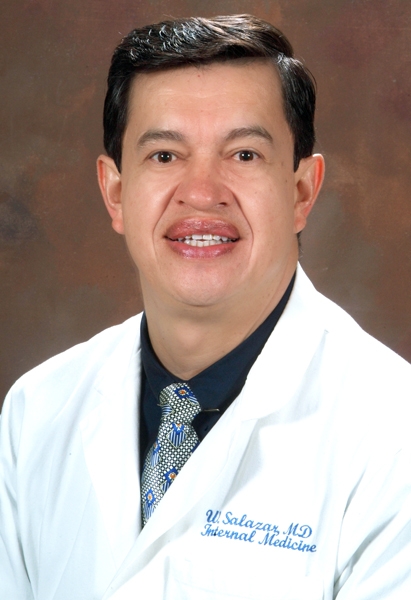 ALAS President Dr. William Salazar, professor of medicine at the Medical College of Georgia, said the clinic is run entirely by volunteers, and estimates that 600 volunteers support the greater nonprofit annually.
But it's not just Medical College of Georgia faculty and students who keep the clinic and its outreach efforts afloat: Salazar thanks many volunteers from across the community who support interpreter services, pharmacy services and more.
"We have developed an interdisciplinary approach to patient care to this vulnerable population, and every time I come from that clinic, I just feel so successful in helping this community."
Clínica Latina currently shares a space with the College of Nursing's Nurse-Managed Health Center on the Health Sciences Campus, but not for long. Due to the success and growth of ALAS's various clinics, the organization will open a new outpatient health center to house its clinic operations by early 2023.
The nonprofit was able to pay for the building and materials upfront thanks to the over $1.7 million Salazar has helped raise over the last 22 years he has worked with local at-risk populations. The health center building, located at 904 Merry St. in downtown Augusta, will be named Centro Médico William Salazar in honor of Salazar's legacy.
Salazar notes that ALAS is always looking for community support, and is open to all types of help.
"Any energy that you put to help, to really be mindful of others, is more than welcome. You can help with talent, you can help with time or you can help with money. If you have talent, you have ideas, come talk to us; if you have time, one minute is good for us; if you have one penny, one penny helps us."
---
Visit the ALAS website to learn more about Clínica Latina, explore the organization's other services and donate.