Dr. Justin Xavier Moore has been recognized with an American Association for Cancer Research Minorities in Cancer Research award.
Moore, an assistant professor at the Medical College of Georgia at Augusta University and an epidemiologist at the Georgia Cancer Center, attended the AACR Annual Meeting from April 8-13 in New Orleans, where he presented his findings from a study of rural Georgia counties pinpointing hotspots for death from four common cancers among minorities.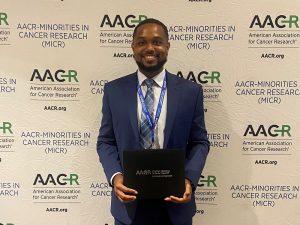 "To receive the prestigious 2022 American Association for Cancer Research, Minority in Cancer Research Faculty Scholar in Cancer Research award is a tremendous honor," Moore said. "AACR is an international scientific organization with over 50,000 members, making it one of the largest cancer research organizations in the world. The MICR is one of the larger subcommittees.
"Among the 30 AACR-MICR faculty awardees, I was the only African American man to be recognized with this award this year. I am thankful that at this early stage in my research career, I have gained the support and recognition for my research, and most importantly my contributions to the eradication of cancer health disparities among underrepresented communities.
"This award is awesome! Nevertheless, I have much more work to continue within the field of cancer epidemiology and minority health disparities."
The award "provides funds for the participation of full-time minority faculty members and faculty members of Minority-Serving Institutions, are awarded to scientists who are working at the level of assistant professor or above who are engaged in meritorious basic, clinical or translational cancer research," according to the AACR.
"Now in its 25th year, this award program has been supported by a generous grant provided by the National Cancer Institute's Center to Reduce Cancer Health Disparities. The CRCHD works to increase the number of underrepresented minorities participating as competitive NCI/NIH-funded cancer researchers."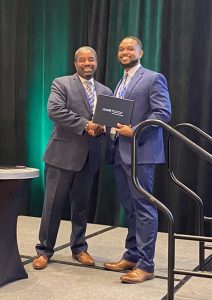 Moore, an assistant professor with the Cancer Prevention, Control, and Population Health Program in the Department of Medicine and the Institute of Public and Preventative Health at MCG, led a geographic and racial variation analysis to pinpoint death rates in the top 10% in the 24th largest state in the nation. Georgia remains mostly rural despite a population that regularly ranks among the country's largest. His data came from sources like the Centers for Disease Control and Prevention and county health rankings.
Georgia counties with the highest mortality rates from four common cancers tended to be more rural, have higher poverty rates and have a higher percentage of Black residents and/or older individuals, according to Moore's research.
Georgia's hotspots for death from breast, prostate, colorectal and lung cancer over a 20-year period from 1999 to 2019 were concentrated in the eastern Piedmont to the southern-most Coastal Plain regions, as well as the southwestern rural and northern-most rural areas.
Minorities in Cancer Research is a membership group within the AACR committed to preventing and curing cancer while meeting the professional needs and advancing the careers of minority scientists.