When Dr. Neil J. MacKinnon, provost and executive vice president for academic affairs, began his role at Augusta University in January 2021, he was determined to encourage research enterprise across all 10 colleges within their undergraduate, graduate and professional programs.
Not only does MacKinnon strive to promote comprehensive research at the university, but he also leads his own research program at Augusta University to help serve as a role model to the faculty. He believes developing his own research team will continue to encourage the upward trajectory of research currently supported by Augusta University President Brooks A. Keel, PhD.
"Going back to the fall of 2020, when President Keel offered this position to me, I asked if it would be OK as provost to continue to do some teaching and research, something that I did and really enjoyed as the dean of the James L. Winkle College of Pharmacy at the University of Cincinnati," MacKinnon said. "As the dean there, our research funding doubled. I even kept my own research program, to be a role model to my faculty. So, in the seven years as dean, I had 50 peer-reviewed publications."
Now, as provost of Augusta University, MacKinnon wants to set a similar example that research enterprise is vitally important and can be key to what sets universities apart from others.
"Even as provost, I want the faculty to know that I'm not too busy for research and, personally, I get a lot of joy and satisfaction out of doing it," MacKinnon said, adding that Dr. Michael Diamond, senior vice president for research at Augusta University, reports directly to the provost's office. "To me, what better way to understand the research enterprise than writing grant proposals, submitting the proposals, going through the Institutional Review Board Office, overseeing grants and mentoring students?
"That is important to me because, as the provost and the chief academic officer, I really need to understand the whole academic operations."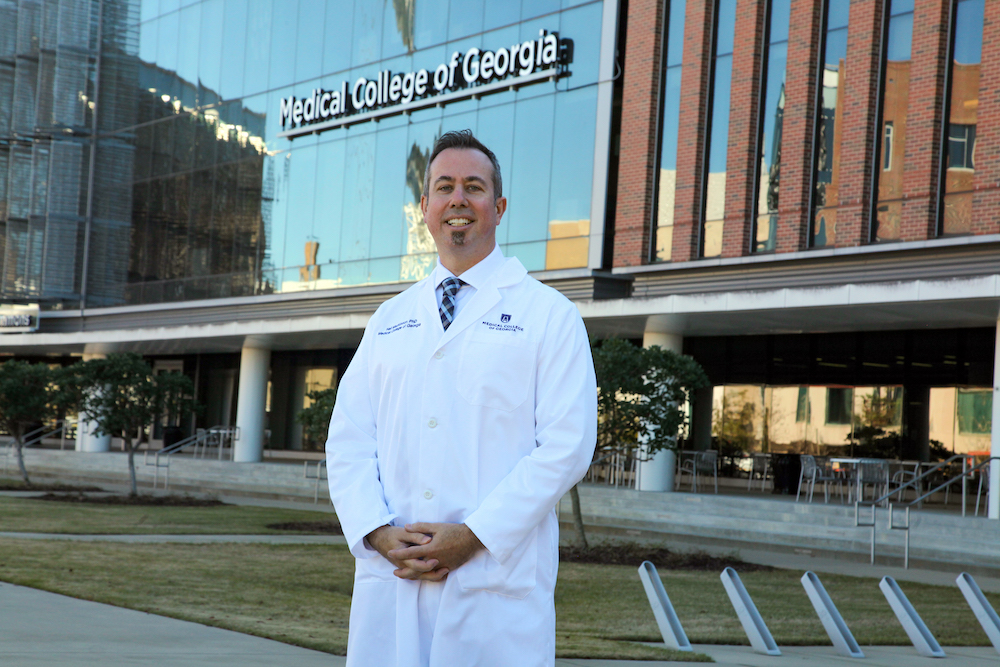 Interdisciplinary approach to research
In his first 15 months as provost, MacKinnon had nine peer-reviewed publications published and he is currently working on six different grant proposals that will be submitted by the end of June.
"I've also been able to share my research in four different research seminars at the Medical College of Georgia, the College of Education, the College of Nursing and the Georgia Cancer Center," MacKinnon said. "And I am certainly excited about working with faculty across the campus.
"For example, in these grant proposals I'm developing, I'll be working with faculty in MCG and Pamplin College, and I've had others like the Dental College of Georgia and the Georgia Cancer Center reach out and want to include me in projects, too," he added. "I'm thrilled to be working with the faculty here in a different way than provosts usually do."
MacKinnon is in the process of building his research team, which will consist of several students ranging from the undergraduate to PhD levels.
"This summer, I'll be taking on my first Center for Undergraduate Research and Scholarship student and I have two medical students who are doing research with us," he said, adding he has a new research associate, Vanessa Emery. "I'm recruiting right now for a post-doctoral fellow and I'm hoping to serve on PhD dissertation committees as well. So, the team is coming together."
Through his research, MacKinnon hopes to address several topics, including health policy and the direct impact on patient care. Starting in 2011, MacKinnon served as director of the Center for Rural Health at the University of Arizona and worked for two years directly with the governor's office and other state agencies to create health policy.
"Through that experience, I learned that sometimes a decision maker — whether that is a state government, the federal government, a health insurance company or a hospital — they implement a new policy or make a decision with one expected course of action, but sometimes there are unintended consequences of that action," MacKinnon said. "Or they don't ever follow up and ask, did the action work? Did it achieve its intended purpose? Unfortunately, in health care, there are many examples of where that happens."
In 2007-08, MacKinnon completed a midcareer fellowship with Dr. Stephen Soumerai, a professor of population medicine at Harvard Medical School, that inspired him to study the impact of health policies.
"Dr. Soumerai had a paper that was published in the New England Journal of Medicine in 1991, where he evaluated a policy in New Hampshire for Medicaid where the state decided they were spending too much money on prescription drugs," MacKinnon said. "As a result, the state implemented a cap, saying that if you are on Medicaid in the state of New Hampshire, you cannot get more than three prescriptions a month."
While the policy seemed logical to state health policymakers to reduce drug costs, there were some serious unintended consequences, MacKinnon explained.
"As a pharmacist, I can definitely validate that there are some patients who bring in a paper bag full of medications and you have to ask, 'Do they really need to be on all of them?' So, that was the idea around implementing a policy with a cap on the number of prescriptions each person on Medicaid could receive," he said. "What Dr. Soumerai found in his research was while, yes, prescription drug spending went down because the state put a hard cap on it, the number of older individuals on Medicaid who were admitted to nursing homes went through the roof. Therefore, after a few months, New Hampshire got rid of that policy because it had these unintended consequences. So, I find the whole area of health policy fascinating."
MacKinnon also hopes to continue his research on health care mistakes, which he began early in his career when he was still living in Canada.
"We know that medical error is actually the third leading cause of death in the United States, behind heart disease and cancer," he said. "We also know a lot of ways to prevent errors that just aren't implemented in health care, unfortunately. That's one area I continue to do work with some researchers in Canada and I'm currently a co-investigator on a grant right now that is looking at medical error."
Tracking a pandemic
While at the University of Cincinnati, MacKinnon co-chaired a task force on the opioid crisis. According to the Centers for Disease Control and Prevention, Ohio has the second-highest rate of deaths by overdose in the country, so MacKinnon wanted to address the problem. He helped build a team of 70 faculty clinicians who were part of that effort.
"When I moved to Ohio in 2013, Ohio was one of the centers in the country for the opioid crisis," he explained. "Often those are drugs that people take with the best intentions to relieve pain. Perhaps they had a tooth that was pulled or they had some back pain, but unfortunately, we know those drugs are highly addictive. What's happened over the last number of years is a lot of people really struggled with opioid addiction. Opioid overdoses have become a leading cause of death in this country. Therefore, a lot of my research was looking at how the state of Ohio, where I lived at the time, was implementing different policies to try to address the opioid crisis."
During his seven years in Ohio, MacKinnon received several grants and published numerous papers on the topic. MacKinnon is keeping that research momentum going at Augusta University.
"In March of 2020, my research team at that time was primarily looking at the opioid crisis, but when COVID hit, we were thinking, could we take the same kind of research that we were doing, looking at the spread of one pandemic, and apply it to this new COVID-19 pandemic?" MacKinnon said. "So, over the past two years, we've focused a lot on the spread of COVID and whether the policies that have been used to mitigate it have worked or not."
Just last month, the journal JAMA Network Open published a new study by the University of Cincinnati and Augusta University which found that rural counties had 2.4 times more COVID infections per 100,000 people than urban areas between July 1 and Aug. 31, 2021, when the Delta variant surged across the United States.
University of Cincinnati epidemiologist and lead author of the study, Dr. Diego Cuadros, teamed up with co-author Dr. Phillip Coule, associate dean at the Medical College of Georgia at Augusta University, and MacKinnon to develop the study. They found the third wave of the COVID-19 pandemic in the summer of 2021 spread far faster in rural America, where there are much lower vaccination rates.
"We have a new paper that's under review now that is comparing Delta with Omicron, the latest variant," MacKinnon said.
Knowing which areas have low rates of vaccination can help policymakers and health advocates steer efforts to improve access to health care, MacKinnon said.
"This tells us something powerful," he said. "Rural areas in the United States have faced many challenges responding to the pandemic. Studies like ours are vital to understanding these areas characterized by vaccination hesitancy and vaccine availability to address concerns in the future."
While at the University of Cincinnati, MacKinnon's COVID-19 research with Cuadros attracted the attention of the governor of Ohio.
"We had several publications that looked at the spread of COVID, so we created short summaries of our research called policy briefs, which were really two-pagers about COVID-19 that were written in fairly plain language, so it could be understood by someone who may not have a health care background. Health policy briefs are the language of government," he said. "We prepared three of these policy briefs for the governor in Ohio and the director of the Ohio Department of Health. It was really gratifying because we were providing valuable information to the governor and his senior staff that they were able to effectively convey to the public."
The governor even used a map with the information collected by the team at the University of Cincinnati during a COVID press conference, MacKinnon said.
"That is the power research can have when done right, on influencing health care decision making," MacKinnon said. "To me, that's the strength of research."