Augusta University and the Columbia County School District have launched an innovative dual enrollment agreement that promises to change the way high school students can access higher education in Columbia County.
Under this new partnership, Augusta University faculty will teach college-level courses to students directly in their own high schools, providing greater access than ever before.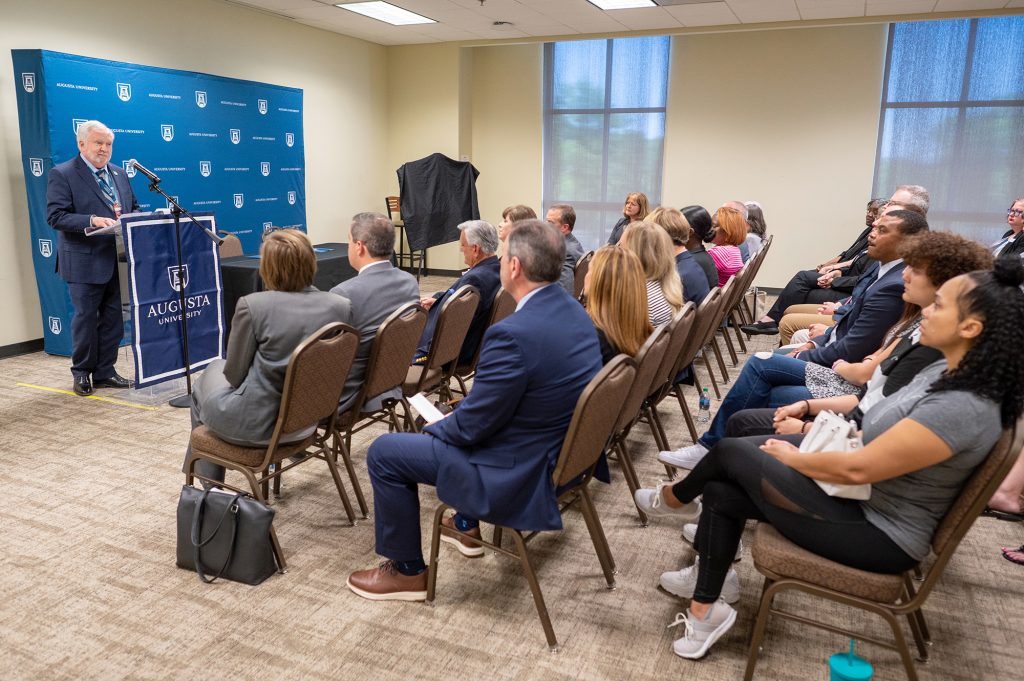 Accessibility to higher education can often prove a challenge for students, but this partnership seeks to overcome that obstacle, said Augusta University President Brooks A. Keel, PhD.
"We recognize that accessibility can too often be a barrier to higher education, and transportation can be a challenge for students, especially those who live far away from our campuses," Keel said during a launch celebration May 3 at Augusta University's Summerville Campus. "That's why we're proud to say that with this partnership, we're bringing our Augusta University faculty right to the students."
Students in all Columbia County School District high schools can now apply and register for fall 2023 dual enrollment courses. With the opportunity to earn college credits while still in high school, students can save time and money while also gaining a head start on their future careers.
"The Columbia County School District is grateful for our partnership with Augusta University and their efforts to help bring our students this unique and enhanced learning opportunity," said Steve Flynt, EdD, superintendent of the Columbia County School District. "Providing dual enrollment on campus at all five high schools offers more students a chance to get ahead academically, while also providing a financial advantage to earn college credits at no cost."
The program aims to engage students in their educational and career possibilities as early as possible, fostering their success throughout their academic journey. In addition to providing college courses, Augusta University will offer information sessions, guidance and support to high school students throughout the admissions process. The university will also implement an early-alert program to notify high school counselors when a student may need additional coaching to achieve success.
"We see this initiative as a win for everyone involved, from students and their parents to all of us who are dedicated to furthering educational opportunities in our community," Keel said. "This program promises to save families significant time and money, but that's not the only plus side with this partnership. When we can help our local students get a head start on their careers, our entire community stands to benefit from a stronger and more robust workforce pipeline as a result."
This landmark initiative represents a significant milestone in the shared mission of Augusta University and the Columbia County School District to serve and strengthen our community, Keel said.
"We're thrilled to launch this partnership with the Columbia County School District. I must thank everyone who has worked tirelessly to make this project a reality," he said. "From the faculty members who will be teaching these classes to the administrators who have made this partnership possible, we could not have achieved this milestone without your dedication and commitment to the cause."