"Women don't join the military."
Felina Barnes remembers hearing that from her grandmother like it was yesterday. Eleven years later, she is 1st Lt. Felina Barnes, United States Army Reserve, and both an alumna of Augusta University ('16) and employee at its Office of Military and Veteran Services.
She's completed one tour in Kuwait, is married and has two children. In addition, as student records coordinator, the 31-year-old says each time a military student walks in her office, she sees herself. During sophomore year, in fact, she said an error led to her classes not being certified, delaying her military benefits. Now as an employee, she assists to prevent that from happening to others.
"It feels amazing to connect with students and be able to relate to them in different situations. Working here I try to make sure I make sure everything is accurate and processed on time. As a college student you are dependent on your money being there. That's a big part of what the military is for," she said. "Most of the time people don't realize they have certain benefits available to them. AU is military friendly. This is a military city."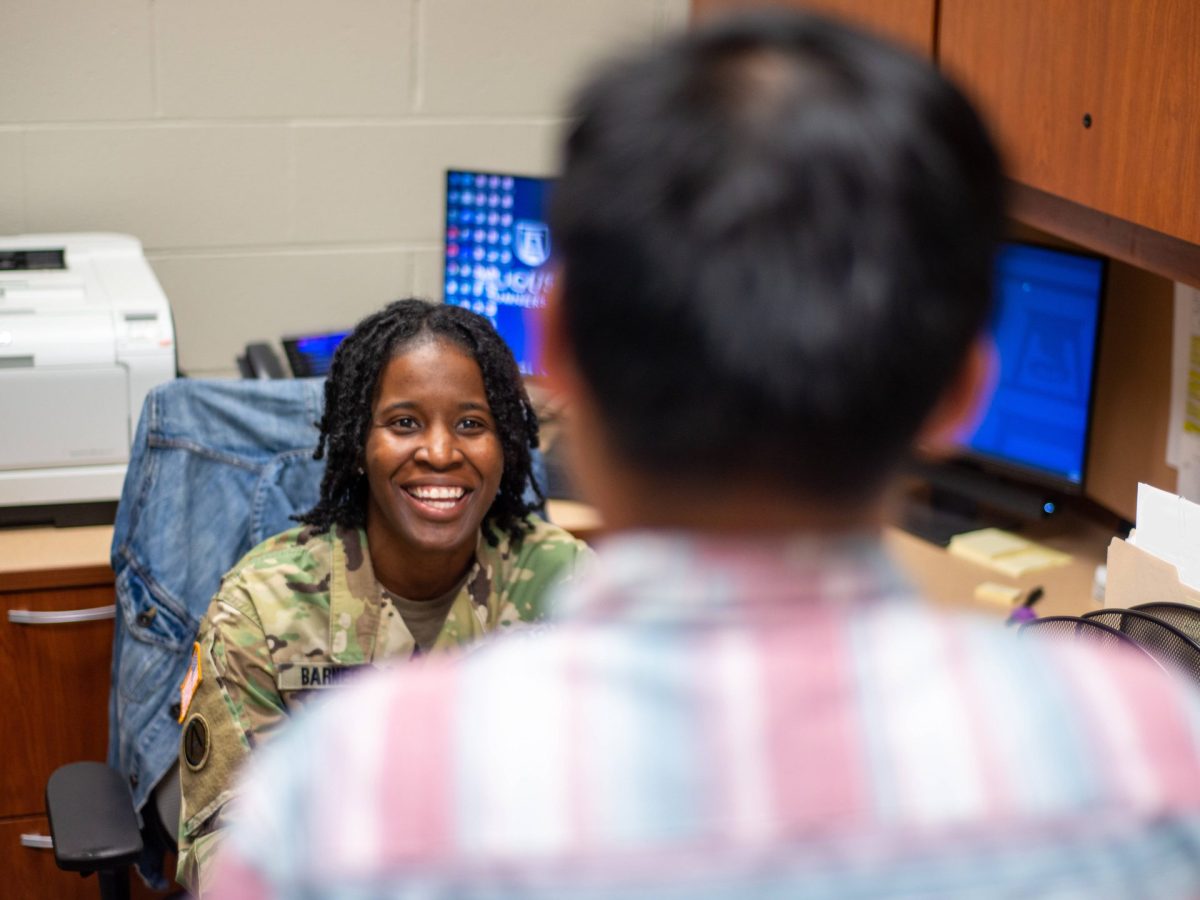 Stefane Raulerson, EdD
, director of MVS, wants to make the most of that "military city" reputation and enhance the college and community relationship between the Augusta area and Augusta University.
"While MVS does provide assistance, our scope is limited as student veterans come to AU with a broad base of experiences, goals and dreams. Service members and veterans bring to campus skills needed for persistence and success, but integration back to the civilian world — and especially the academic realm — can be difficult," said Raulerson, who's been at the helm of MVS for nearly two years.
"There is an African proverb that says, 'It takes a village to raise a child,' and it takes a holistic system of support to support a veteran's success during and following their academic career."
Raulerson is working to create the Augusta University Military Advisory Council (AUMAC) — a group of people from the private and public sectors, military and the like — that would provide support on and off campus to guide student service members and veterans as a way of giving back to those who have given so much. Augusta University has seen steady growth of military students since the 2015-16 academic year. There are currently 585 receiving benefits.
"Research indicates student veterans are best served when support services are proactive versus reactive, and when support expands across the institution, including administration and faculty. The intent of the council is to provide this type of support in addition to linking them to veterans in the community at large for support and success after their time at AU," said Raulerson.
The AUMAC would be the first of its kind at Augusta. That's something Barnes can appreciate, being a "first" herself, as the only service member in her immediate family. She agrees creating the group would make AU even more appealing to prospective student service members as well as position the school to provide greater care for current and previous ones. She believes it would foster more connection and access for all service members, positively impacting their education, career and life.
"My grandmother is very proud of me. She tells me every chance she gets."
To learn more about the creation of the Augusta University Military Advisory Council, contact the Office of Military and Veteran Services or complete this brief survey.