A lifelong passion for sports and a love for his alma mater inspired Mason McKnight III and his wife Lou to commit $1 million to Augusta University Athletics.
Not only will their gift help fund crucial facilities improvements, but the softball field will also bear the Mason McKnight III family name in recognition of their generosity. 
"Sports kept me busy and made me want to achieve greater things," said McKnight. "I played football since I was about 6 years old and through high school at Richmond Academy. Sports are structured and there are many lessons to be learned."  
After high school, McKnight went first to Clemson University and then to Georgia Tech. Ultimately, he returned home to attend AU's legacy institution Augusta College and to work with his family at McKnight Construction, started by his father and grandfather.
"First of all, my father wouldn't let me in the office until I got my degree. It made me work harder to finish," said McKnight, who earned his Bachelor of Business Administration in 1980. "Augusta's business school taught me how to finish something. I look back on all the courses I had; for example, humanities was not fun, but I had to pass it. It prepares you."
When he came back to AU, "Daddy made me pay for it, and, I'll be honest, when you're paying for it yourself, it changes things," McKnight said. "From there I was headed in the right direction."
McKnight soon met and married his wife Lou, from Lincolnton, Georgia, who was a teacher at National Hills Elementary School. Lou is also fond of sports and regularly plays tennis. Together they raised three sons, teaching them the value of family, community, sports and more.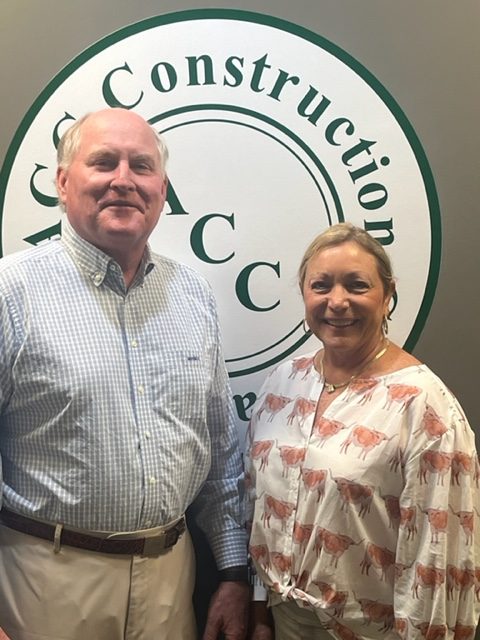 "With my children, I kept them as busy as possible. "I said, 'You can do the spelling bee, but you should also play sports,'" said McKnight. "And I was lucky to see all three of my boys win state championships — Mason IV in golf at Augusta Prep; Matt, golf at Richmond Academy; and Marshall, soccer at Richmond Academy." 
Today the McKnight men have families of their own and proudly work with their father. In 1986, Mason McKnight III established his own company, ACC Construction, which specializes in military and state department construction projects. His two older sons, Mason IV and Matthew, are vice presidents, and the youngest, Marshall, is the company's chief financial officer. They have completed work in 15 states and Haiti. 
Not only does the family work together, but they also play together. The extended McKnight family, including sons, wives and seven grandchildren, take a trip together each summer. McKnight expects to be surrounded by his devoted family for the naming event at the softball field. 
"They are really excited," he said. "I explained to them the facility will also serve as a venue for concerts, movies and other community events." 
When Clint Bryant, former AU athletics director, took him to see the condition of the grounds outside Christenberry Fieldhouse, McKnight was shocked. "Most local high schools have better and newer facilities than Augusta University," he said.
"For years Augusta has been looked at as a golf college only, but we need to support softball, baseball, basketball … all the programs. I hope we can get some more people on board and get AU Athletics built to current day standards."
The McKnights, who gave a significant gift to the J. Harold Harrison, M.D., Education Commons on the Health Sciences Campus, are proud to support the university.
"We love watching Augusta University grow from where it was when I was in school to where it is now."