Family, friends, former players and distinguished guests gathered at Christenberry Fieldhouse on June 10 to celebrate Clint Bryant's retirement after 34 years of service at Augusta University.
Bryant, who is one of the longest-serving leaders in intercollegiate athletics, has overseen AU's athletic department after coaching the men's basketball team for nine seasons. He earned Big South Coach of the Year honors in 1991 and was named the Division II Athletic Director of the Year in 2007. He was also selected to the NCAA's Division II 40th anniversary team for his standout playing career at Belmont Abbey. In 2016, he was inducted into the Augusta City Classic Hall of Fame for his contributions in the community.
During his tenure, he saw men's golf win back-to-back Division I NCAA national championships in 2010 and 2011, and Broc Everett win the men's individual golf championship in 2018.
To commemorate Bryant's legacy, it was announced during the ceremony that the court at Christenberry Fieldhouse will be renamed the Clint L. Bryant Court.
As he looked around at the banners hanging for teams and players that have come through Augusta University's athletic programs, Bryant reflected on the one element of his job that he enjoyed the most — aside from the wins and championships they've brought to the university.
"What I'm most proud of, in 34 years I've been here, is that we've graduated over 1,100 students — and that's the purpose of intercollegiate athletics, is to make sure these kids, a lot of them first-generation college graduates, have been able to come to this university and graduate," Bryant said. "That's what I'll take away from my experience here. Augusta University's future's bright."
Bryant earned a bachelor's degree from Belmont Abbey and a master's degree from Clemson University. He served as an assistant coach under Bill Foster at Clemson from 1977-84 and as an assistant coach and associate head coach under Foster at Miami (Fla.) from 1984-1988.
Augusta University President Brooks A. Keel, PhD presided over the night's festivities. Among those in attendance included President Emeritus William Bloodworth, U.S. representative for Georgia's 12th congressional district Rick Allen, current Augusta Mayor Hardie Davis, former mayor and alumnus Deke Copenhaver, Augusta District Attorney Jared Williams, and city commissioners Don Grantham, Dennis Williams and Sean Frantom.
Also in town for the celebration was close friend and former University of Georgia basketball coach Tubby Smith, who won a national title with the University of Kentucky in 1998. Smith and Bryant's friendship goes back to their high school and collegiate playing days.
Smith said he was honored to be part Bryant's celebration, noting that he represents many coaches across the country who are celebrating Bryant's legacy. Smith said their paths continued to cross throughout the years and that Bryant was a leader in the profession and an inspiration to many Black men and women who look up to him as a Black administrator.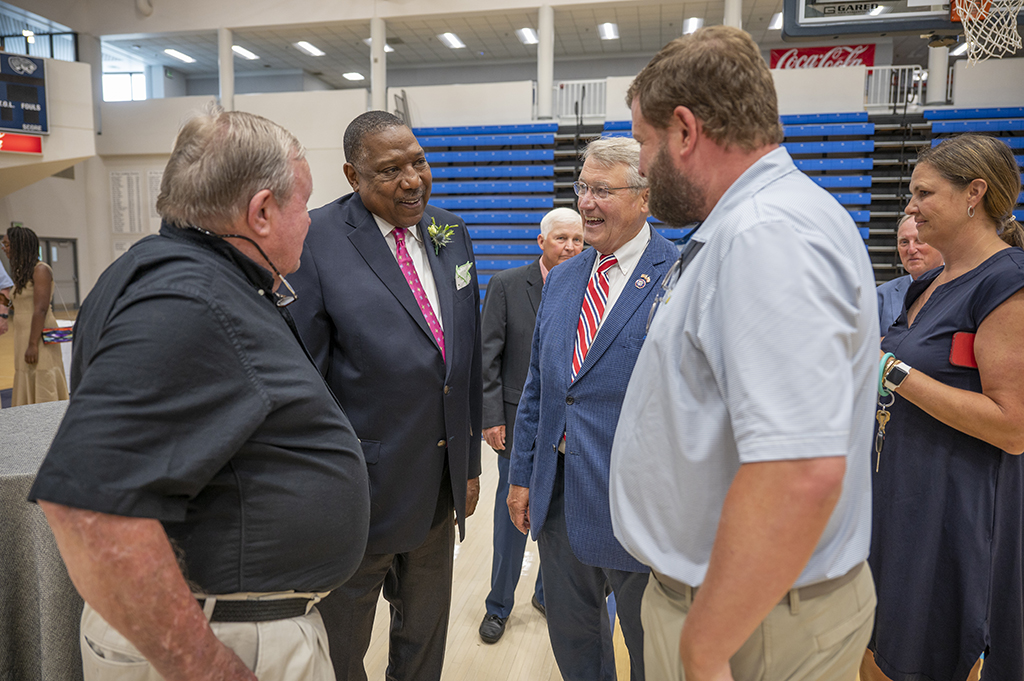 "Clint is a man of character and a man of principle, and he's someone that's comfortable in in his skin," said Smith, who amassed more than 600 wins in his career. "If you judge him by the content of his character and not the color of his skin, he's very successful and has done an outstanding job. A lot of people, not just African American coaches, that want to advance in collegiate athletics — especially in administration — have looked up to him.
"I know I've sought his advice and inspiration over the years. He was one of the first, along with myself and a few other Black coaches, that were instrumental and part of the first Black Coaches Association, which was getting Black assistant coaches head coaching jobs at the Division I level. Clint has always been outspoken and upfront as a leader in that regard, as far as promoting and advancing opportunities for minorities. That's why he's so well respected."
Current men's basketball coach Dip Metress said a good bit of Bryant's legacy is that he's "seen it all" and handled everything with grace and wisdom. Metress said without Bryant, his career in college basketball wouldn't exist.
"I was a senior in high school playing in the Myrtle Beach Ball Classic and he saw me play. He called and talked to the coach at Belmont Abbey at the time about me. Coach Eddie Payne Joe came to see me play and then I end up at Belmont Abbey," Metress said. "Years later, I come down to watch a practice and he tells me then 'When I have an opening, I'm going to hire you.' And then the following year he hired me, so without him, I don't play college basketball and I'm not sitting here."
Metress also credits Bryant for taking chances on young coaches. Among those young hires was Melissa Brocato, assistant athletic director for internal affairs and head softball coach. She believes he leaves behind a legacy of cross-departmental collaboration, but more importantly, one of immense care for student athletes.
"Caring that they graduate and making that the priority, always focusing on the 'student' part of the student athlete," said Brocato, who was hired by Bryant in 1998.
"You always care about how they do on the court and the wins and losses, but I think his legacy is going to be in the number of students that are going to be able to look back on their time at AU and know that academics was made a priority. Coach Bryant is so relational. He always put people first above a job. People weren't projects; People were people, and he was never too busy to stop and have a chat or tell a story or share a laugh."
Brocato became emotional trying to pinpoint one or two memories she shares with Bryant. What she will treasure are the "everyday type of memories" from him stopping by her office for a quick conversation or just the laughs they shared.
Bryant thinks now is the right time to step away and allow new leadership "to come in and do some things," which includes completing the complexes for the baseball and softball teams and for cross country. But, foremost, he's looking forward to spending time with his family, which includes his 9-month-old grandson. He and his wife, Patricia, will also spend time traveling.
"I've been tremendously blessed, and God has been good to me and my family. Trish and I came here 34 years ago thinking I was going to be here for five or six years, and it turned into a lifetime," Bryant said.
"I tell people, I left my mother's house in 1973 a young man out of southeast Washington D.C., going to Belmont Abbey on a college basketball scholarship. And guess what? In 50 years, I've never left the college campus. If you'd have told me that 50 years ago, I'd have probably said you was nuts. But it just kept rolling over and over, and it's been a hell of a ride."