There is enthusiasm surrounding Augusta University's new director of golf and men's golf coach, Steven Paine. Following the departure of Jack O'Keefe, Paine brings his professional background in golfing to AU.   
Much like the Augusta area, AU has a rich history of golfing, winning two national championships in 2010 and 2011 as well as Broc Everett winning the individual NCAA championship in 2018. For Paine, that legacy and history are two of the biggest reasons that he chose to come here.  
"Obviously, one of the big reasons I took the job was the history that this program has," Paine said. "When you're recruiting, those two national championships definitely leave an impression on a recruit when you can say you've been there before. A lot of places sell you on a destination, but AU has the right facilities, the resources, and the golf courses. We have everything we need — it's just about getting the right players in here." 
Before beginning at Columbus State University as a grad assistant, coaching golf wasn't initially in the plans for Paine.
"Towards the end of my playing career, I started getting interested in coaching," he said. "At Columbus State, my coach allowed me to help out with coaching as a volunteer. I wasn't really thinking about life after college, but the opportunity was presented to me to do a master's degree and be a grad assistant, and it was a great opportunity."
Previously the head men's golf coach at Point University from 2014-20, Paine led the Skyhawks to 23 tournament victories as well as 20 individual medalists. He also led Point to the first of its three consecutive Appalachian Athletic Conference team titles in 2017. He earned the conference's coach of the year in all three years before leaving to become the assistant men's golf coach at Mississippi State University. Paine hopes to continue a winning culture at AU.
"I think implementing a culture and identity is very important for us. Even though young kids may not think so, structure and discipline are good for them," Paine said. "Those are going to be at the forefront of what we're trying to build here."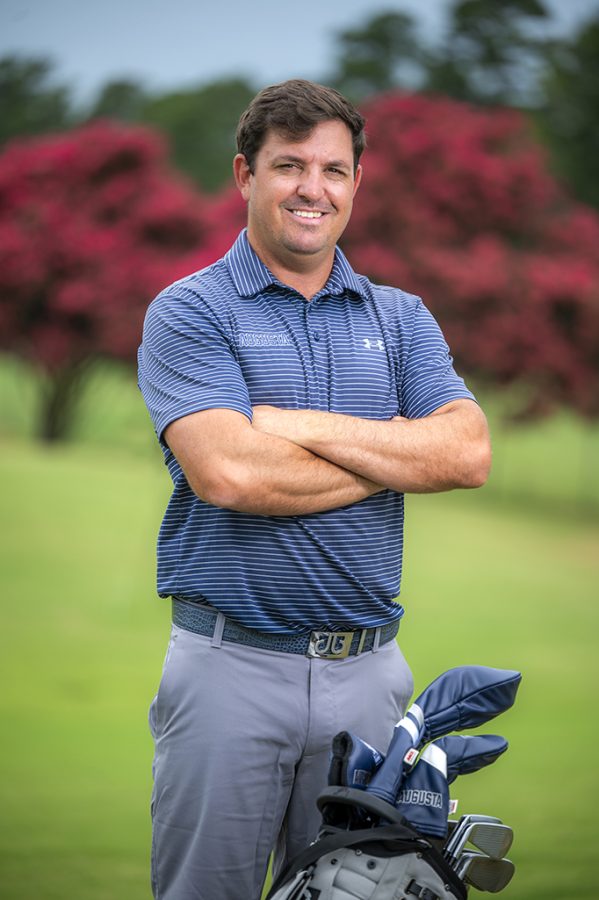 In the 2021-22 season, the men's team finished tied for third place in their Southland Conference Championships. For Paine, the expectation for the program is to continue to have success and win national championships.
"Two of our initial program goals every year, regardless of where we are ranked, are to win our conference championship and to advance to the NCAA regional tournament," he said.
"Whether it happens or not, we expect to win it. In the Southland Conference, we believe we are the best team. The women did a great job last year, and we'd love to see both programs take home a championship this year." 
The AU men's golf team will begin their season at the Badger Invitational in Madison, Wisconsin on Sunday, Sept. 11.