Ryan Erlacher believes Augusta University has all of the necessary ingredients for a national Top 10 athletics program, and that's just one of the many reasons that brought him to Augusta.
Erlacher begins his journey as director of athletics on Oct. 17, taking over for Clint Bryant, who retired in June after 34 years at AU. He is honored to be following in Bryant's footsteps.
"Clint Bryant has left a lasting legacy not only at AU but also throughout the entire Peach Belt membership," said Erlacher, who previously served as athletics director at Clayton State University. "He's had an incredible career as both a coach and administrator, and my goal is to continue his great work and produce a product he would be proud of."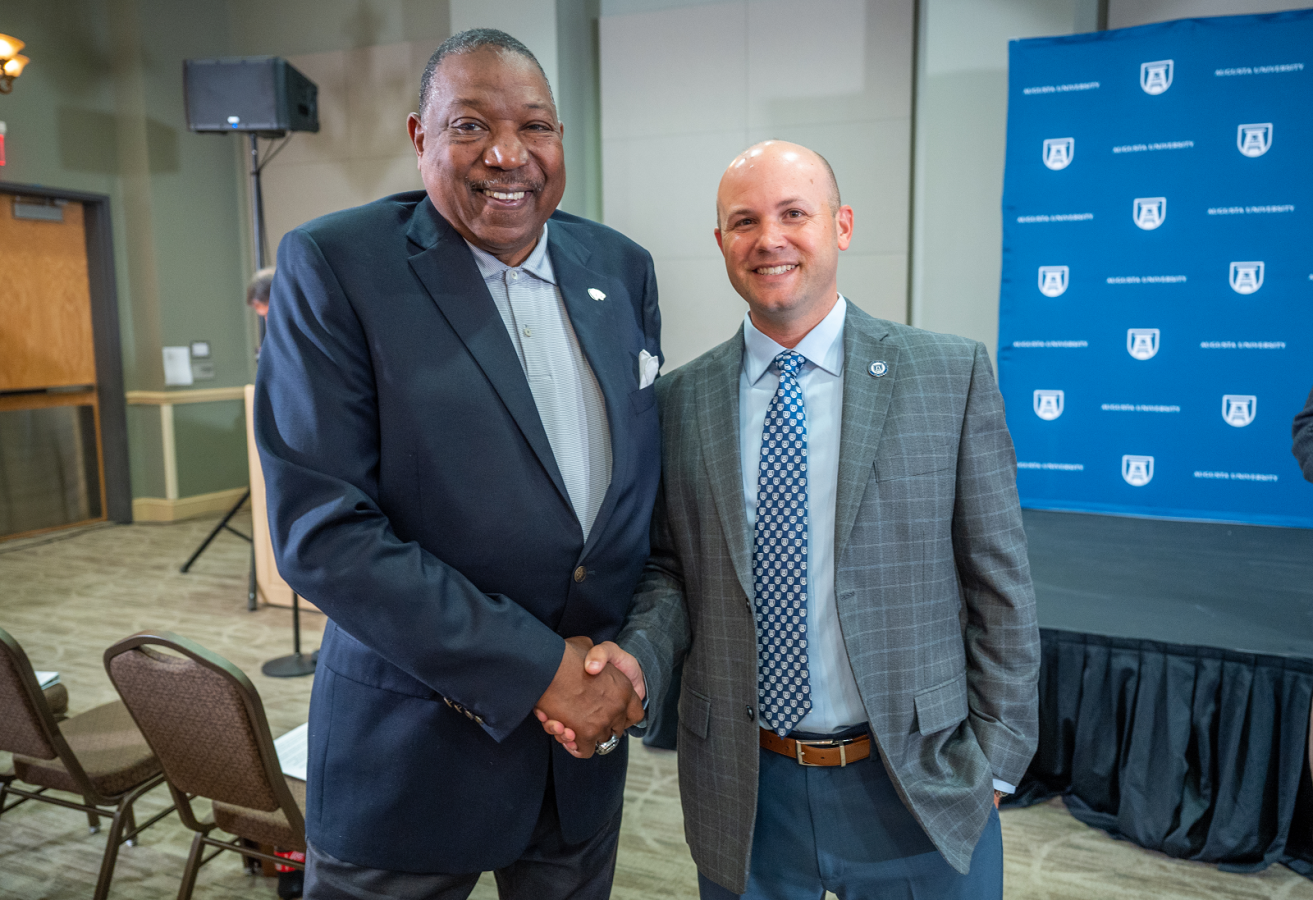 Record-setting leader
Erlacher became known as an innovative, transformational and student-athlete-centered leader at Clayton State, which is also a member of the Peach Belt Conference. The Lakers experienced landmark campaigns in each of his four years with the school, setting numerous department records in the areas of academic achievement, community engagement, competitive success and fundraising.
Under Erlacher's leadership, the Lakers three-peated as PBC President's Academic Award recipients and were named a finalist for the 2021 NCAA Award of Excellence. In addition, the Lakers ranked No. 4 in the NCAA Division II in 2020 and 2021 for number of community service hours completed.
Clayton State Athletics fundraising also reached all-time highs during his tenure. Community partnerships experienced a 225% increase in the total number of partners since 2018, accounting for a 580% rise in overall partnership values.
During Give4Dreams, Clayton State's Day of Giving Challenge, Laker Athletics experienced unprecedented heights. In 2019, the department achieved a 1,900% increase from the previous year, setting program records for the amount raised and number of donors. Program records would continue to be set the following years, and last year the athletics department received the university's Division Cup for fundraising efforts after rallying the most donors and raising the largest amount across campus.
Focus on student-athletes
Erlacher, 40, is one of the youngest ADs in the Peach Belt Conference, which he says helps him relate well to student-athletes.
"Being a good listener, caring about the person and not just the athlete, along with being your authentic self — that's what makes the difference," he said.
"I truly care about the student-athlete experience, along with the experience our staff, community and campus have," he said. "I've never been someone who has been disingenuous on those fronts. Supporting student-athlete wellness, finding new ways to help them succeed and ensuring they thrive at AU will always be paramount."
Erlacher knows there are challenges that await, but he says he's ready to help AU achieve a greater level of success.
"I look forward to doing a lot of listening when I arrive. I'm anxious to meet everyone and learn what is needed to move our program forward," he said. "I know there are some facility needs, but I see those as a tremendous opportunity for us to enhance our program, especially when it comes to recruiting top prospects.
"I'm also looking forward to meeting members of the local community and generating excitement about our teams. For us to be a Top 10 athletics program in the country, community support will be vital to the move the needle. Lastly, finding creative ways to improve our competitive success will require our department to intentionally focus efforts on culture development and setting a high standard of excellence in all that we do."
Erlacher has enjoyed his time in the Peach Belt since 2011, so the opportunity to continue being a part of it was appealing. He said there were multiple factors in his decision to join AU.
"The institution is thriving. There is tremendous support for athletics from the administration and there are a number of community members who want to make a difference," he said. "I have no doubt we are a program that can be consistently one of the best in the country."
He also mentioned his family was another big reason for making the move to Augusta.
"They look forward to getting involved with the university and supporting our athletics teams. Given how far we lived from the CSU campus, it's been difficult for them to get out to games, something they have missed from our Flagler days. I know they are looking forward to attending games and cheering on the Jags."
Planning for success
Erlacher is impressed by the Jaguars' success and excited to help lead teams that have competed for national championships. While he's looking forward to doing everything he can to help the programs compete for championships every year, he has a bold vision for Jaguar athletics that goes beyond athletic competition.
"The vision for Augusta University Athletics needs to be one our entire department shares. Together as a team, we will determine what the future holds by establishing our core values, service standards and team-first culture," he said.
Two of Erlacher's major initiatives early on at Clayton State were working with the athletics staff to create a Student-Athlete Pledge that invested in the overall well-being of the student-athlete and their collegiate experience, as well as developing the department's core values.
During his tenure, the Lakers routinely had programs reach not only conference tournaments, but also Division II national postseason play. Several teams have been ranked nationally with multiple coach and player of the year honors as well as student-athlete academic and athletics achievements.
"As for my vision, we will focus on elevating our academic excellence program, ramp up community engagement efforts, further develop our community partnerships program and external resources, elevate the level of competitive success across all programs and provide an unparalleled student-athlete experience. We will strive for comprehensive excellence and take great pride in the way we represent Augusta University."
Erlacher earned his bachelor's degree in sport management in 2004 from Flagler College and his master's degree in sport administration from Florida State in 2007. He was director of basketball operations at Stetson University in 2004-05 and an athletics assistant at Florida State in 2006-07. He was assistant athletic director at Northwood University from 2007-10 and associate director of athletics at Newman University in 2010 before rejoining Flagler as senior associate director of athletics in 2011.
He said he's been fortunate to work for great coaches, ADs and presidents who have offered advice that has stuck with him over the years.
"One piece of advice that has made the biggest impact on my career came at a very early age. That advice was, no matter where I am or what I'm doing, find ways to make yourself indispensable," he said. "Everywhere I've been, I've tried to do just that. It's the same advice I give to those who reach out to me seeking guidance on how to achieve success in the sports industry."