Augusta University's new Multimedia Development Center provides students with professional work experience they can't get in a classroom.
The MDC began this fall under Art Berger, director of multimedia production, and it's centered on offering students hands-on experience with building media packages, shooting high-quality videos and promoting the university to viewers.
Several students are enrolled in the program, including former basketball player Jack Johnson, a senior studying communication in Pamplin College of Arts, Humanities, and Social Sciences. His playing time led him to join the program.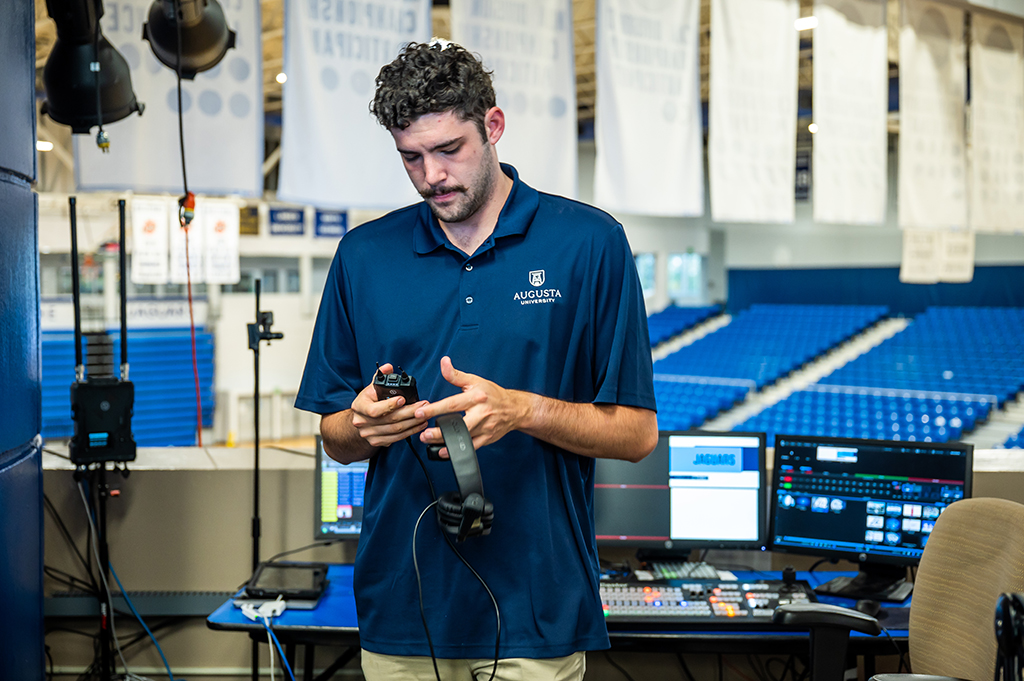 "I played basketball here for four years, so I saw everything that was going on with how they were broadcasting games and it was interesting to me," he said. "I joined the program when volleyball started in September, and it's been very fun. It's not your typical job, but I learned how to express myself and how to conduct an interview on live TV, so I think it's been a very positive experience."
Johnson's interest is in sports media, where he does play-by-play and sideline reporting at sporting events. He said this program is a great way to gain exposure in the industry.
"I enjoy working for this program quite a bit," he said. "I know that I want to be involved in the field of sports media, whether it be recording, videography or photography, so this is definitely a great entryway into that field."
Berger said Johnson's knowledge of sports has prepared him well for live broadcasts.
"Jack worked color commentary for the first time in AU's volleyball game against Lander University while also doing sideline reporting, and I think he's done a really good job," he said. "He does really well on the sidelines because he understands the right questions to ask and has a good background on the teams playing."
Churchill Ezeokonkwo, a first-year graduate student in the College of Allied Health Sciences, is a track and field runner and a transfer student from Clayton State University. He has been working with the program since it first began.
For Ezeokonkwo, this program is an opportunity to pursue his passion for media.
"I have my own videography and photography business, so I've always been interested in media," he said. "I was heavily involved in media at Clayton State, so transferring here was a no-brainer."
Ezeokonkwo had experience in digital media at Clayton State, where he was in charge of game-day recaps, photography and videography throughout sporting events, along with stat calling as an intern under the sports information director.
As part of the MDC, he said he has expanded his knowledge of working in sports media production.
"The broadcasts that we do with sports are different than those of other Peach Belt Conference networks," he said. "We've evolved from having just one camera to having as many as four or five cameras on the court and being able to manage each one. Being able to produce a simultaneous cast that's appealing to the public is something that I've learned pretty well from this program."
Rachel Carman, a sophomore communication major in Pamplin College, is also gaining much-needed experience. She has worked with cameras and has become more involved with the program as the semester has progressed.
"As a communication major, I do a lot of projects that involve cameras and editing," she said. "Outside of school, I also do a lot of streaming and broadcasting at my church, and they're very high-tech, so that's helped me. But I'm also expanding my knowledge to integrate packages as well."
Berger agreed he's seen growth from Carman since she joined the program.
"Rachel has done an outstanding job," Berger said. "She went from not really knowing what to do to shooting on a pro level with her handheld within two or three games. I could recommend her right now to shoot professional basketball because that's just how good she has gotten.
"Students are getting a hands-on experience," Berger added. "They're learning to be really good camera people while also filling in on the anchor seat and sideline reporting, and this experience will allow them to potentially work for major networks like ESPN or Turner Broadcasting."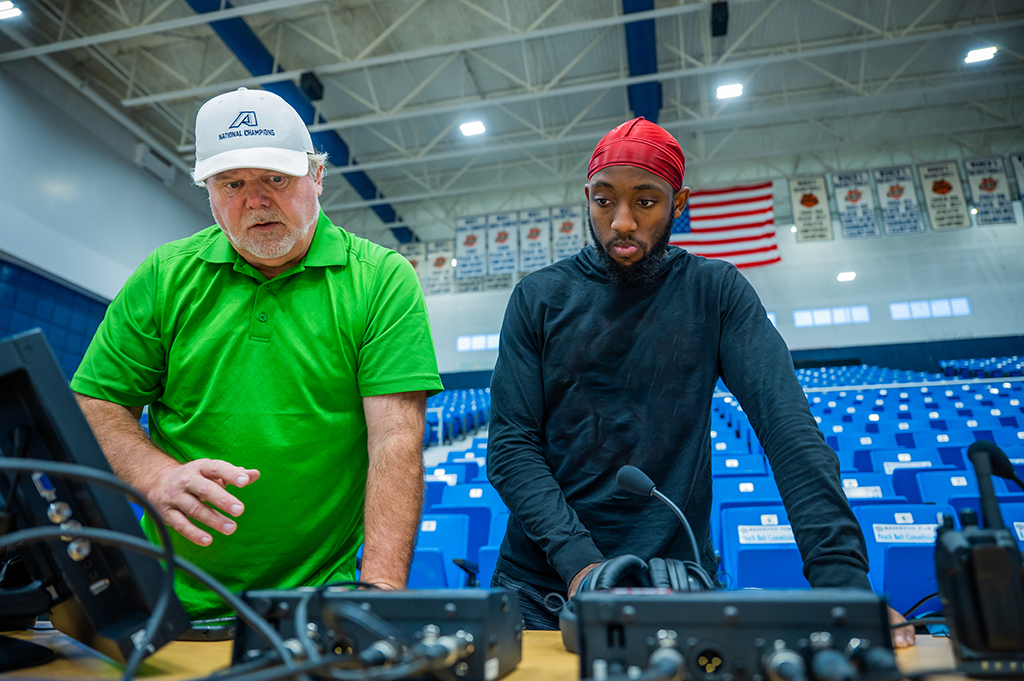 Berger is looking to get more students involved, and has been working with David Bulla, PhD, chair of the Department of Communication, to involve student volunteers from the communication department in this practical experience.
Bulla said his main goal is to give students opportunities, and he feels they are getting those in the MDC.
"I've tried to make sure that not only communication students, but all students are aware of this program. I also like to take pictures of our students working AU sporting events for MDC because then we can show that to other students and show the world what we're doing and what experiences they're getting," he said.
"For students looking to get into sports communication, getting experience in live broadcasts is important, and you may make mistakes, but the whole idea is to learn from them."
The sports broadcasts, supported by the work of the program's student interns, began during the volleyball season this fall and will continue with both the men's and women's basketball seasons. The broadcast has been getting views across several platforms, but Berger's main objective is teaching the students in the MDC.
"The goal I have for this program is to use it as a high-end training opportunity for our students," Berger said. "I want this to be a program that puts AU at the top, and I feel we're doing that at a rapid rate, so this will help interns develop skills that employers instantly hire and find the right career path."