More than two-thirds of a million positions in cybersecurity remain unfilled in the U.S.
In the state of Georgia alone, there are an estimated 22,000 cybersecurity job openings. That number is predicted to rise in the coming years and the students and alumni of Augusta's University's School of Computer and Cyber Sciences are primed to benefit both from the national employment trend and from the fact that the university and surrounding area are firmly entrenched in the computer and cyber science fields.
Augusta is home to the Georgia Cyber Center at Augusta University, as well as the U.S. Army Cyber Command (ARCYBER) and the National Security Agency (NSA) Georgia at Fort Gordon. Because of this, computer and cyber sciences students at AU are uniquely positioned to benefit from the federal programs like the VICEROY program, which stands for Virtual Institutes for Cyber and Electromagnetic Spectrum Research and Employ.
READ MORE: Augusta University, U.S. Army Cyber Center of Excellence partner to create two online master's programs to better serve soldiers
The VICEROY program was created under the John S. McCain National Defense Authorization Act with the mission of establishing virtual institutes for purposes of accelerating and focusing the development of foundational expertise in critical cyber operational skills for future military and civilian leaders. In 2021, Augusta University, in partnership with Clark Atlanta University and Mississippi State University, won a $2 million award to establish the Southeastern VICEROY Cyber Institute thanks in part to the Griffiss Institute.
According to Michael Nowatkowski, PhD, head of the Cyber Programs of Study at SCCS and the AU principal investigator of the VICEROY award, the program was created to help increase both the quantity and quality of students who can enter the field of cybersecurity, particularly with the Department of Defense.
"For our students to be part of VICEROY is a fantastic opportunity. It allows us to take them on events like the tour we just did to Fort Gordon, as well as provide them with incentives for completing coursework in cybersecurity, strategic foreign languages, data science and math foundations of cryptography. All of those skills are important to the Department of Defense," Nowatkowski said.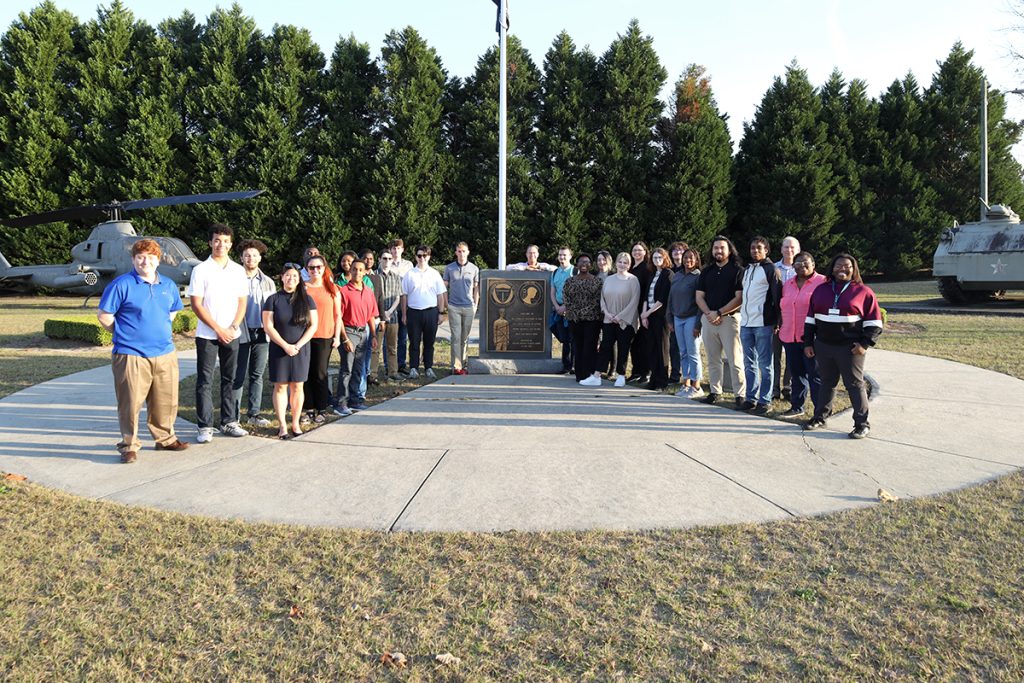 The VICEROY program augments traditional college curricula by providing hands-on, experiential learning opportunities that are uniquely tailored to match the workforce demands of the Armed Services, Department of Defense and Defense Industrial Base partners.
Last semester, students from AU and MSU were given a firsthand look at positions with the DoD and other partners located at Fort Gordon in a first-of-its-kind experiential learning trip. During the visit, the students toured the Signal and Cyber Schools, including taking part in hands-on experiences while learning about electronic warfare and the U.S. Army's Cyber Common Technical Core Operating Systems.
The group also attended a presentation about the garrison at Fort Gordon, experienced training on a virtual weapons simulator and took part in a flag folding ceremony.
Most of the students are juniors and seniors who are already a part of the VICEROY program, but seven AU freshmen and sophomores were included to help them see the benefits of joining VICEROY.
READ MORE: Living Learning Community connects cyber, computer science students with tech opportunities
One of the presenters for the Cyber School portion of the day at Fort Gordon was Jaime O'Meara, a 2016 graduate of Augusta University's Chemistry and Physics program, who is a contractor at Fort Gordon through Total Solutions, Inc. and an electronic warfare course instructor.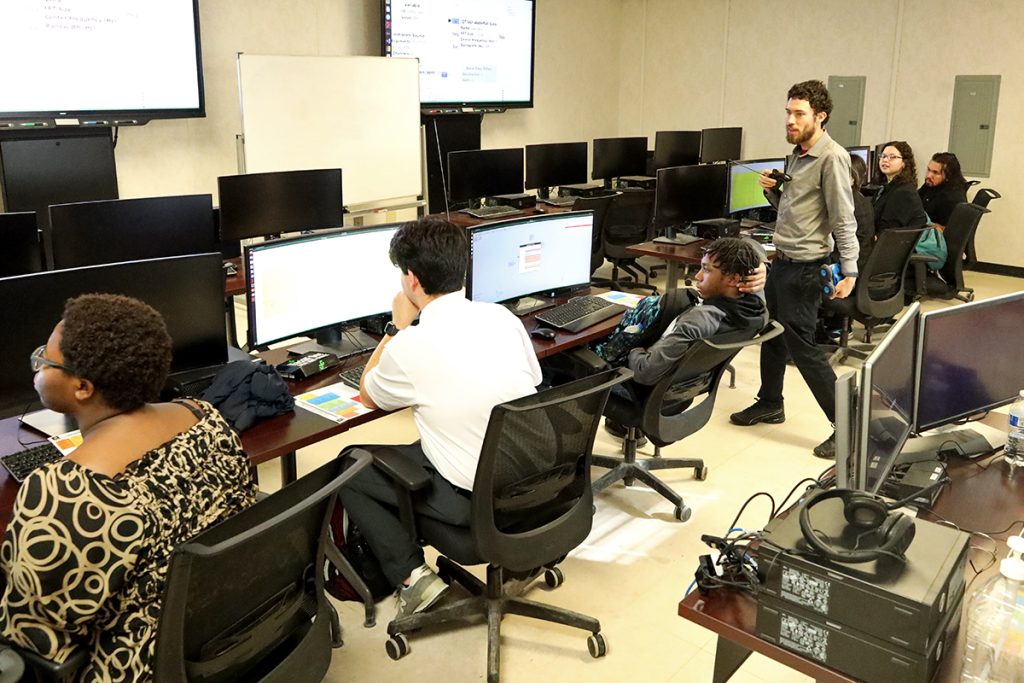 The group also took part in a career panel discussion that was made up of Lt. Col. Bob Ross, ARCYBER; Jeremy Vigna, an Army veteran with a Signal background working for the Network Enterprise Center (NEC) for the U.S. Army; Keith Jay, a Navy veteran working in the Cyber Security Directory with the NSA; and Cierra Williams, a target digital network analyst for the NSA.
Williams is also a current Augusta University computer science major who will graduate in May 2023. She began working for the NSA through the NSA High School Work Study Program and Columbia County Work Based Learning while attending Grovetown High School.
"It's really important to be able to expose our students to the DoD agencies, and to be able to have conversations with them to see all of the different aspects that they could be affiliated with in a career with the Department of Defense," Nowatkowski said.
"Many of the students may know that Fort Gordon is here in Augusta, but they may not know the breadth and the extent of the careers that they could have with the various organizations. We're very fortunate here in Augusta that we have so many partners close by at Fort Gordon and, here at the Georgia Cyber Center, where we have industry, academia and the government both at the federal and state level available for students to interact with."
For seniors like JoJon Cabrera and Briana Campbell, it was a chance to see what awaits them once they complete their coursework, while a group of seven freshmen not currently part of the VICEROY program had a chance to begin thinking of ways to better tailor the next few years of their educational training.
"Even though I'm graduating this month, I am actually going to start my master's program. The scholarship through SFS (National Science Foundation's Scholarship for Service program) helped propel me in that direction because I was originally planning to graduate and just get right into the workforce. It has given me financial aid to help pursue more of what I want to do: get more studies, learn more at a higher level to take into the workforce. I'm more prepared," Cabrera said.
Cabrera's father works at Fort Gordon, and he has always had an interest in the field, so pursuing a cybersecurity degree along with an advanced cyber defender certificate at Augusta University has always made sense, even if he wasn't completely clear on what the next step would be after graduation.
"I've been playing the Game Boy since I was 2, so I originally wanted to get into computer science for video games. But then I pivoted when I came to Augusta University because I have a little bit more flexibility in what to study and I just I hit off from there going from more rigorous computer science to looking at cybersecurity, almost like figuring out the answer to a puzzle."
While Cabrera knows what his next step will be, Campbell still has some time to make plans before she graduates in fall of 2023 with a degree in cybersecurity.
"VICEROY gives me more opportunities and experiences to see what kind of jobs are out there, especially federal jobs. It allows me hands-on experience with things I wouldn't be able to do just as a normal student," Campbell said.
And if that wasn't enough, getting to learn more about Williams and her work with the NSA was eye-opening for Campbell, especially since women are underrepresented in the field.
"I was slightly surprised. I know her from being around our programs, but I didn't know exactly what she did at Fort Gordon. Seeing her there, it makes me feel like that's something that is attainable."
Students interested in being considered for the VICEROY program can email Nowatkowski for more information.