With first-year and transfer students, new staff and over 200 new faculty members on the campuses of Augusta University this academic year, there are plenty of fresh faces to go around.
But a few new faces will stand out because of what they represent: a concentrated effort to diversify AU's faculty to match the student body more accurately.
Jennifaye Brown, PT, MSPT, PhD, NCS, CAPS, Diego Cuadros, PhD, and David Stovall, PhD, make up this semester's first cohort of visiting scholars, while Ricardo Hughes, MD, and Latria Graham will join the program in the spring. They are the first five members of a new initiative aimed at the Augusta University strategic plan's interwoven priority of diversity, equity and inclusion: the Faculty Inclusive Excellence Initiative's Visiting Scholars program.
The Faculty Inclusive Excellence Initiative is a presidential initiative championed by the provost and led by the Office of Diversity and Inclusion with support from the Office of Faculty Affairs. It was established to create a comprehensive plan and strategy for hiring and advancing underrepresented faculty at AU and within various disciplines. The initiative consists of four signature programs: Search, Recruitment, Retention and Faculty Success, and Visiting Scholars.
"The primary focus of the Visiting Scholars program is to create an inclusive culture and climate at Augusta University," said Dr. Garrett Green, interim chief diversity officer of the Office of Diversity and Inclusion and head of the Faculty Inclusive Excellence Initiative.
Dr. Michelle Johnson, who coordinates the Visiting Scholars Program, hopes the program will diversify the university community.
"We want our students, faculty and members of the surrounding community to have opportunities to work and learn from individuals from various backgrounds," Johnson said.
"We are also hoping that our visiting scholars will communicate to potential future faculty and students that Augusta University is a world-class academic and social community that is committed to the values of diversity, equity and inclusion."
About the program
"One theme that I have heard over and over again, especially from students, is our student body is quite diverse, but our faculty does not match the diversity that we see in our students," said Executive Vice President for Academic Affairs and Provost Neil J. MacKinnon, PhD.
"In particular, one student, who graduated in May of 2021, said that during her four years here, she never had a faculty member who looked like her in front of the classroom. That is one of those powerful moments that makes you take a step back and think," he said, adding that he immediately began looking at the need to diversify the faculty at Augusta University.
"It was not a surprise that what I was hearing in those listening sessions really aligned with the actual data as well, so it is clearly one of the areas we need to address. When students see more faculty who look like them, they feel like, 'This is a place that's open and inclusive,' and we want them to know, 'This is a place for me.'"
In the fall of 2021, there were 1,646 faculty at Augusta University. Of those, 265 identify as Asian (16% of the faculty population), 140 Black/African American (9%), 60 Hispanic/Latino (4%) and less than five Native Hawaiian/other Pacific Islander. There were also 29 who identify as two or more races.
In comparison, students who identify as Asian made up 10.9% of the student body, Black/African American students 21.5%, Hispanic/Latino 7.8%, those who identify as two or more races 4.7% and Native Hawaiian/other Pacific Islander less than .001%.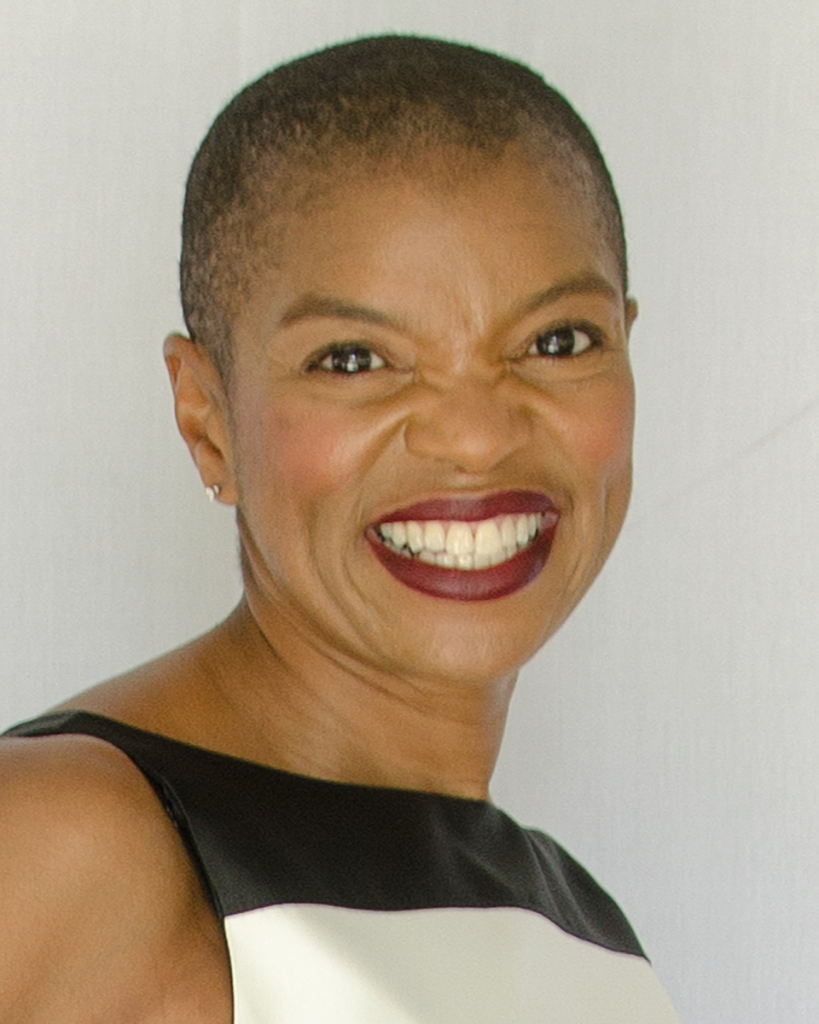 To better promote a culture of inclusivity at Augusta University, the Faculty Inclusive Excellence Initiative was designed to establish a comprehensive plan and strategy for hiring and advancing underrepresented faculty at AU across all disciplines. The Visiting Scholars program is just one component.
The application deadline for long-term visiting scholars during the 2022-23 academic year has passed, but applications are still being accepted for short-term visits in spring 2023. The deadline is Oct. 1. Those interested in hosting a visiting scholar should contact Johnson via email.
Jennifaye V. Brown, PT, MSPT, PhD, NCS, CAPS
Brown was the first visiting scholar to arrive at Augusta University under the new program banner. She is a board-certified specialist in neurologic physical therapy for three 10-year terms and is a certified aging-in-place specialist, as well as an advanced credentialed clinical instructor.
Brown brings over 32 years of clinical experience across the continuum of health care, which includes delivering continuing education, clinical practice and teaching in the neuromuscular curriculum. Brown brings a diverse perspective and expertise in accreditation standards, establishing course content, development of learning outcomes and mechanisms of assessment.
Brown, who lives in Charleston, South Carolina, is sponsored by Colleen Hergott, PT, DPT, department chair and associate professor in the Department of Physical Therapy within the College of Allied Health Sciences.
Brown arrived on campus Aug. 1 and will complete her visit Dec. 8.
While Brown didn't deliver her first lecture until Tuesday, Sept. 20, there was still plenty of work for her leading up to that day. She assisted the department with curricular learning outcomes, assessment development and clinical supervision.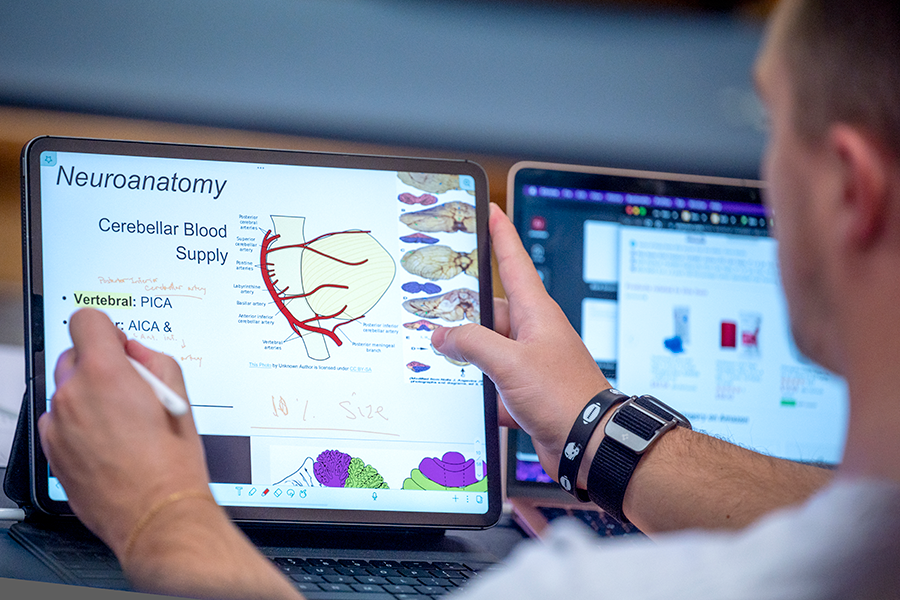 "Dr. Brown is unique in that she is an underrepresented minority in the physical therapy profession," said Hergott. "In addition to her contributions to curricular development, she will assess the presence of diversity concepts in learning outcomes and map learning experiences and assessments. She also has knowledge and experience with student recruitment and retention. She will utilize her expertise to help improve diversity and inclusion in our department and college."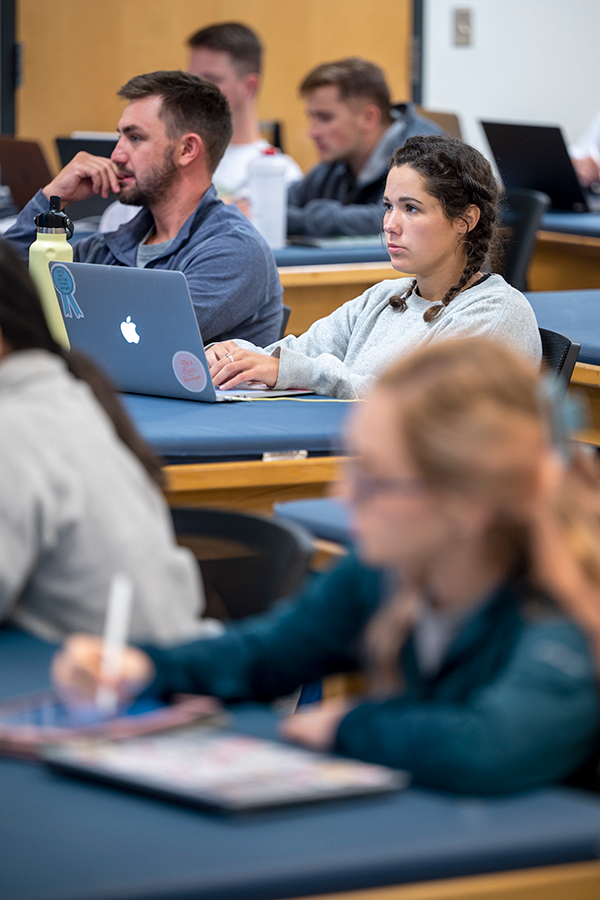 "I'm here based on my experiences in different academic settings and my clinical experiences of 32 years to bring breadth and depth, along with a different perspective to the neuromuscular curriculum," Brown said.
"I was asked to help, not because there's anything wrong with the curriculum as they have already shaved off a semester, which is going to help with cost savings and student debt. My goal is to convey that what they have is not wrong, it just could be delivered differently. So, I hope my colleagues will hear it from that perspective so that they can take it to the next level in as short of a period of time as possible."
While her experience will be invaluable to the faculty, staff and students she encounters during her time in Augusta, she also looks forward to what this time will do for her.
"What I'm hoping to gain from this is to be a better student-centered teacher, but that doesn't negate the fact that you have to be a critical thinker, a clinical reasoner, you have to work with your hands through your heart and the intelligence that you know, in your head," Brown said.
"If I can continue to become that kind of teacher who looks to guide students to seek knowledge and to figure it out, not just ask for the answer, then I think I've done a great thing. I will be looking to do all of this with tactfulness, because I have always felt that in order to speak, I have to listen to what they are saying first. As I teach and enhance my colleagues, I will be focusing on being a better communicator, because sometimes that's hard to do."
---
This is the first installment of a series covering the Visiting Scholars program within the Faculty Inclusive Excellence Initiative. Be on the lookout for future features on other visiting scholars.