The oak tree is planted firmly in the history surrounding Augusta University.
The original Arsenal Oak, a white oak estimated to be more than 250 years old when it was removed in 2004, towered over the university's Grove and served as the dominant symbol of the Summerville Campus.
The oak tree's historical significance led to its inclusion, along with the university seal, in the branding of AU's current strategic plan. Along those same lines, when Neil J. MacKinnon, PhD, executive vice president for academic affairs and provost of Augusta University, hosted the ninth annual Fall Kick-Off for faculty and staff on Aug. 14, he opened the event with an audio clip from comedian Steve Harvey regarding the oak tree.
"Now oak trees have acorns that fall off. Do you know what's in that acorn? It's an oak tree. You, being the acorn, have the potential to be the oak tree," Harvey said. "If you take an oak tree seed and you put it in a two-foot pot, that seed will never become the oak tree that oak trees are capable of becoming because it's going to get stifled by the two-foot pot. There's nothing wrong with the seed; the seed just fell prey to the environment. Don't you allow your environment to dictate the oak tree that you become."
It was a perfect analogy for the growth and potential of Augusta University, billed as a 10-year-old university with a nearly 200-year history, according to Augusta University President Brooks A. Keel, PhD.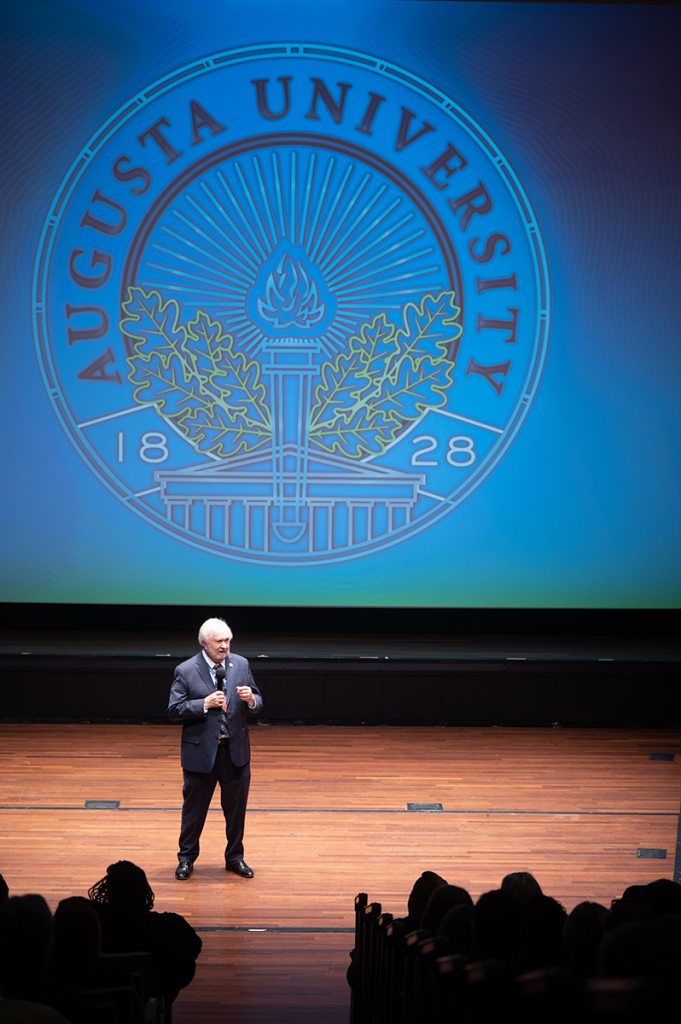 Keel recognizes the potential at his beloved alma mater and acknowledged AU's faculty, staff and students could choose to go other places but have made a commitment to the university because of the potential they see.
"Having been here in this role for 10 years, having now seen what this university has become, is really exciting. The thing that really motivates me, the thing that really makes me want to come to work in the morning is not what this university has become — it's what this university is going to become in the years to come and that's all because of you," Keel said.
"Together we have an opportunity to truly create a university like no other. You all came here — I think, I hope and I believe — because you saw that same thing. What you saw was not just a university, but potential. Incredible potential."
The provost then began updating those gathered at the Grover C. Maxwell Performing Arts Center, along with an online audience, on where the university stood heading into the new academic year, basing his presentation around the strategic plan's three aspirational imperatives: 16,000 students by 2030, Top 60 NIH Ranking and R1 status by 2030 and Carnegie Community Engagement Classification by 2026.
Focus on the student
One of Keel's key phrases to share is, "We have one priority here at Augusta University, and that is our students and our patients. Everything we do at this university centers around providing an outstanding education and training for our students and the very best quality of care we can for our patients."
In recent years, Augusta University has been one of only a few institutions within the University System of Georgia to continually see enrollment growth, including posting the second-highest growth in the system last academic year. Augusta University was also the leader of the four research universities in the system for enrollment growth during the most recent semester, and for that accomplishment, Keel was presented a trophy, dubbed the Chancellor's Cup by USG Chancellor Sonny Perdue, in early August with the caveat that he could only keep it if AU once again posted growth in the fall semester.
One area where MacKinnon noted continued efforts need to be made was in retention. While retention looks to be better from last year's freshmen cohort to this year, he noted that getting students onto campus is just part of the battle. Retention of those students will remain a top priority in the years to come.
"If a student chooses us, and we choose them, we want to see them through to graduation," MacKinnon said. "One reason they're sticking with us is they see value in the degree, value in their experience as a student and there's qualitative factors as well. But the other part on a quantitative side would be, what is the return on investment? If a student is giving four years of their life by spending money on tuition, fees and housing, while not making money in the real world, what's the return on investment?"
New academic partnerships and programs
One of the key areas where Augusta University is working to enhance the student experience is through strategic partnerships, including three recently launched initiatives.
Jags4Jags Mentorship Program, a new banner for all mentorship programs at AU, was started by former Provost Faculty Fellow Amy Abdulovic-Cui, PhD. Augusta Advantage is a pathway program for students at Augusta Technical College to easily transition from the two-year institution to earning their four-year degree. Pounce to Your Profession is a dual enrollment program that places AU faculty at every high school in Columbia County and makes it easier for high school students to begin earning college credit. MacKinnon noted that leaders at AU are working to create a similar program with Richmond County.
Another initiative celebrating its official launch this fall is Augusta University Online.
Early projections have the online face of the university exceeding enrollment goals with students from all over Georgia and South Carolina currently enrolled in three graduate-level programs. Those three programs include a Master of Science in Information Security Management through the School of Computer and Cyber Sciences, a Master of Public Health through the proposed School of Public Health and a Master of Education in Instruction through the College of Education and Human Development.
READ MORE: Learn all about Augusta University Online
MacKinnon commended the deans, faculty and staff who have worked collaboratively to make this initiative come to life.
Part of Augusta University Online's push includes a certification badge for professors and instructors to share both on their faculty profiles and LinkedIn. So far, 12 faculty have completed the training.
As the proposed School of Public Health begins its first year under inaugural dean Teresa Waters, PhD, eight degree programs and one certificate, along with faculty for those programs, have moved over from the Medical College of Georgia at Augusta University, College of Allied Health Sciences, the College of Education and Human Development and the Institute of Public and Preventive Health to become the foundation. MacKinnon acknowledged the hard work of the deans and leaders from the three colleges and IPPH to make the transition as seamless as possible.
"I am incredibly proud of our deans and how they work together in forming this new school," MacKinnon said. "They really bought into the bigger picture because this will make our university thrive."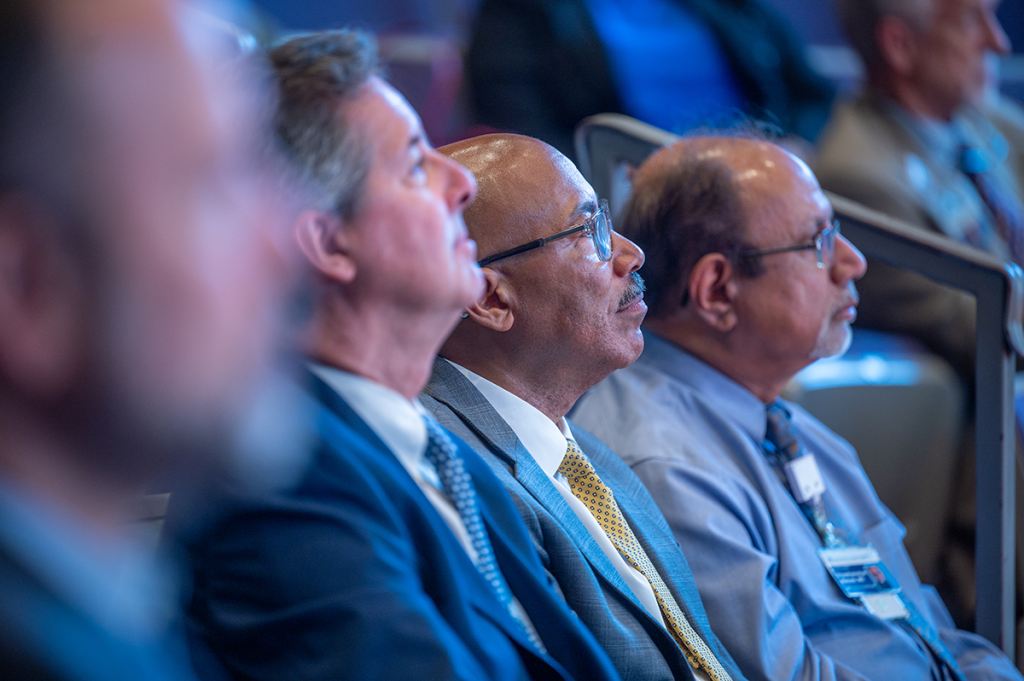 On top of Augusta University Online and the proposed School of Public Health, AU continues to strategically add more focused degree programs to meet the demands of the workforce.
Three new academic programs will welcome students to campus beginning this fall, including a Bachelor of Science in Biomedical Systems Engineering through the School of Computer and Cyber Sciences, a Bachelor of Science in Neuroscience through the College of Science and Mathematics and a Bachelor of Arts in Sports Management in COEHD.
A fourth new program is expected to be approved by the Board of Regents during the academic year, with SCCS and the College of Science and Mathematics collaborating on a Bachelor of Science in Data Science.
READ MORE: First year of 'Creating a Legacy' shows plenty of promise
Adding to robust research
The second portion of MacKinnon's talk focused on the aspirational imperative centered around achieving R1 status and ranking in the top 60 for NIH funding.
The first two research clusters that have begun recruiting researchers to Augusta, both funded by Keel's office, include Transdisciplinary Research Initiative in Inflammaging and Brain Aging (TRIBA) and the Immunology Center of Georgia.
TRIBA builds on the strong foundations AU already had in place for neuroscience, brain and inflammation research to create opportunities for focused research efforts and expanded undergraduate and graduate research.
Already, seven faculty researchers have joined TRIBA, many of whom already brought funding with them. This is also a cross-campus collaboration with six different colleges and schools participating.
For the new Immunology Center of Georgia, David C. Hess, MD, dean of MCG, and Jorge Cortes, MD, director of the Georgia Cancer Center, recruited world-renowned immunologists and vascular biologists Lynn Hedrick, PhD, and Klaus Ley, PhD, from the prestigious La Jolla Institute for Immunology in California to become co-directors. They have already recruited the first five faculty researchers for this new initiative.
READ MORE: Augusta University welcomes world-renowned researchers to Medical College of Georgia
To continue to support growing research efforts, AU completed a new research facilities map plan over the past year to identify facilities and resources needed. In line with this effort, new technology has been invested in to help with research, including a reverse osmosis system, QIAcube, incubator, microtome, turiable laser, organic chemistry lab, wet lab GE 4040 and a new mass spectrometer.
Much of the research that goes on at a university like Augusta University comes from outside grants, and MacKinnon shared that Augusta University's researchers brought in over $162 million in funding for FY23, up from $137 million in FY22 and second only to the $181.6 million that was brought in during FY21 for research based around the COVID-19 pandemic.
Within that $162 million was $109 million in core research dollars, and AU's 348 research-active faculty set records for indirect cost recovery (FNA) with $23.9 million and NIH awards with $71.5 million, up 29.5% from the previous year.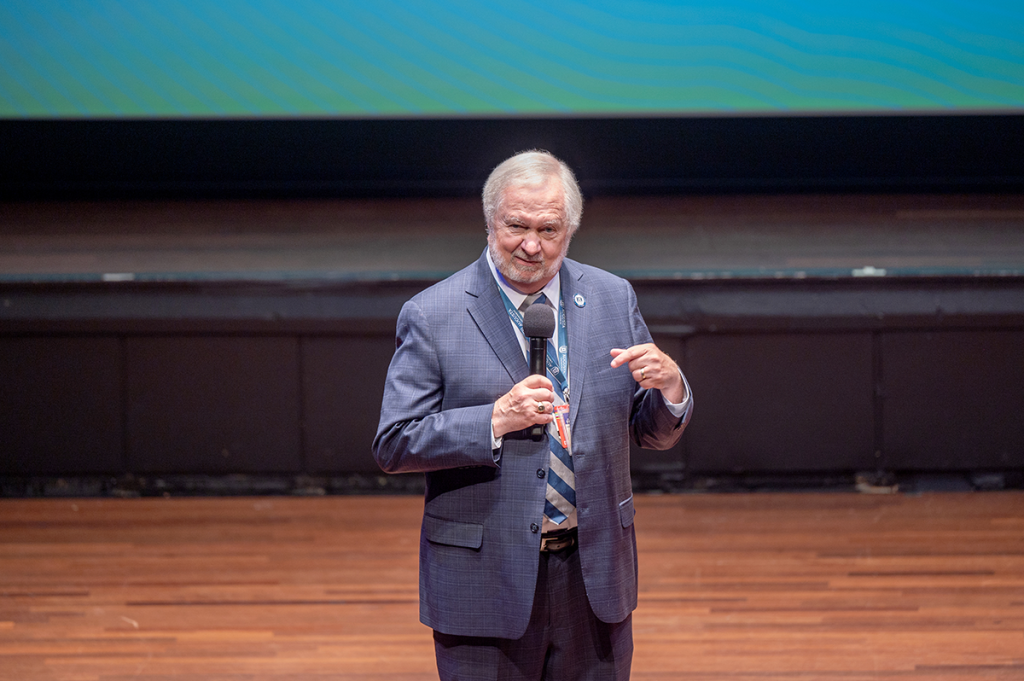 Key partnerships
A key partnership that will have a strong impact on Augusta University is the pending agreement between Augusta University Health System and Wellstar Health System. Leadership has worked to ensure the new deal will benefit patients, students and health care providers.
Part of the new partnership will include expanded opportunities for MCG students to participate in clinical rotations around the state.
As Georgia's sole academic medical center, Augusta University is uniquely positioned for multiple partnerships across the state, including the newly announced Augusta University/Georgia Southern University Medical Partnership Campus, which will be housed on the Armstrong Campus of GSU in Savannah. The partnership includes St. Joseph's/Candler and will begin in June 2024 with the new dean Elizabeth Gray, MD, moving over from the Southeast Campus of the Medical College of Georgia, based in Savannah and Brunswick.
"We have students on clinical rotations across the state, and the Wellstar partnership will increase those numbers of opportunities for our students and residents to do more rotations," MacKinnon said.
MacKinnon went on to mention how in the spring, Augusta University entered a partnership with Savannah River National Laboratory to support global security research and workforce development, and then spoke on AU's two international partnerships, Consensus with Ben-Gurion University and Converge Rural Health Symposium.
Growing community engagement
The final aspirational imperative MacKinnon updated was centered around the university's aim to have a more lasting, positive impact on the community, both at home in Augusta and beyond.
"I have to admit, this one was kind of hard for me to prepare for because there is just so much going on. Every single college has some form of community engagement going on," MacKinnon stated.
Community engagement is a central focus of the student, faculty and staff experience, and the first of the noteworthy initiatives MacKinnon touched on included the College of Education and Human Development's partnership with the Lucy Craft Laney Museum of Black History to design a series of comic books as teaching tools to help share the history of her legacy in Augusta.
READ MORE: 'There is a real sense of community here': Augusta University Literacy Center hosts hundreds of families at back-to-school celebration
On the health side, MacKinnon spoke about MCG's high school health care camp and the Costa Layman Health Fair to help migrant farmworkers.
MacKinnon closed his presentation by calling back to the opening analogy of the oak tree.
"You can envision universities as two kinds of oak trees. You can have oak trees that are decaying, that are rotting, maybe not thriving because the environment's not right, and unfortunately across the country, many universities, especially many public universities, are like that. As President Keel shared last year, 19 out of 26 universities in the University System of Georgia had a decline in enrollment. So those universities are laying off faculty and staff."
MacKinnon continued, "On the other hand, you've got universities that are growing and thriving, and I think as I shared with you today, we are not perfect — we still have a lot of work to do, especially around the retention of our students — but it's clear that overall, we're thriving. Again, that goes to each one of you in this room. You're helping us make this happen. You're making us a destination of choice of students, a destination of choice of researchers and a destination of choice for faculty and staff."