Georgia's only public medical school has received funding approval to open a new four-year campus in Savannah, an expansion that will provide greater access to education and training for medical students and ease the state's ongoing shortage of physicians.
The new campus of Augusta University's Medical College of Georgia (MCG) is expected to enroll its first students on the Armstrong Campus of Georgia Southern University by Fall 2024, pending approval by the Liaison Committee on Medical Education, the accrediting body for medical schools in the U.S. and Canada. The campus will be located in the existing Armstrong Center and the Health Professions Academic Building of Georgia Southern's Waters College of Health Professions.
Located down the street from Savannah's St. Joseph's Hospital, it would be MCG's third four-year campus in Georgia. The MCG educational experience is anchored at its main campus in Augusta, with another four-year campus located in Athens in partnership with the University of Georgia.
"Georgia ranks 40th in the nation for both the number of active physicians and the number of primary care doctors," Georgia House Speaker Jon Burns said. "Georgians experience this reality every day. Increasing opportunities within the University System of Georgia allows Augusta University's Medical College of Georgia to educate and train more students and meets a clear need to make sure our communities receive better health care. Georgia needs more doctors, and I'm proud we are making this investment in our future."
The Board of Regents of the University System of Georgia (USG) on Tuesday approved $1.7 million for renovations at Georgia Southern's Armstrong Campus to help make the new campus a reality. The money was included in the fiscal year 2024 state budget passed earlier this year by the Georgia General Assembly and signed by Gov. Brian Kemp on May 5.
"We're grateful to Governor Kemp, Speaker Burns, Lt. Gov. Jones and the General Assembly for their support in helping MCG and the university system expand one of the best public medical colleges in the nation and help get more doctors into our local communities," USG Chancellor Sonny Perdue said.
Four-year campuses provide the full spectrum of medical education, from basic sciences to clinical experiences.
"This campus expansion is a momentous milestone for Augusta University and the Medical College of Georgia, standing as a testament to the unwavering support we have received from Speaker Burns, state Rep. Butch Parrish, Governor Kemp, the entire General Assembly and Chancellor Perdue," said Augusta University President Brooks A. Keel, PhD. "Through this collaboration, we are forging a brighter future for health care in Georgia and fulfilling our shared commitment to producing more doctors for our state. I extend my deepest gratitude to all those who have championed this vision, including St. Joseph's/Candler Health System, whose exceptional partnership has provided invaluable clinical experiences for our students. Together, we are bolstering the state's medical community and strengthening Southeast Georgia's access to quality health care."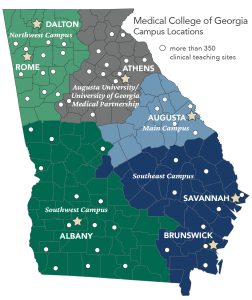 MCG's statewide educational model also has students learning at two-year, clinically focused regional campuses in every corner of the state, including the Southeast Campus, established in 2011 and based at St. Joseph's/Candler in Savannah, and Southeast Georgia Health System in Brunswick. Other regional campuses include the Southwest Campus based in Albany and the Northwest Campus based in Rome.
"This partnership with Augusta University and the Medical College of Georgia is another example of how together, the governor, our legislators, the University System of Georgia and Georgia Southern University are collaborating to meet the growing needs of Southeast Georgia," added Georgia Southern University President Kyle Marrero. "These programs on our Savannah campus further Armstrong's history of being a leader in training health care professionals and complement our efforts to expand nursing education and develop our future physician assistant program."
Through this partnership, Georgia Southern is providing approximately 23,000 square feet of instructional and lab space in its Armstrong Center and the Waters College of Health Professions' Health Professions Academic Building. This includes 10,000 square feet of dedicated student group workspace and faculty and staff offices and 13,000 square feet of shared anatomy lab and large classroom space. The renovations include the creation of a new anatomy lab within the Health Professions Building, as well as minor renovations and new furniture, fixtures and equipment for the student group workspace and faculty and staff offices.
The new campus would allow MCG to accept 40 more students per year, increasing its class size, already one of the nation's largest, to 304 students per class.
"As the state's only public medical school, it is both our responsibility and commitment to produce more doctors for Georgia, and this growth in our class size is one way we can fulfill what I consider to be our most critical mission" said MCG Dean David Hess, MD. "This expansion would not be possible without the support of Governor Kemp, the Georgia Legislature, the University System of Georgia, Augusta University President Brooks Keel, and our colleagues at Georgia Southern University. I am also thankful for the unwavering support of St. Joseph's/Candler Health System, including its CEO Paul Hinchey and chief medical officer Dr. Julia Mikell, a 1976 MCG graduate. Physicians and staff at St. Joseph's/Candler have been exceptional educational partners, serving as a home base for our Southeast Campus, and providing rich clinical experiences for our third- and fourth-year students, for well over a decade. I know that commitment will extend to students at this new four-year campus."
"This is a sentinel event not only for the future of health care in Georgia, but also for Savannah and the region," added Paul P. Hinchey, president and CEO of St. Joseph's/Candler. "We have had a great relationship with MCG for more than a decade and our physicians have been instrumental as faculty in teaching third- and fourth-year students in Savannah. SJ/C has also served as a longstanding clinical site for nursing students from Georgia Southern and from the Armstrong campus. Creating a four-year medical school campus in Savannah will strengthen the medical community in Savannah and throughout Southeast Georgia. I want to thank Speaker Burns, Dr. Hess and the University System of Georgia for making this great vision a reality."
"I am excited to help build a campus that will continue MCG's mission of educating the next generation of physicians," said Elizabeth Gray, MD, associate dean at MCG's Southeast Campus, based in Savannah and Brunswick. "I am confident that Georgia Southern will be an exceptional educational partner, and am excited to continue working with the leadership, physicians and staff at our longtime partners St. Joseph's/Candler to help increase the number of physicians in this area of the state and beyond."