Education comes in all forms, including through traditional textbooks, lectures or even videos. The College of Education and Human Development at Augusta University has found yet another avenue to reach students: comic books.
Professors have collaborated with local artists and historians to create the Golden Blocks Legends comic book series to teach students of all ages about the history of Augusta and showcase some of the city's most influential people.
Kim Barker, PhD, assistant professor in the COEHD, went on a walking tour at the Lucy Craft Laney Museum of Black History and was "blown away" by what she learned about the Golden Blocks, an area in downtown Augusta that was once was the heart of the city's Black business community during the time of segregation.
One of her first conversations afterward was with Juan Walker, PhD, associate professor at AU, and the idea of the Golden Blocks comic books came to light.
"We're both fans of comics," said Barker. "As a literacy professor, I really know the power of multi-genre text comic books. With multi-genre, you've got pictures and text features and the language of comic books presents a large vocabulary. The kids don't know these stories; we have to tell the story of these people, the legends of the Golden Blocks."
Local historian Corey Rogers aided Barker and Walker in providing the background information on the subjects for the series.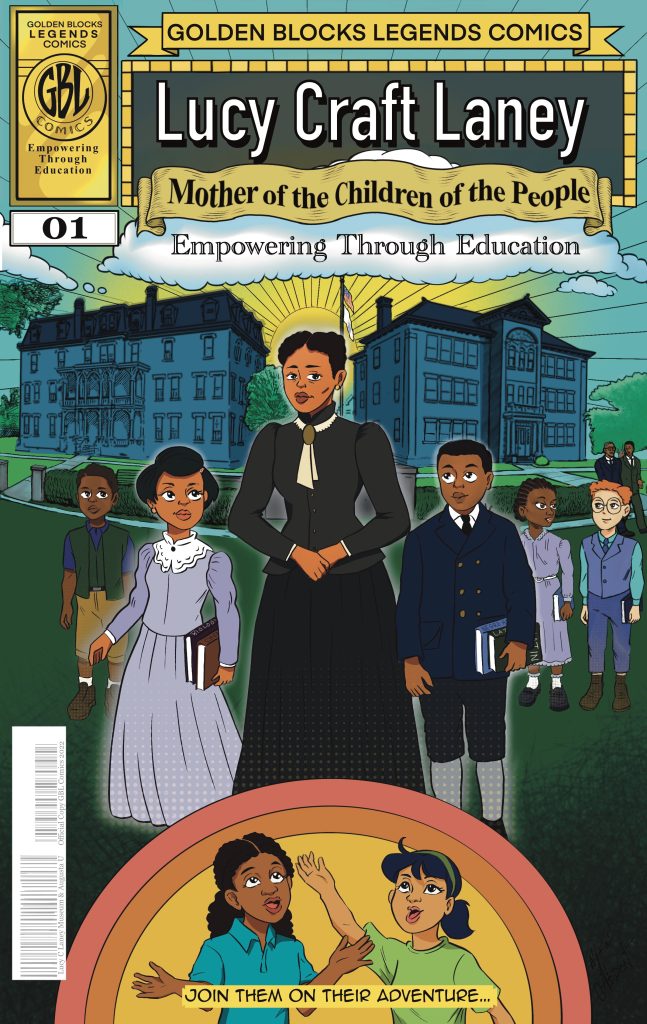 Artist Art Abdon, whose work is featured all over the city of Augusta, contributed the illustrations for the comic book. Augusta University alumna A'Shaela Abdon, who graduated with a bachelor's degree in general art from Pamplin College of Arts, Humanities, and Social Sciences, also used her skills on the project to make it come alive.
The creators developed fictional characters to interact with the non-fiction characters to tell the history of the subjects.
The first comic book is on Lucy Craft Laney. Walker said in their minds, Laney was the seed who helped sprout many successful people in various fields.
"There are others that did come before her, and we talked about ways to explore that as well, but for us, being educators, she was very progressive during her time and was not just a great role model for Augusta, but a great role model for anyone. We felt like she was the perfect person to start with," said Walker.
He added his students are planning on taking the Golden Blocks walking tour so they can have a better understanding of the history behind the people in the comic book series. They will then pilot the first comic on Lucy Craft Laney in Augusta area schools.
The faculty said this project has become an interdisciplinary teaching method.
"Dr. Walker teaches social studies methods, so he's teaching his students how to bring in local primary sources that are age appropriate and engaging. I'm doing the same with my students teaching them how to use a comic to teach literacy," Barker added.
Making this project even more dynamic, project organizers plan to get students from Pamplin's communication program involved and have every comic feature an interactive resource within it, possibly an oral history interview. Pamplin's animation program is also going to create short videos for the series.
The first comic is due in January, with the second one featuring professor and coach John Tutt due in April. The next edition, to be released in August, will feature Thomas Walker Josey, one of Augusta's first African American physicians. If funding is available, organizers would like to continue the project with a number of subjects already selected.
To make the first three comic books possible, project organizers received funding through a Research Scholarship and Creativity Activity Program grant from Augusta University as well as a Teaching with Primary Sources grant funded through the Library of Congress.
Project organizers are looking for additional support to further the Golden Blocks Legends series. Email Barker or Walker for more information.