The final enrollment numbers are in for fall 2022 at Augusta University, and while totals are down slightly across the University System of Georgia and the nation, enrollment at AU has continued to show a steady increase over previous years.
Fall 2022 enrollment stands at 9,813, marking a 17.8% increase since 2015 and a 2.2% increase over last fall's 9,606 enrollment total. As part of that overall increase, graduate enrollment rose 11.8% from fall 2021 and professional student enrollment increased within the Medical College of Georgia.
AU, which recorded the second-highest percentage of growth in the system, is one of just eight of the 26 institutions within USG to show growth to begin this academic year.
"This is a pivotal time for our university, and that is shown in the continued growth of our student body, the addition of quality academic programs and the number of successful graduates those programs produce," said Brooks A. Keel, PhD, president of Augusta University.
"We strive every day to provide our students with an innovative and inclusive learning environment to prepare them for the workforce, and our continued enrollment growth reflects that commitment. Augusta University is a place to not only receive a quality education, but also to build a fulfilling career and make a positive impact on the lives of others."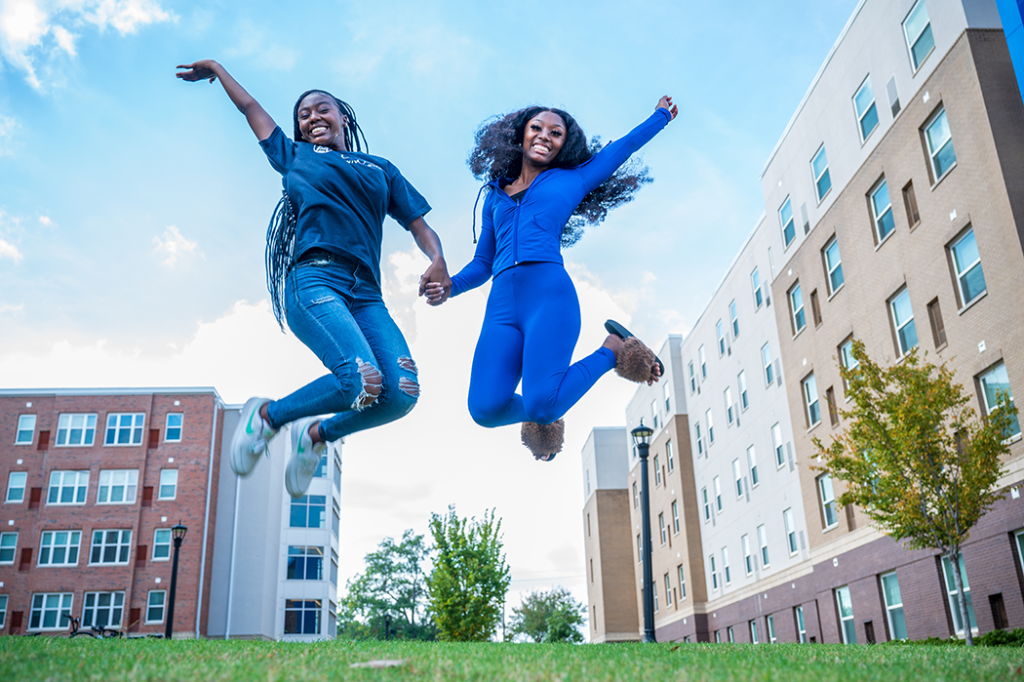 Three graduate programs in particular continue to grow by leaps and bounds in an effort to prepare students for careers in high-demand areas, both in Georgia and across the nation.
The School of Computer and Cyber Sciences saw a 54% increase in the number of graduate students in fall of 2022, the College of Education and Human Development experienced 39% growth in graduate student numbers, and the Katherine Reese Pamplin College of Arts, Humanities, and Social Sciences reported a 13% increase.
On top of that, this fall's cohort of first-time, full-time freshmen was up 1.8%, and new transfer student enrollment increased by 7.5%.
One area that will help Augusta University achieve its aspirational imperatives outlined in the new strategic plan is growing enrollment from outside of the CSRA. This fall, 57% of the freshman class is comprised of out-of-area students, up from 51% last year.
"On top of seeing strong growth in enrollment, Augusta University continues to see strong growth in the number of graduates we produce in areas that are most in demand across our state and region," said Executive Vice President for Academic Affairs and Provost Neil J. MacKinnon, PhD.
"Augusta University graduates excel in the workforce in all areas, including computer and cyber sciences, health care, education and more, and we are committed to guiding students to success across all of our 155 programs. Our innovative curriculum is designed to appeal to a diverse student body, which is shown by a continual increase in enrollment numbers."
One area of focus for MacKinnon is the development of new academic programs that meet both student and market demand.
The increase in enrollment, particularly over the last couple of years, has been helped by the addition of several new degree programs, including the Bachelor of Fine Arts in Digital and Visual Storytelling, a Master of Science in Medical Physiology, a Master of Science in Data Science, a Master of Science in Epidemiology and a Doctor of Philosophy in Computer and Cyber Sciences.
AU faculty are developing five other programs be launched in the next couple of years, including a Master of Health Sciences in Speech Language Pathology, a Bachelor of Science in Biomedical Systems Engineering, a Bachelor of Science in Neuroscience, a Bachelor of Arts in Sports Management and a Bachelor of Science in Data Science.
On top of the new program offerings, AU will launch a new School of Public Health in 2023, pulling from MCG, the College of Allied Health Sciences, the Institute of Public and Preventive Health and the College of Education and Human Development, as well as Augusta University Online, which will officially launch next year.
Across USG, enrollment declined slightly for the second consecutive year. Total enrollment for fall 2022 stands at 334,459 students attending the state's 26 public colleges and universities.
Enrollment grew by 1.2% at research universities but declined in the system's three other institutional sectors, according to USG's Fall 2022 Semester Enrollment Report. Comprehensive universities fell by 3.7%, state universities were down 5.7% and state colleges dropped 2.4%.
Overall, USG saw a decrease of 6,179 students or 1.8% across the state. Eight institutions had an increase in enrollment, while 17 declined and one remained flat compared to last year.
The recent overall enrollment decline is related to several trends. The strong job market has attracted potential students as they choose to enter the workforce over higher education. Additionally, national research has shown that financial uncertainty and the ongoing effects of the pandemic have contributed to enrollment decisions. This includes learning challenges at the secondary level that have affected whether high school students immediately decide to pursue college.
The enrollment numbers were released in the USG's annual fall semester enrollment report, which analyzes enrollment data by institution, age, gender, race and ethnicity, in-state, out-of-state and international students. Read the full report.