Augusta University Provost Neil J. MacKinnon, PhD, enters the fall semester in a different mindset than when he first addressed the faculty and staff at the annual Fall Kick-Off.
This time last year, MacKinnon, who is also executive vice president for academic affairs, had been on the job for just over seven months. Now, he has a better understanding of the university and the people who make it run, and he also has a brand-new road map for where the university will go in the next five years in the form of a new strategic plan.
On Aug. 12, MacKinnon and Augusta University President Brooks A. Keel, PhD, addressed faculty and staff gathered inside the Maxwell Theatre ahead of the start of the new academic year.
As Keel said in his introduction, "We have one priority at this university, and it's our students and our patients. Everything we do in this institution is grounded on the concept of providing our students with the absolute best state-of-the-art education and training that we can possibly provide, and the highest quality, innovative care for our patients. That's what drives this university."
Keel ended his introduction by saying, "If you can't get excited about this time of year when students come back to class, you need to go find another profession. I'm glad that you're here because you're excited about the university. I'm glad that you're here because you're excited about our mission."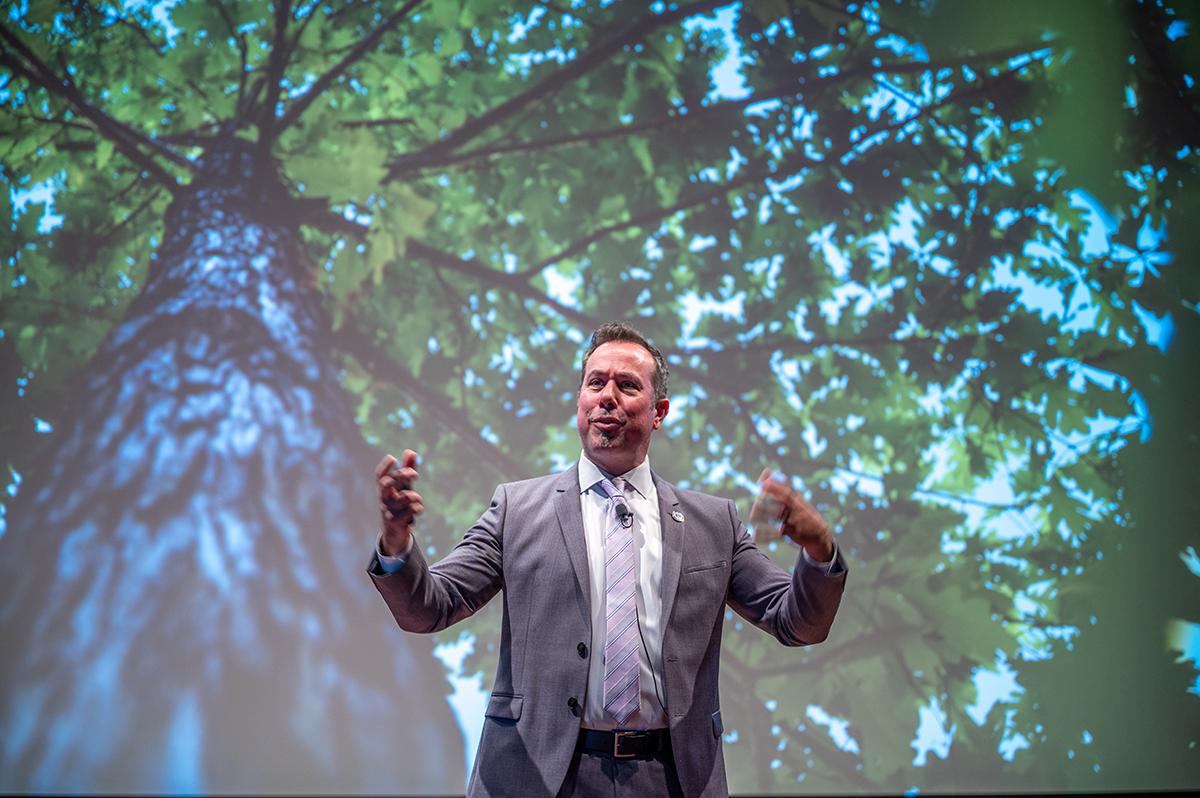 Another record year of growth
While enrollment numbers for the fall semester won't be official until October, initial numbers point to a seventh consecutive year of enrollment growth at Augusta University when including first-year, transfer, graduate and professional students. Enrollment was 9,606 last fall, and shows more than 15% growth since 2015.
Included in that growth has been a 26% increase in minority-identifying students as well as an increase in students from outside the area, as in-state enrollment dropped below 90% for the first time. This includes students from 35 states and 19 countries.
"To me, that's a good sign if I was trying to get a reputation across the state, across the region. We had a digital communications meeting last week, and it was interesting looking at who's looking at our website. Atlanta has almost caught up to Augusta, as far as people visiting our website, so that is certainly a good sign."
Focusing on retention
While bringing in new students is still a big part of reaching one of the three aspirational goals of the new strategic plan, MacKinnon shared there is still work to be done to retain students after they first set foot on campus.
MacKinnon called on 10 volunteers from the crowd to demonstrate how, according to current data, only two out of every 10 Augusta University students graduate in four years. The rest drop out, change institutions or take longer to finish their degrees, and do not graduate with their original cohort.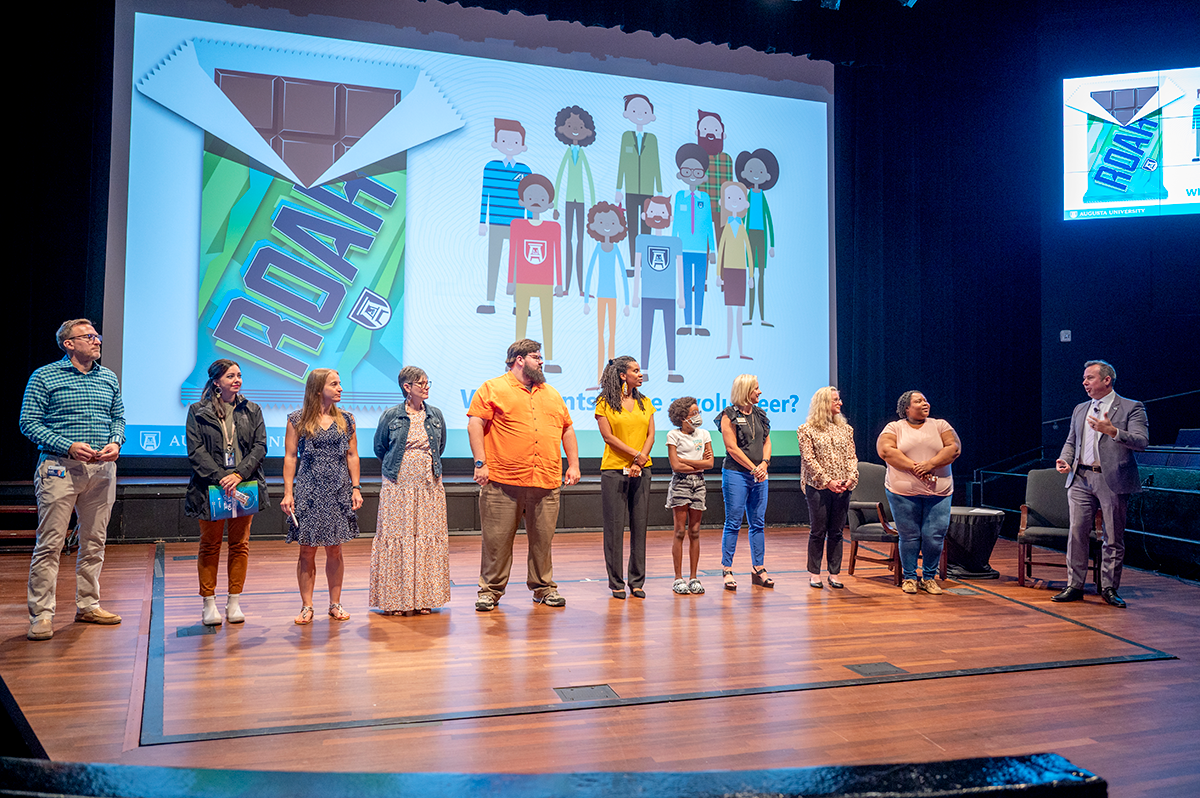 Of the initial 10 volunteers on stage, three left after the first year — representing close to 25% of students who leave the university after freshman year.
One volunteer then left to signal another drop after sophomore year, and heading into graduation after junior and senior year, there were roughly half left (five). Despite making it to senior year, about 2.5 students, represented by three bodies, won't graduate until five or six years of study.
The retention rate from freshman to sophomore year has been hovering around 73%, but MacKinnon recognizes more needs to be done across the board, particularly in getting students to graduation in four years.
"I think clearly, as a university, we can do a better job. That doesn't mean we're ever going to reach 100% retention, because students have life changes or other things that happen, but at the same time, if we are making an offer to a student in one of our awesome programs, and a student accepts that offer and comes here, to me that's a covenant. That's a promise that we want to see them through to graduation," MacKinnon said, while leaving those gathered with some simple ways in which faculty and staff can positively impact a student's experience.
"Small things like smiling and greeting students while calling them by name, they really do matter."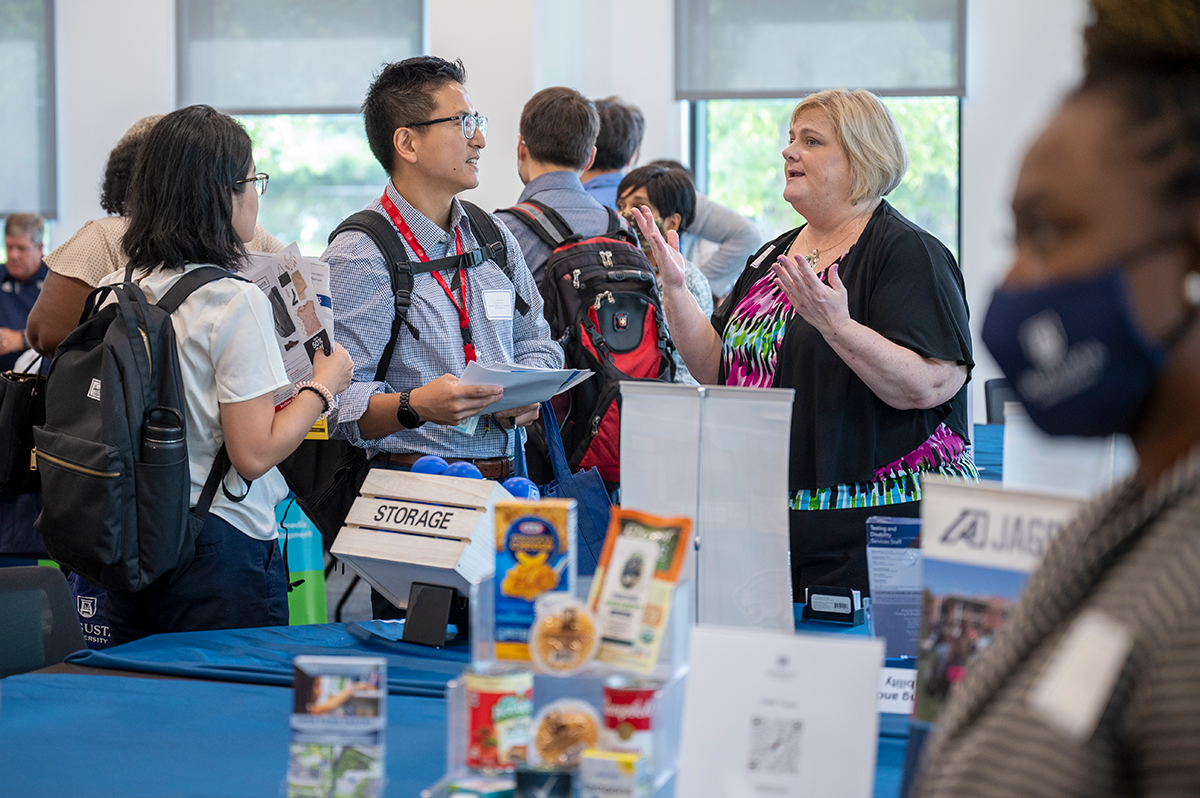 Investing in people
Part of the plan to address retention begins with the faculty and staff, and AU welcomed 213 new faculty members this fall, as well as nine new vice presidents or assistant vice presidents, nine faculty and staff in new director or interim roles, and the first two provost faculty fellows.
That brings AU's faculty number up to 1,819, complemented by 4,262 staff members.
To continue to cultivate a culture and climate for underrepresented faculty and increase retention, $351,000 was awarded to recruit 21 faculty members, while an additional $1.8 million is being pledged annually to help advising, career services, counseling and analytics.
"We have a president who cares about this, and earlier this year, he made an investment of some of his strategic funds to do a better job of advising, of career services, of counseling, of analytics trying to predict where are those students that are most likely to drop out," MacKinnon said.
"We're in the process of implementing those changes, and it's going to be a little bit messy this year — we're in a transition period — but I think the end goal will get us hopefully to start to really move those numbers."
Implementing new programs
Another way to recruit new students to Augusta University comes in the form of new programs, new colleges and schools, and new ways to earn degrees.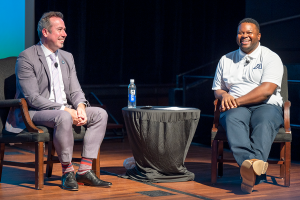 This fall, two programs will be offered for the first time, including a
Bachelor of Arts in Digital and Visual Storytelling
and a
Master of Science in Medical Physiology
. Five other programs are in the works and close to being launched, including a Master of Health Sciences in Speech Language Pathology, a Bachelor of Science in Biomedical Systems Engineering, a Bachelor of Science in Neuroscience, a Bachelor of Arts in Sports Management and a Bachelor of Science in Data Science.
On top of the new program offerings, MacKinnon recapped the earlier announcement about a new School of Public Health, pulling from the Medical College of Georgia, the College of Allied Health Sciences, the Institute of Public and Preventive Health, and the College of Education and Human Development, as well as Augusta University Online, which will officially launch next year.
"One of my earliest charges to our deans was for them to think of creative new programs that cross disciplines, that cross colleges, that might be attractive to our students," MacKinnon said.
"We have given them tools and training over the past year to help make those decisions, as far as looking at what are the hot topics and what are employers looking for across the country. These are really innovative, cutting-edge programs that I think will be appealing to a lot of students."
Cultivating international partnerships
On top of new degree programs, AU has worked to foster new avenues for faculty and student success with several new international partnerships.
Earlier this year, it was announced that the School of Computer and Cyber Sciences will explore opportunities for collaboration in graduate education and research with Ben-Gurion University of the Negev. In the coming year, MacKinnon hopes to announce similar partnerships with other international universities.
Additionally, MacKinnon spent part of his summer in Scotland working with officials from Robert Gordon University and the University of Aberdeen, and this November, RGU will host Converge 2022, an international rural health symposium.
"AU has had international partners for a long time as far as programs like study abroad and individual faculty having connections, but one thing we have been lacking is a real strategic plan around deep, meaningful international partnerships. Can we start to find some partners that care about the same topics that we're experts on?" MacKinnon said.
"In the past year, we held our virtual symposium, Converge, with about 70 researchers and clinicians from Scotland and here in Augusta, and since then, we have had faculty from the two countries already working together on projects and grants. Robert Gordon University, one of our partners in Scotland, has stepped up and they're going to be leading Converge 2022 this November.
"At the same time, we're starting our second class with Ben-Gurion University of the Negev. Dr. Alexander Schwarzmann has already developed some research connections with them, so we're excited about these first two international partners."
Continuing to lead in research
MacKinnon is also passionate about continuing to make strides in research while aiming to attain R1 status.
The overall dollar amount awarded to AU researchers was $101 million in FY22, with the number of research-active faculty increasing to 398, up 13% since fall of 2018, when there were 301 active researchers among faculty. On top of that, there has been a 33% increase in research funding over the last five years.
Augusta University also saw a record indirect cost recovery of $22.8 million come back to the school. Those funds can be reinvested in hiring new researchers, building new research facilities and investing in courses.
MacKinnon mentioned how hiring faculty within the Transdisciplinary Research Initiative in Inflammaging and Brain Aging (TRIBA) group, as well as within the Immunology Center of Georgia will help, but noted that to reach R1 status, it will take more than just STEM research; there needs to be a considerable uptick in research within other disciplines.
"I am very cautiously optimistic, though, that next year is going to look very different. We have recruited top-tier people that are game changers. So, think about that as we build up TRIBA, if we build out immunology in the next two to three years, we should even triple our research numbers.
"When I reflect back on this year, we did a lot of foundational things that were really setting our university up for future growth and success," MacKinnon said.