Augusta University and the College of Nursing partnered once again with health organizations across Georgia and South Carolina to provide health care to farmworkers during the 18th annual Costa Layman International Health Fair Outreach at Costa Farms in Trenton, South Carolina.
Rural seasonal agricultural workers, predominantly Hispanic and Latinos, often face unique health challenges and health disparities by the nature of their work, culture/language barriers and a lack of health care continuity. Many use the emergency room for primary care, which can be costly and time consuming. Common conditions affecting the population include heat and pesticide exposure/injury, animal bites, susceptibility to infectious disease and mental illness including depression, as well as chronic diseases such as diabetes, hypertension and lung conditions.
This worksite program brings a multitude of interdisciplinary faculty and students trained in rural health care to support the individual farmworker in promoting health care prevention, standard lab work analysis and appropriate referral services linked to the area's Federally Qualified Health Centers that support migrant health.
On July 14, the fair provided health care to more than 200 Costa farmworkers.
College of Nursing Dean Tanya Sudia, PhD, said planning for the event is a year-round process and noted that it continues to grow all these years later. This year the event has added Doctor of Nursing Practice (DNP) study and an electrocardiogram (EKG) station, which records the electrical signal from the heart to check for different heart conditions.
Sudia noted this year's event provided services to more than 90% of the farmworkers who volunteered to participate in the event.
"This is a fantastic opportunity for our students and faculty and staff to participate in," Sudia said. "The health fair started with the College of Nursing as the sole partner, and we now have all of our allied health professions across the university participating in this.
"[The health fair] gives the students an opportunity to engage with their interprofessional fellow students while it gives our faculty opportunities to engage with their interdisciplinary colleagues, as well as the farmworkers that are participating in this health fair. They have the benefit of all of these comprehensive services and opportunities for referrals."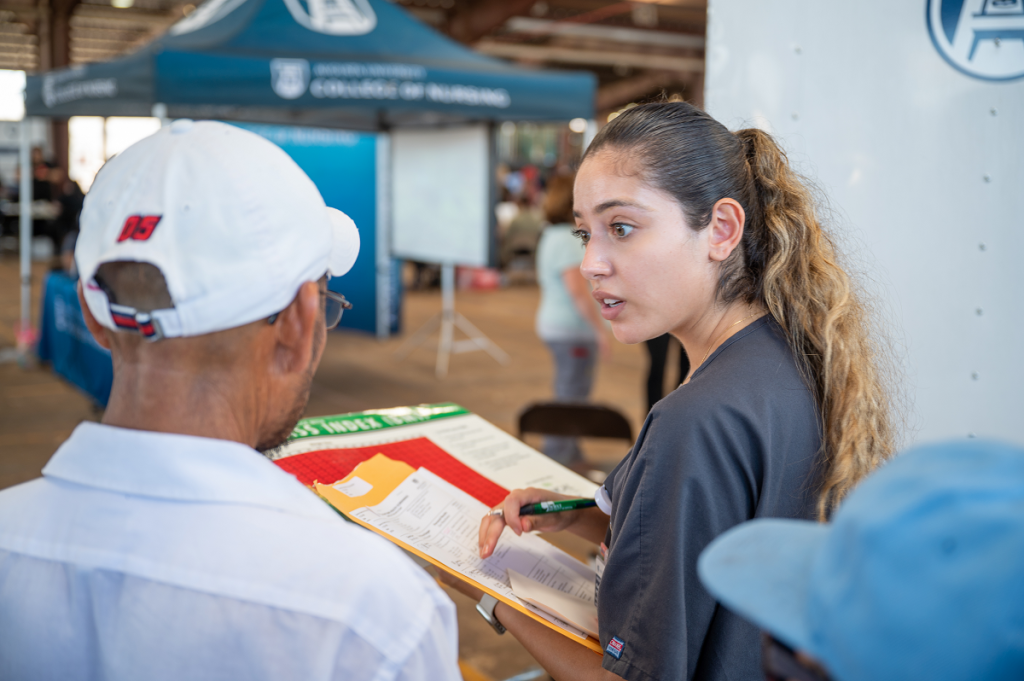 Pam Cromer, DNP, director of AU's Costa Layman Outreach Programs, and Debbie Layman, a School of Nursing alumna from the Medical College of Georgia at Augusta University, established and coordinated the health fair.
Sponsored by the College of Nursing, students from the Augusta and Athens campuses as well as faculty, alumni and other service lines were on hand, including the Dental College of Georgia at Augusta University, the College of Allied Health Sciences, the Georgia Cancer Center, AU Health Laboratory Services, the Ryan White Program, Interpreter Services, Critical Event Preparedness and Response and the Center for Undergraduate Research and Scholarship.
View media coverage from WFXG, WRDW, WJBF and The Augusta Press.