At Augusta University Health, the battle against COVID-19 continues each day.
Whether it is efforts to expand coronavirus screening and testing across the state by teaming up with Georgia National Guard and the Georgia Department of Public Health or becoming one of the first hospitals in the state to do convalescent plasma transfusions, AU Health has become a regional leader in combating COVID-19.
Flattening the curve of new coronavirus cases throughout Georgia and South Carolina is a mission that AU Health intends to win.
During this pandemic, AU Health is committed to keeping the public informed and providing virtual COVID-19 screenings through its AU Health ExpressCare app. The health system also coordinated centralized scheduling for approximately 40 COVID-19 specimen point of collection sites across Georgia to help keep more citizens safe and healthy at the height of the outbreak.
"Going into this situation, we have been very proactive," said Dr. Phillip Coule, vice president and chief medical officer for the AU Health System. "In fact, we held a briefing very early on about this subject before even the first COVID-19 case hit the United States. We had already briefed senior leadership and begun planning and educating on this issue before coronavirus ever left the borders of China. Overall, that approach allowed us to be much more thoughtful and proactive in our response to this pandemic, rather than reactive."
As the number of COVID-19 cases began to quickly spread across the country, AU Health not only had an action plan in place, but it was also able to modify and refine that plan to better serve the community, Coule said.
"Our senior leadership understood why it was important to take this pandemic seriously and to plan for it," Coule said. "As a result, we've led in testing and educating the public on COVID-19. Most people don't realize that our educational videos that were turned into public service announcements, those videos were actually done well in advance of this pandemic hitting as a way of helping to educate our patients.
"We did those before there was ever the first COVID-19 case in the Augusta area," he added. "Subsequently, those videos became a useful tool for helping to inform and educate the public about ways to help flatten the curve."
Beginning with virtual screening
When Lauren Williams, AU Health's director of population health, and Dr. Matt Lyon, an AU Health emergency medicine physician, successfully launched the AU Health ExpressCare in mid-March, they quickly decided to expand it a few days later to provide virtual COVID-19 prescreening that would be available 24 hours a day, seven days a week.
During the virtual screening, the patient is asked about common symptoms of infection and duration, including fever, cough, and shortness of breath, as well as questions related to medical history and risk of COVID-19 exposure.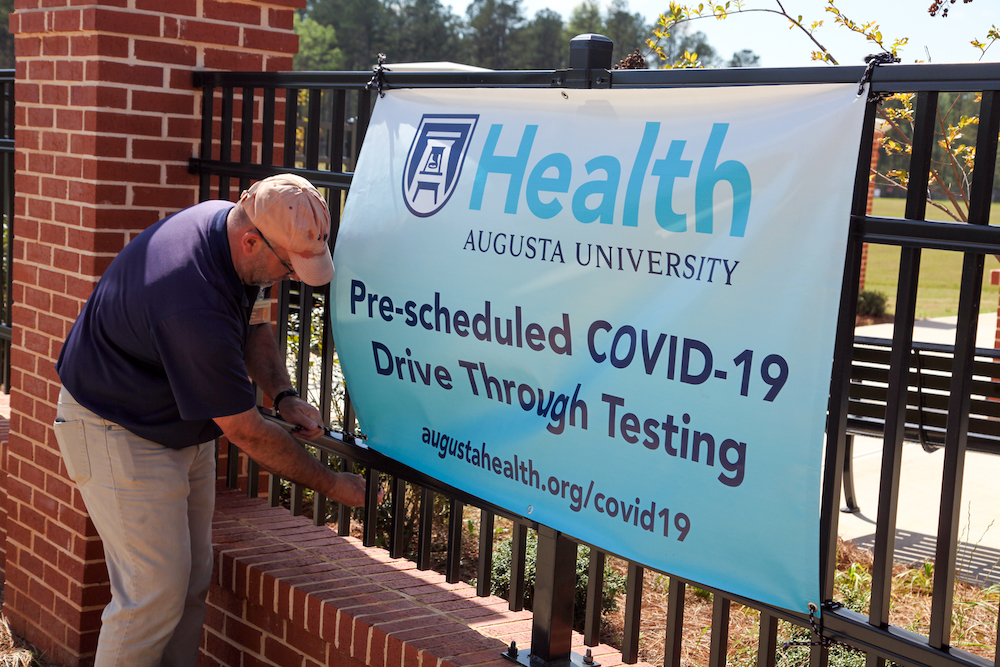 Patients who screen positive are directed to a drive-thru location to provide a specimen for COVID-19 testing. Results are provided in about three to four days through a secure patient portal and by phone.
"One of AU Health's first presumptive cases resulted from utilizing the drive-thru testing concept," said Katrina Keefer, chief executive officer for AU Health and executive vice president for health affairs at Augusta University. "It is a priority for us to provide greater access for those who may need testing the most without exposing others."
Within a few weeks of beginning the virtual screening, Georgia Gov. Brian Kemp quickly recognized the value of AU Health's free, user-friendly COVID-19 telemedicine app and designated testing locations to help combat the increase in coronavirus cases.
As a result, the governor asked the leadership of AU Health and Augusta University President Brooks A. Keel, PhD, to assist with screening and testing across the state.
"Increased, streamlined testing will be a cornerstone of our ability to safely reopen our state," Kemp said in a press conference earlier this year. "I am grateful to President Keel and our partners at Augusta University for their innovative work to make this app available to all Georgians. This app enhances our testing capacity and reduces exposure for our doctors, nurses, and medical staff through at-home screening."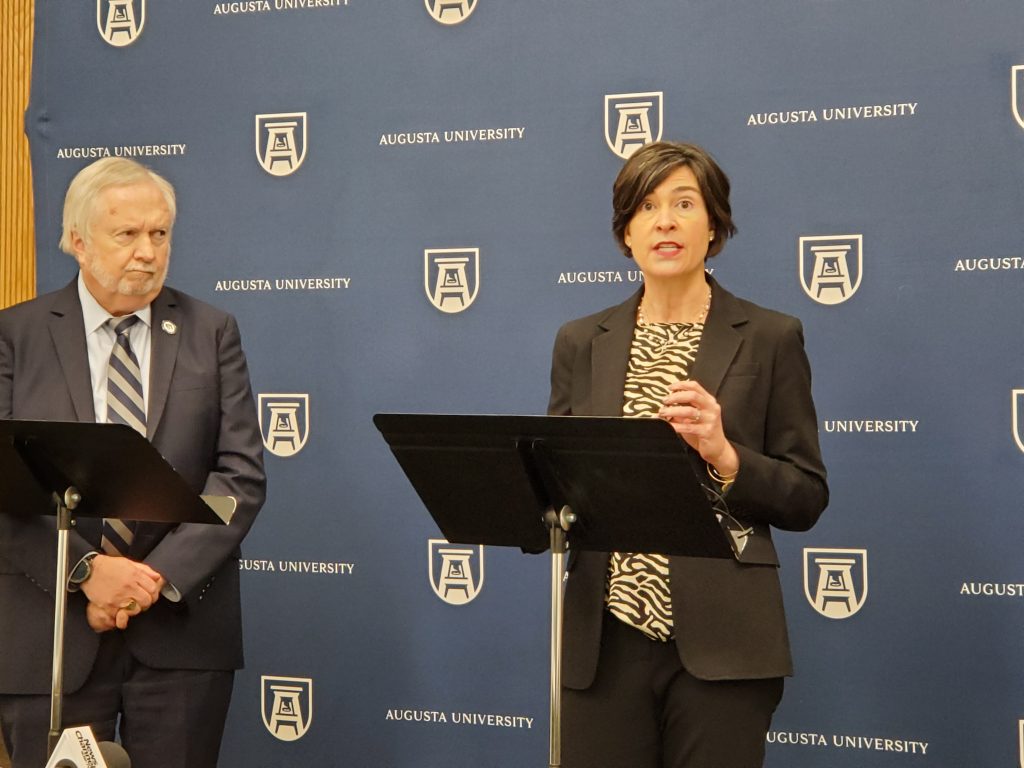 AU Health teamed up with the Georgia Department of Public Health and Georgia National Guard to coordinate centralized scheduling for Georgia's nearly 40 COVID-19 specimen point of collection sites.
"As the state's only public academic medical center and home to the Medical College of Georgia, it seems only appropriate that our clinical expertise be shared throughout the state to ensure appropriate evaluation and testing of citizens," Keel said.
Coordinating testing across the state
Mallary Myers, vice president and chief innovation officer for AU Health, led the charge to coordinate COVID-19 collection sites across Georgia.
"We already had the COVID-19 Virtual Care app that Lauren Williams and Dr. Matt Lyon were instrumental in rapidly deploying that was working great in our community," Myers said. "Their leadership in helping to get the physicians to support the app and making sure the screening process worked appropriately was key. And having that app working at the local level and working out the kinks with it before taking it to the state level was extremely important."
While the app works on Apple and Android phones and is accessible via computer at augustahealth.org/covid19, AU Health also established a hotline that Georgians without internet access or a smartphone could call at 706-721-1852.
Michelle Hoehn, director of Adult Patient Care Services and Centralized Nursing Services at AU Health, increased staffing to the clinical hotline to help with the screening process, Myers said.
"We saw calls to our hotline numbers increase dramatically," Myers said. "And, as we began rolling out the system statewide, we found that in some of these rural counties, it was necessary to have a walkup process because people that need a test may not have an app or they may have not gone through a phone screening process. So, we actually trained our nurses at the statewide test sites to do screenings as well."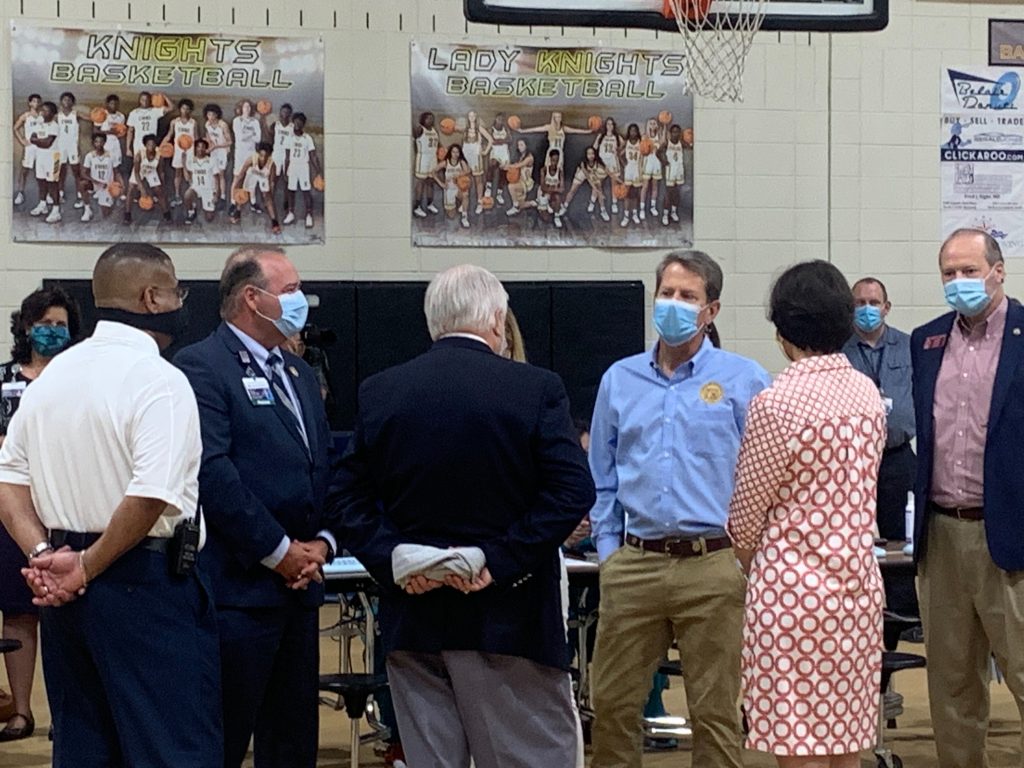 Last month, Kemp stationed about 30 members of the Georgia National Guard at the command center on Augusta University's campus to help with the screening process.
"We've learned a lot along the way," Myers said. "Our goal has really been to try to keep the process simple and to involve the experts that understand the various pieces of the process to make sure everything is done properly."
Vital steps were taken to make sure swabbing was correctly done at each of the state's testing sites and that appropriate labeling was achieved in order to provide patients accurate results in a timely manner, Myers said.
In the beginning of April, the Georgia Esoteric and Molecular Laboratory at the Medical College of Georgia Department of Pathology began offering a new coronavirus test with expanded capacity to the entire state.
"We have found the support of our state and our colleagues equal to the demand for this test," said Dr. Ravindra Kolhe, GEM Lab director and vice chair for translational research of the MCG Department of Pathology at Augusta University.
Kolhe explained that the test runs on a high-throughput instrument to enable high volume and looks at two distinctive genetic markers for COVID-19.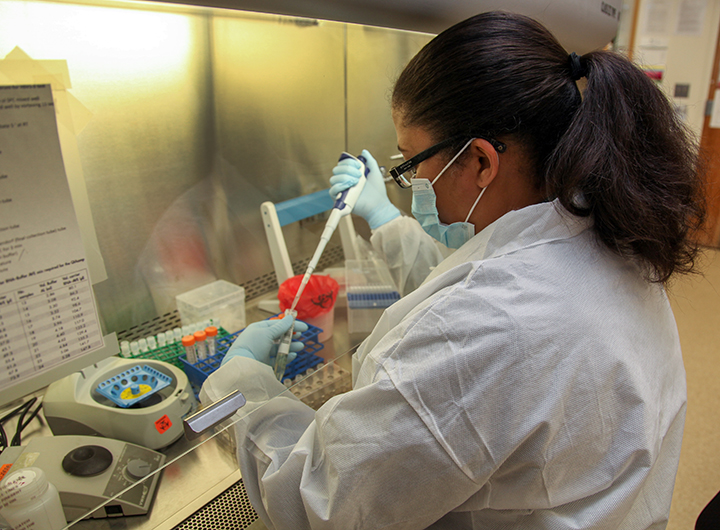 Jennifer Miller, vice president of Strategy & Business Development at AU Health System, assisted the GEM Lab in coordinating operational processes to help ensure the lab was performing and testing at an optimal level, Myers said.
When the microbiology lab at AU Health went live with its own testing in late March using FDA-approved commercial tests Cepheid, which can be processed in 45 minutes, and DiaSorin, which can be processed in about an hour and a half, the microbiology lab began running tests around the clock.
"Early on we were not testing overnight, but we quickly brought that on to meet the demands of the emergency department so they could determine where to place patients in the hospital based on test results, or if they could do additional procedures that may have been needed based on test results," said Dr. Allison McMullen, medical director of microbiology. "We were able to provide those results very rapidly."
Also, to better understand the scope of the local COVID-19 pandemic, AU Health has begun antibody testing this past month to detect whether people have previously been exposed to coronavirus and developed antibodies against it.
Antibodies are an immune response to infection, and the presence of them suggests the person was infected with the virus whether they showed symptoms or not, according to Dr. Brandy Gunsolus, Special Testing Laboratory Manager and Doctor of Clinical Laboratory Science at AU Health.
Such antibody tests can be a critical tool to show how the disease spreads through the local population, but it should not be used to determine when or if someone should return to work, Gunsolus said.
"There are a lot of individuals out there who may not know that they had COVID-19 and they may want to know, especially if they're still having some lingering effects potentially from it," she said. "Also, this test is for anyone interested in donating convalescent plasma and who wants to know if they've got the antibodies in order to do so."
Providing plasma to help the critically ill
Now that many people have recovered from COVID-19, the Mayo Clinic has begun a large-scale national trial — the first of its kind — to transfer plasma from now-healthy people to the critically ill, and AU Health is among those hospitals taking part.
"We initially enrolled eight patients and then subsequently another seven," said Dr. Rodger MacArthur, an infectious disease physician and professor in the Division of Infectious Diseases at the Medical College of Georgia, who called the results "impressive."
"The first eight were all on a ventilator. Of the 15 total we enrolled that first week, only one patient died … Previously, patients who required ventilation were in the 25-33 percent range (for survival)."
Each plasma donation can be used to help two critically ill COVID-19 patients. The first donation came from a student at the Medical College of Georgia who had since recovered from coronavirus. It was given to the first two patients in that initial trial.
"It's really been all hands on deck," Myers said. "I think everybody has stepped up and it's really been amazing to see everybody come together and leverage their expertise in particular areas to put the whole puzzle together."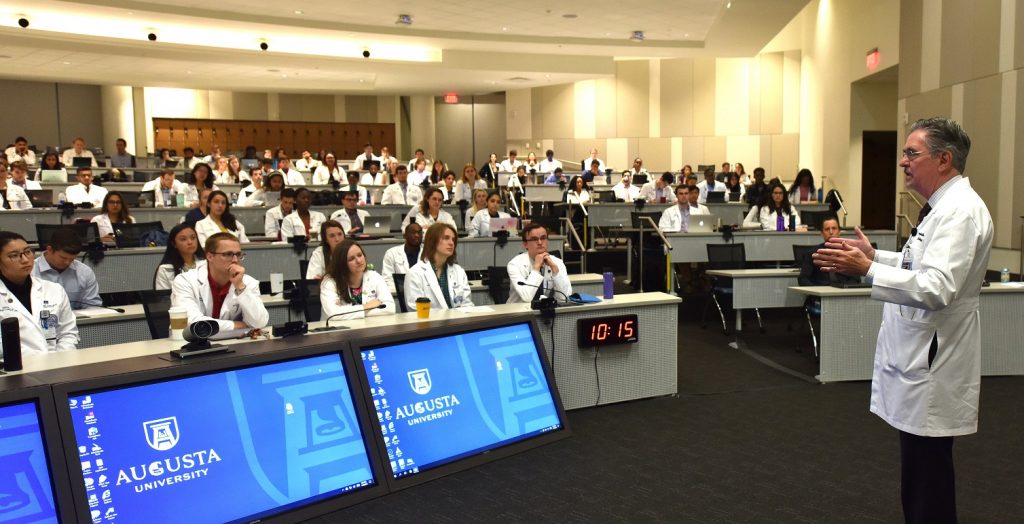 The Medical College of Georgia also led the statewide response to the COVID-19 pandemic with the creation of a pandemic medicine course that mobilized the medical school's faculty and included about 400 third- and fourth-year MCG students fanning out to support public health departments and hospital systems across Georgia.
"As the state's public medical school, MCG should lead the way in assisting with the statewide response to COVID-19," said MCG Dean, Dr. David Hess. "Our extensive, more than decade-old regional campus network, more than 2,500 volunteer faculty, multiple hospital partnerships and students already learning in every corner of our state, all naturally position the medical school to take the lead in helping address this statewide public health crisis."
Developing the necessary tools to fight COVID-19
In addition, The Dental College of Georgia at Augusta University has taken on the challenge of producing 5,000 3D-printed nasal swabs each day to address any potential swab shortages at the state's COVID-19 specimen point of collection sites.
Oral and Maxillofacial Surgery (OMFS) residents Drs. Alexander Faigen and Kyle Frazier turned to 3D printing technology as a solution after finding a nasal swab design created by the University of South Florida Health, Northwell Health in New York and a leading 3D printing company called Formlabs.
Under the leadership of Dr. Jeffrey James, program director of the Advanced Education program in OMFS at the DCG, Faigen and Frazier spent several days modifying the electronic file to produce the 3D swabs.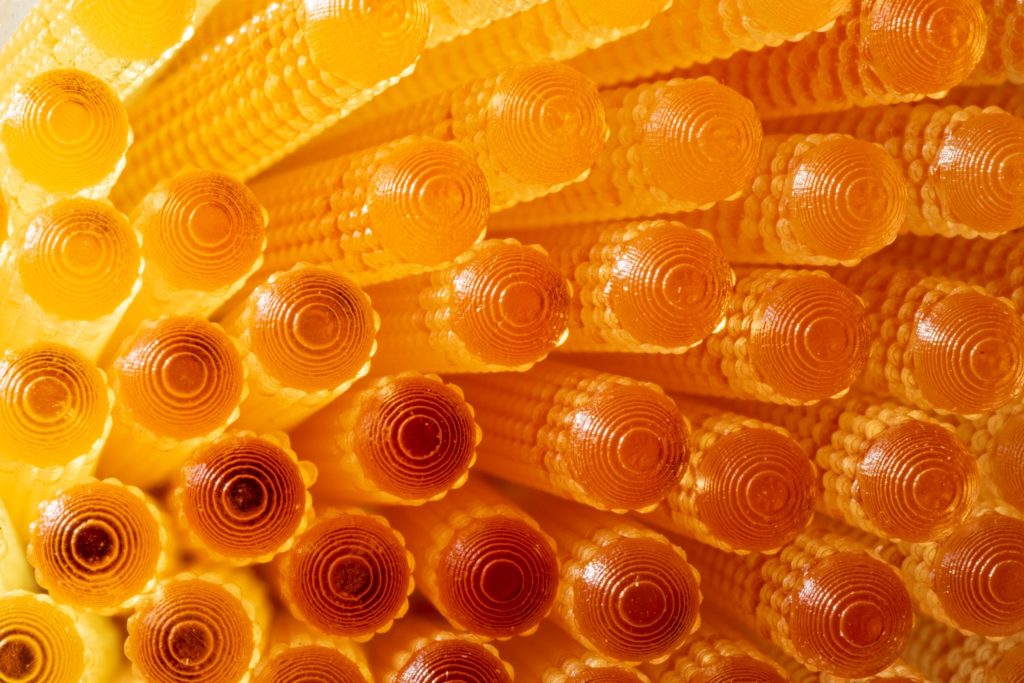 All testing showed that the 3D printed nasal swabs perform equally to standard swabs used for testing for COVID-19.
As a result, AU Health and Brig. Gen. Randall V. Simmons Jr. of the Georgia National Guard asked the DCG to begin producing 5,000 nasal swabs a day to be used throughout Georgia.
"There are so many pieces involved in this statewide screening and testing," Myers said. "The Dental College of Georgia with Dr. James' leadership, has made more than 80,000 3D-printed nasal swabs. We've created our own supply of nasal swabs for testing. Everybody has come together to help solve problems as they come up."
A number of faculty members and students from Augusta University have also teamed up with local companies such as Solvay Specialty Polymers, Club Car, Textron, software engineer David Stevens from the Savannah River Site and MTU Solutions to produce 3D-printed molds and create at least 500 reusable face masks for AU Health to make sure members of its clinical staff always have the protective equipment they need to combat COVID-19.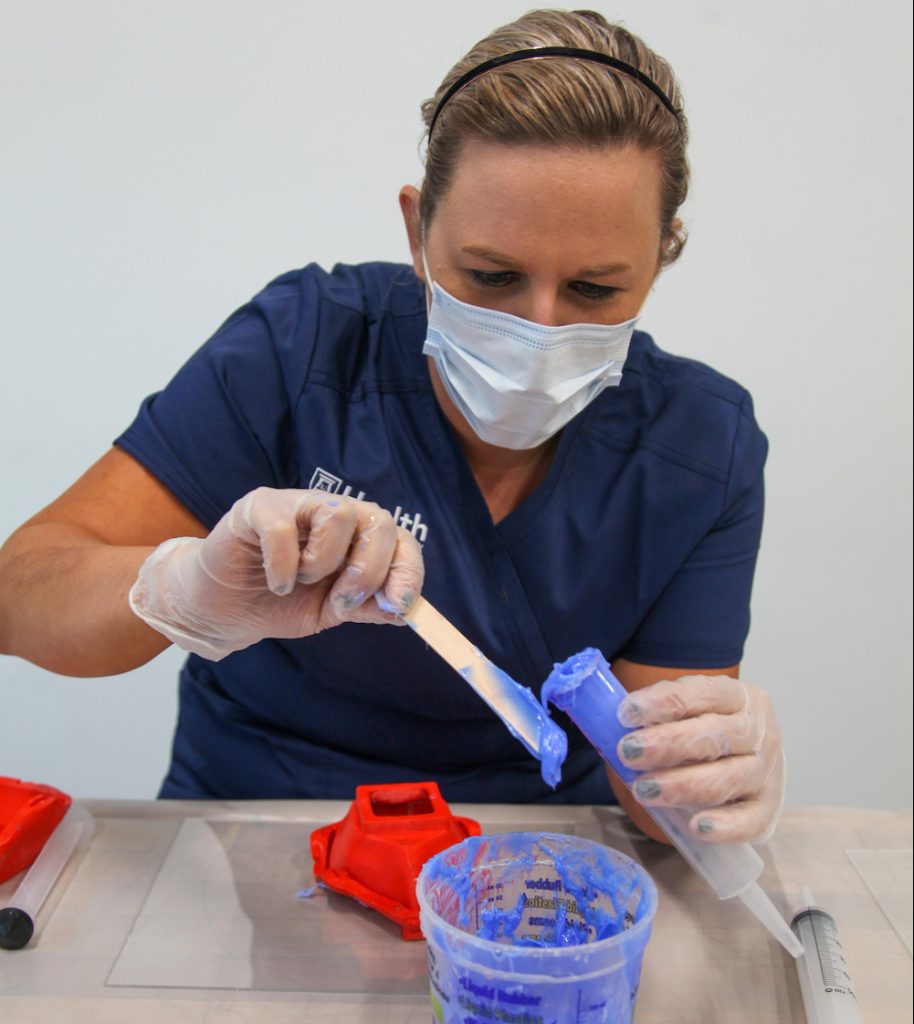 Lynsey Ekema, a board certified medical illustrator for the Center for Instructional Innovation at Augusta University, has led the effort to pull together a task force that has provided AU Health with 1,000 3D-printed face shields and the group is also in the process of making 500 face masks molded from silicone.
These reusable silicone masks have been nicknamed the "Montana Behr Mask."
"To me, what's great about this community is that everybody wants to help and everybody cares about the caregivers and the frontline workers," Myers said. "Having the community wanting to step up and make sure that they have the supplies they need is just wonderful. That's really what makes Augusta so great."
Responding to a pandemic
Joe Webber, director of the Critical Event Preparedness and Response (CEPaR) team at Augusta University, has also been instrumental in coordinating the statewide testing sites to make sure they operate smoothly, Myers said.
"Our partnership with the National Guard was that they would do logistics and coordination of the emergency management side of the test sites and we would handle the operation from a clinical and processing standpoint," Myers said. "But some of the guardsmen had never set up a testing site before, so Joe Webber and some of his team went up to Atlanta and helped make sure the team was comfortable with the overall process, from everything to the traffic flow to where the tents were set up."
Prior to agreeing to establish the statewide collection sites, Webber explained AU Health had already established two drive-up clinics at the Christenberry Fieldhouse on Wrightsboro Road and Patriots Park on Columbia Road in Grovetown.
"CEPaR's job was to determine the physical layout of the drive-up clinics and decide how the traffic will flow and to get everyone the necessary personal protective equipment," Webber said. "We needed to set those sites up in a very short turnaround."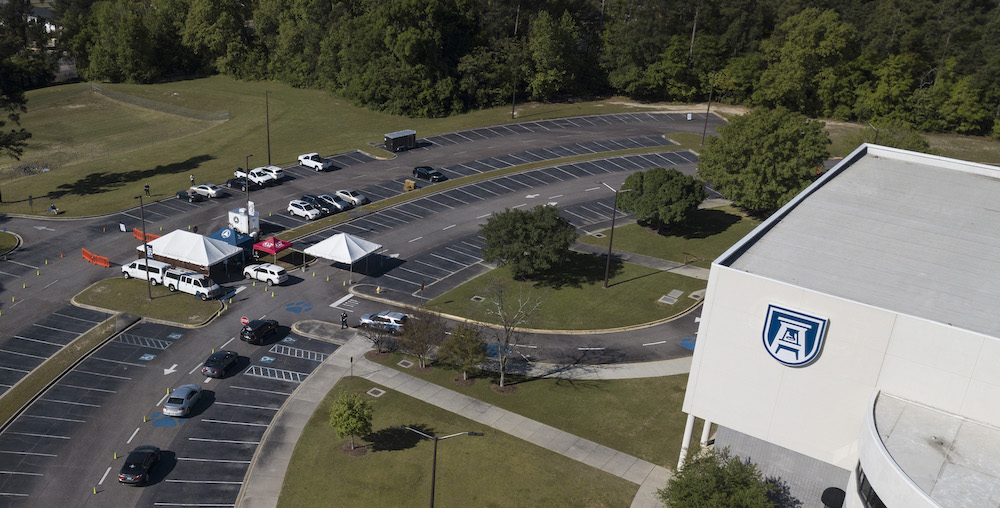 A few weeks after the two sites were successfully up and running, Webber recalled receiving a phone call from Myers around 7 a.m. on Friday, April 17. She was headed to Atlanta to meet with state officials.
"As it turned out, that was the same day she came back and brought with her Brig. Gen. Randall Simmons Jr. of the Georgia National Guard and Dr. Kathleen Toomey, the commissioner for the Georgia Department of Public Health," Webber said.
A representative from the governor's office also met AU Health officials at the Christenberry Fieldhouse for a tour of the operations.
"We walked them through our process," Webber said. "Apparently, they liked what they saw because the decision was made to form a collaboration and working relationship for the entire state."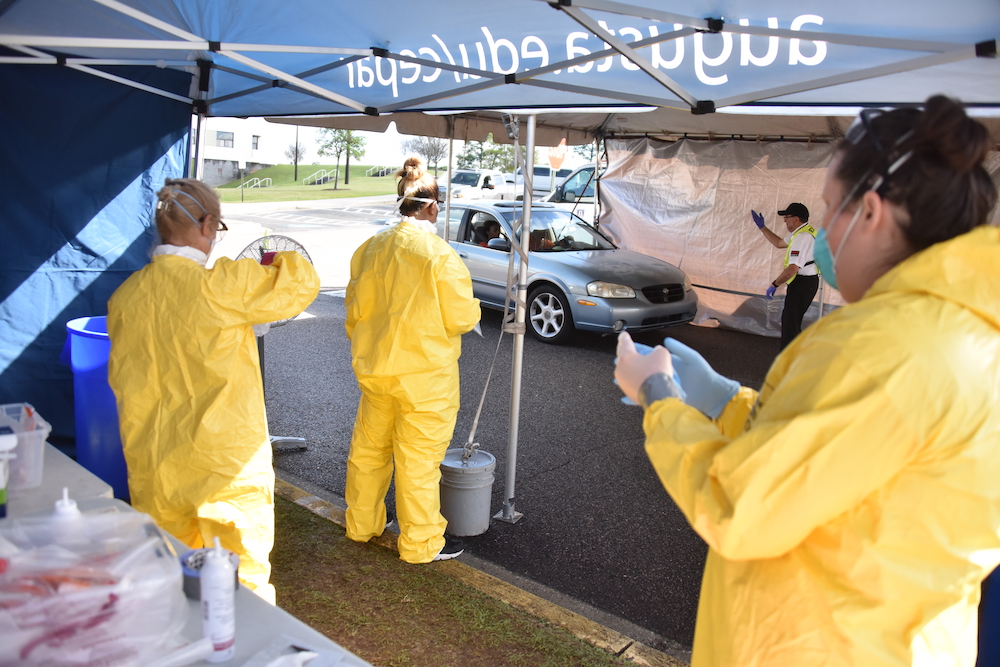 By the following week, Webber received another morning call from Myers on April 22.
"On that Wednesday, I received a phone call about 8:30 in the morning from Mallary saying, 'Would you be able to go to Atlanta?'" Webber said. "I asked, 'When?' And she said, 'Now.'"
Within in a few hours, Webber and Milton Birdsong, a CEPaR coordinator at Augusta University, were headed to Atlanta.
"The first drive-thru location that we went to in Atlanta was Kennesaw State University," Webber said. "Milton and I pulled up and a bunch of AU staff, our nurses, were there ready to go. There were also Kennesaw State personnel, their police and emergency managers as well as members of the National Guard. There had to be about 80 people there."
Lending a hand to keep citizens safe
Over the next three days, the CEPaR team went to each of the COVID-19 testing sites in the Atlanta area to make sure they were ready to receive the public.
"We had to basically set up a miniature Augusta University Medical Center network with laptops, printers, a router and everything to our secure network there," Webber said. "We got all of the locations set up on Thursday and they went operational Friday."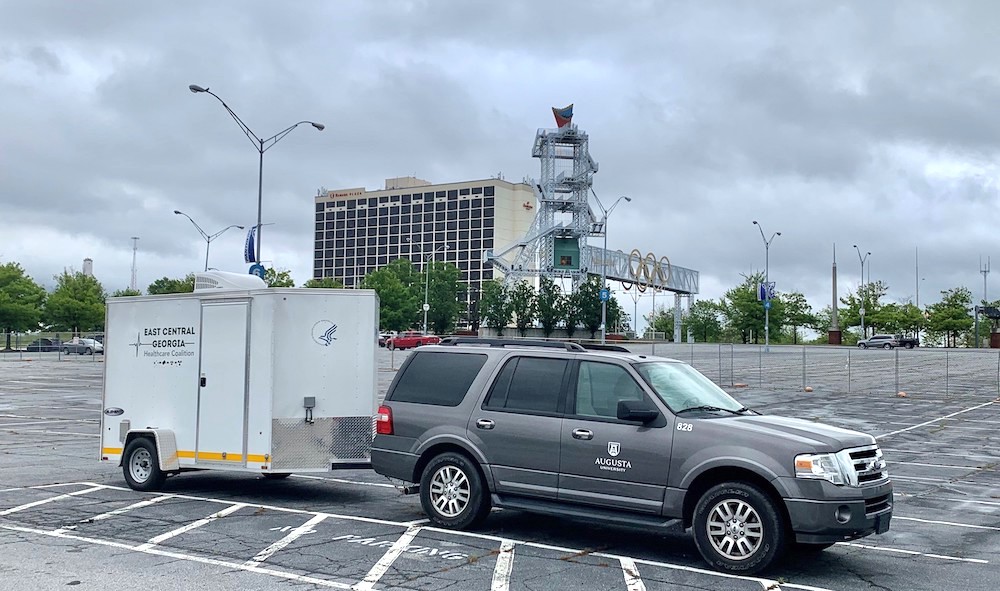 Unfortunately, on the evening of April 23, lightning struck a storage area at the Roosevelt Hospital in Warm Springs, Georgia. The lightning sparked a fire that destroyed most of the hospital's personal protective equipment (PPE).
The CEPaR team sprang into action to help get the hospital the supplies it desperately needed. Throughout this pandemic, CEPaR has led coordination of medical supplies for hospitals across the 12 counties in the East Central Georgia Healthcare Coalition.
"Our hospital is what's called an RCH, or a regional coordinating hospital," Webber said. "Each of the 14 individual health care coalitions across the state have a designated regional coordinating hospital. And we are that RCH."
"So, Milton and I had to race back to Augusta Thursday evening to assist with supplies after the fire," Webber added. "Then we headed back to Atlanta early Friday morning to make sure all of the COVID-19 collection sites were up and going. That was a busy week."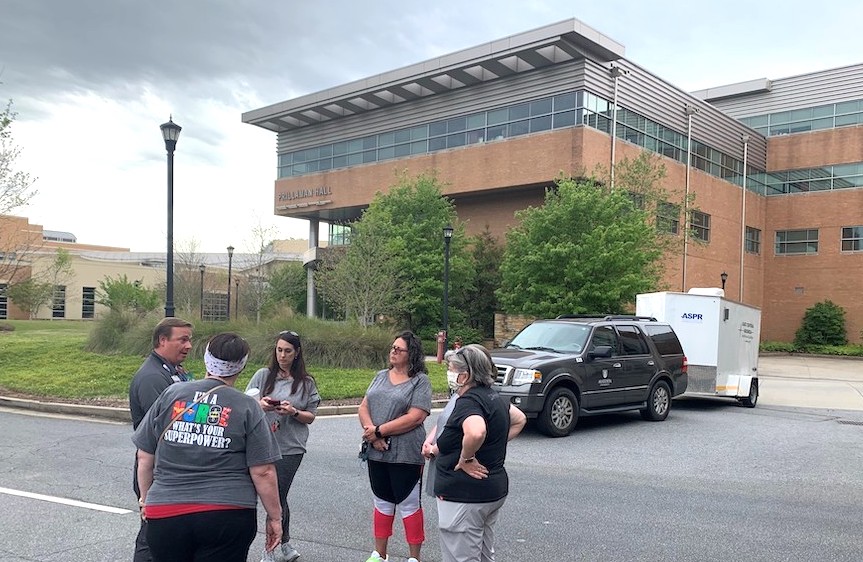 But whether it's providing rural hospitals with much needed supplies, helping to organize the blue tent operations at the Emergency Department at Augusta University Medical Center, volunteering to do nasal swabs at local nursing homes or making sure the drive-thru COVID-19 collections sites are operating smoothly, Webber said the CEPaR team is happy to assist.
"There's a lot of people having to do a lot of really good work right now," Webber said. "I mean, really, it's just humbling to be able to be a piece of it. Because we really do believe that here at AUMC and AU Health and AU, we're making a difference. So just being able to make a difference to help people potentially save lives is really a humbling experience and it's an honor to be a part of it."
Chief medical officer Dr. Coule said he could not possibly be prouder of the entire AU family.
"From the very beginning, our whole team at AU Health understood what we were facing with COVID-19," Coule said. "And I must say, we've got just a phenomenal team of people here. I would put them up against anybody in the country. They have worked tirelessly to help save lives across the entire state of Georgia and beyond."