Augusta University Health has signed an agreement with Gold Cross EMS to improve medical ground transportation for patients who need the highest levels of care at Georgia's only public academic health center. The partnership, effective June 15, designates Gold Cross as the preferred vendor of all non-emergent, NICU/PICU, mental health and specialty ground transports.
This collaboration will equip the health system with expert EMS teams from Gold Cross to operate five AU Health-branded ambulances, two branded wheelchair/stretcher vans, one branded police interceptor for mental health transports, and two branded quad cab ambulances for NICU/PICU teams. The agreement also includes non-emergency patient transport between facilities.
"We are bringing an entire new fleet of ambulances and equipment to the hospital," said Vince Brogdon, president and CEO of Gold Cross EMS. "We have also ordered a second state-of-the-art Quad Cab Neonatal Transport ambulance that will provide greater safety and comfort for both the patient and AU Health staff."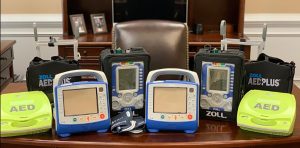 "We are proud to partner with Gold Cross, a locally owned and operated company well versed on the needs of our patients and the communities we serve," said Katrina Keefer, AU Health CEO. "By leveraging their expertise and community footprint, patients will have ready access to care right when they need it most."
Gold Cross will work with AU Health to develop an enhanced mobile integrated health care program for pre-hospital care, reducing hospital trips.
"This partnership will provide an opportunity to better meet the needs of all the patients we transport," said Steven Vincent, vice president of Gold Cross EMS. "Our Mobile Integrated Healthcare program will enhance the hospital's ability to monitor a patient's condition in a pre-hospital setting. Many of these patients are already familiar with Gold Cross and our crew, which helps the program become more successful."
Gold Cross recently updated its dispatch center to the most state-of-the-art system available, Vincent said, allowing the health system real-time tracking of vehicles for greater transparency, efficiency and reliability.
"As an emergency medicine physician, I can personally attest to the importance of collaboration between the Emergency Medical Services 911 provider and the health system to improve the health of our patients." said Dr. Phillip Coule, vice president and chief medical officer for AU Health. "Gold Cross EMS will also improve our transport capabilities for the Children's Hospital of Georgia by adding additional dedicated vehicles for critically ill neonates and pediatric patients."
As part of the agreement, Gold Cross is responsible for ensuring proper equipment and supplies are onboard all transport vehicles, performing service in a timely manner, licensing and evaluating staff, and providing appropriate documentation.
Gold Cross is the 911 provider for Richmond, Columbia and Jefferson counties, providing patient transports for the health system for over 20 years. In addition, the locally owned and operated company provides non-emergent services in Richmond, Columbia, Jefferson, Greene, McDuffie and Aiken counties, where it responds to more than 85,000 calls annually. One of only eight ambulance services and seven dispatch centers accredited in Georgia, Gold Cross employs 375 people and maintains more than 80 ambulance and transport vehicles.
"Our team is very excited to bring our services to Augusta University Health," Brogdon added. "We believe our large fleet of ambulances will be able to meet the growing needs of the hospital. Because we are local, we are able to quickly meet changing demand in real time."