More than 40 high school and college students joined the Augusta University and AU Health community this summer to participate in the Summer VolunTeen and VolunJag programs, designed to give students the chance to serve side-by-side with medical professionals and gain a deeper understanding of the health system.
"We like to give our departments dedicated individuals we know can aid in their mission to improve the lives of patients and guests each day," said Shayna Crawford, volunteer engagement coordinator for the Office of Volunteer Services & Community Engagement. "This is why we make sure the students we select are not only passionate about the field of health care but serving their communities as well."
While the VolunTeen program primarily occurs during the summer, the VolunJags program is open for college students to apply to each semester. The summer portion features professional development opportunities for students outside their regular service.
"This year's theme, 'Breaking Barriers,' allowed the program to address common obstacles that students often face, such as college debt, uncertainty of a specific career pathway and fear of failure. It is often these barriers that stop many students from reaching their full potential," Crawford said.
The program, which has been in existence for more than 10 years and offers support to more than 20 health system departments, works to provide students with the tools they need to feel confident in their career pathways through the power of networking and training. During the first week, volunteers receive training that focuses on the areas of effective communication and patient engagement. These trainings help identify areas of growth for the students to build upon as they serve within the medical center.
"It has been an honor and privilege to witness our youth volunteers grow and develop over the past decade, gaining essential skills and knowledge to produce invaluable opportunities and connections that will follow them throughout their health care careers," said Vanessa White, director of volunteer programs and operations.
Kyara Vences, a College of Science and Mathematics student studying chemistry, participated in the program while at Evans High School. Her experiences this year far exceeded her expectations, especially considering she got a lot more hands-on and simulation training versus the online work she did during the COVID years.
Vences also shared that getting a chance to interact with the patients helped with her confidence and added a positive spin to her experience. She appreciated that many staff and patients took her under their wing and offered words of encouragement.
"I prefer the hands-on experience because it was definitely more eye-opening. It went from being theoretical to, I'm in the situation now," said Vences, who volunteered in the 4 West Trauma Unit. "I was excited and scared but in a good way. I'm kind of a shy person, and I don't want to do something unless I know I can do it. Everyone involved and everyone I interacted with were awesome. They are all so qualified, passionate and dedicated to their work. I learned a lot."
College of Nursing student Caleb Smith participated in the program for the first time this summer after transferring to AU. He became interested in the program after seeing flyers and said it was an eye-opener because he got to see how the "real world works."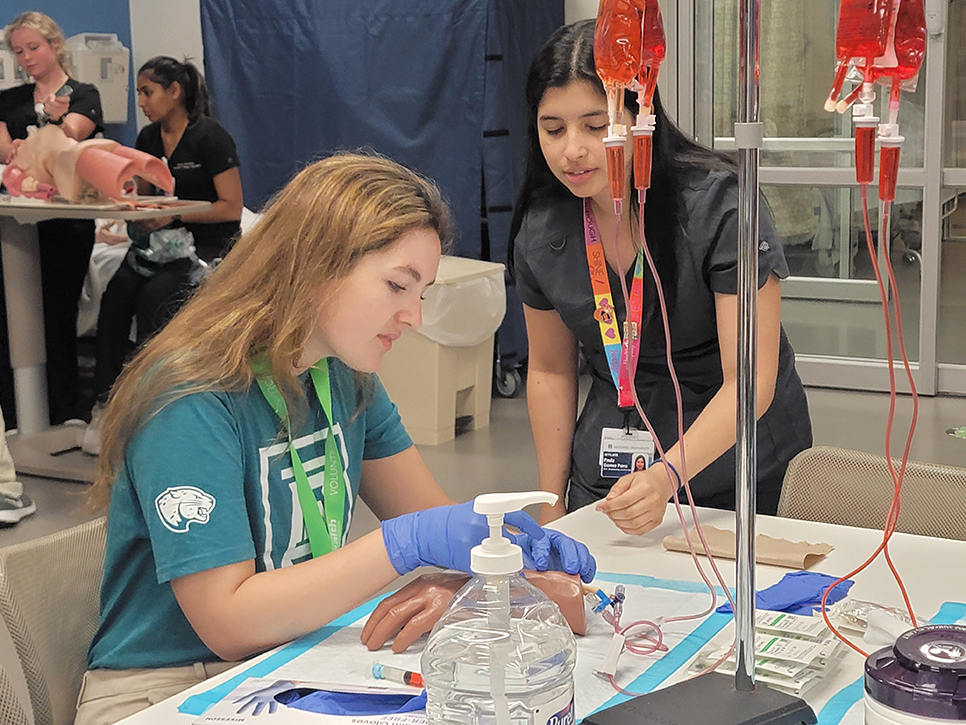 "The first time I walked into a patient's room, it was a young girl who was sick, and for a moment it threw me because I was in front of machines and everything was different from hearing and learning about it," said Smith, who also said after the experience he wants to become a pediatric nurse practitioner. "Then something clicked, and that's when I realized, 'Oh yeah, I'm here to take care of her,' and that's when I knew what I wanted to do with the rest of my life was to help kids have a chance to go out and live their lives."
Smith was excited for the experience not only for himself, but also for the volunteers in high school.
"I think it's giving them an opportunity to explore the health care side to see if that's what they're interested in and give them an opportunity to help people and serve. And for us VolunJags, I needed shadowing hours, and I can use this to help network with people here. I'm getting to put myself out there and meet these people, that way down the road, they already know my face and we have that connection."
Participants also had the opportunity to learn from AU and AU Health faculty and staff during the Lunch & Learn series. The sessions are designed to help students navigate their career paths and offer professional development tips and resources. One popular session is the admissions panel, which is hosted in collaboration with AU admissions professionals from the College of Nursing, the Dental College of Georgia, the Medical College of Georgia, Healthcare Professional Outreach, Career Services and Financial Aid.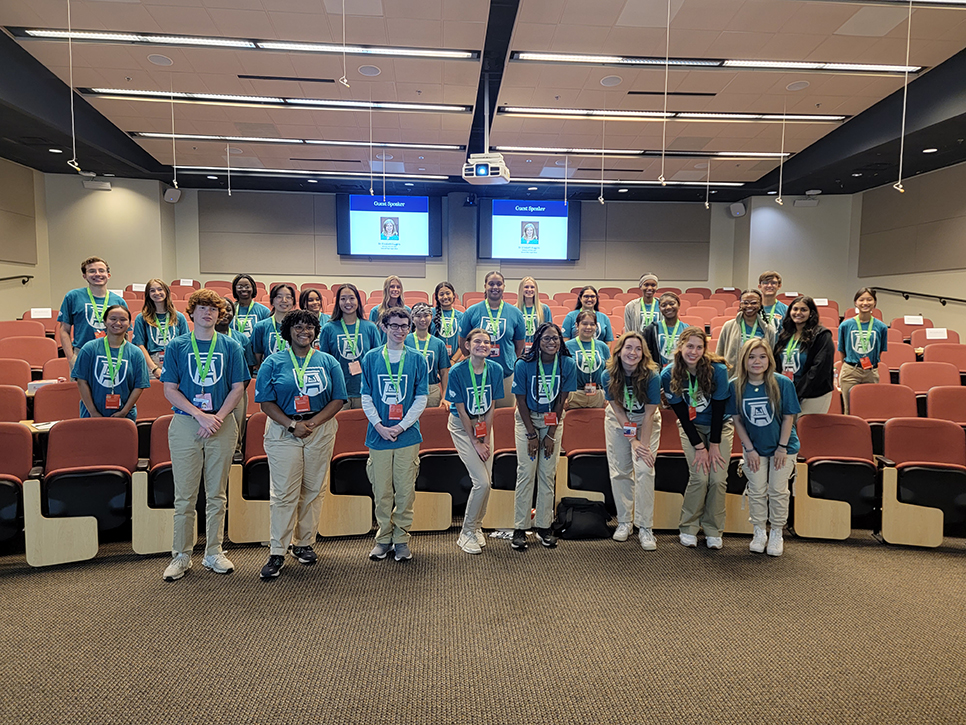 Students also attend one-of-a-kind, pop-up experience events that feature a behind-the-scenes look into the health sciences, including one session that allowed participants to go on an instructional tour of the operating room, Post Anesthesia Care Unit and Central Sterilization.
"Being able to place our participants in a position where they can get answers to their questions helps dispel the idea that they are alone in their journeys," Crawford said. "Our university has a multitude of student resources and assistance available. It is our goal that through the Office of Volunteer Services & Community Engagement, and in collaboration with other departments, students are shown they can ask for help and encouraged to explore different opportunities that prepare them for the road ahead."