One step into the local outdoor gear store Escape Outdoors in Martinez, and Augusta University students, faculty, staff and alumni will immediately notice some exciting new additions.
Escape Outdoors, located at 377 Furys Ferry Road, recently began offering its customers a variety of Augusta University merchandise, including T-shirts, hats, stickers, purse straps and more.
Rafy Bassali, an alumnus of Augusta University and owner of Escape Outdoors and the local boutiques The Swank Company and Posh Tots, said he is honored to partner with Augusta University as a local retailer of its merchandise.
"Having a strong relationship with Augusta University is incredibly important to us," Bassali said. "We are a local business and being connected with our local community is a mission of our business. We love that collaborations like this allow our community to support us as a local business and AU as a local university."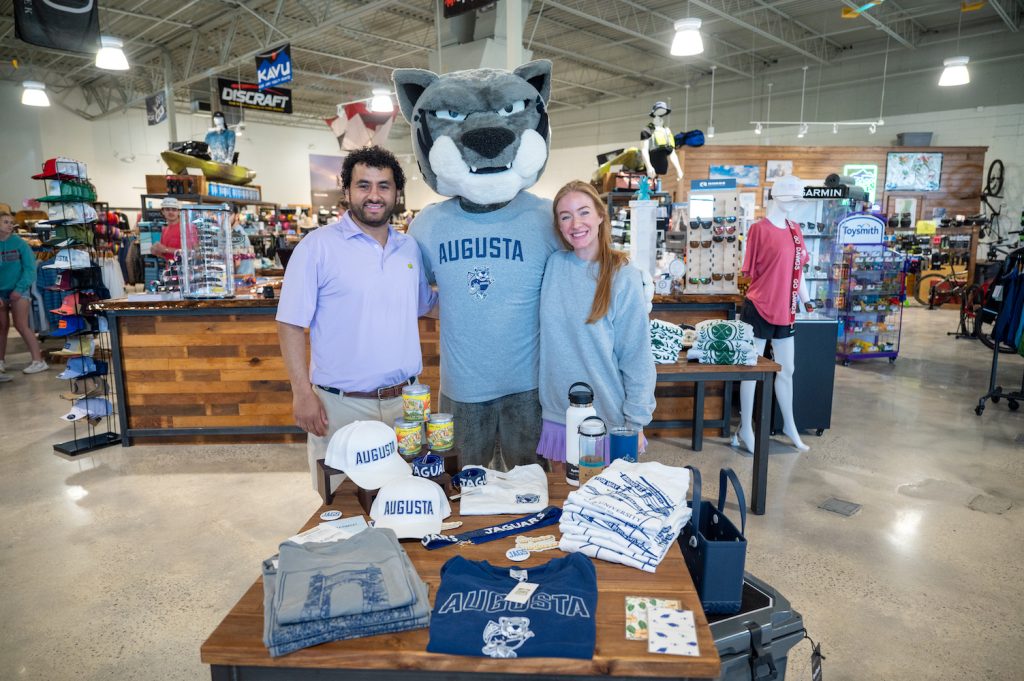 Russell Keen, EdD, executive vice president of administration and chief of staff to the president at Augusta University, said offering the university's merchandise in a local store owned by an alumnus is a win-win situation for the entire community.
"It's incredible to see our merchandise in a store like this and it's even better to have it in a store owned by an alum," Keen said, as he walked around Escape Outdoors looking at the new Augusta University merchandise. "And Rafy has told us that it is selling and they are already making reorders, so that speaks to our brand, it speaks to the loyalty that we are creating in our alumni and our connection to the community."
For years, Keen said community members have told the university they would like to see more Augusta University merchandise in local stores.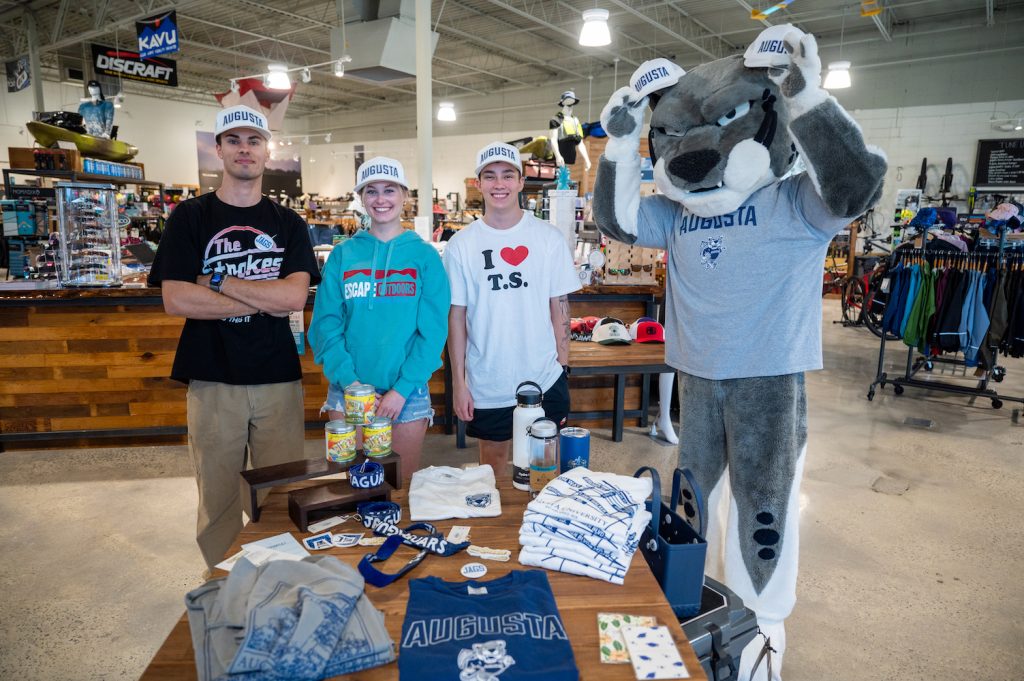 Alison Rohdy, brand strategist and trademark and licensing coordinator, and Taylor Lamb, director of marketing and creative services for Augusta University Communications & Marketing, initially approached Bassali last year to discuss the possibility of having some Augusta University art students paint a mural on one of his downtown buildings.
Bassali, an alumnus of Augusta University's James M. Hull College of Business MBA program, owns more than 30 properties in Augusta and the surrounding areas.
One of the buildings he owns on Broad Street in downtown Augusta is home to the Draft Society Taproom.
Just last year, Augusta University art students from the Department of Art and Design at Pamplin College of Arts Humanities, and Social Sciences finished a large outdoor mural for the Draft Society Taproom courtyard area.
"The art mural was all part of the Jaguar Nation Collaboration Project that we started in 2021," Rohdy said, explaining the project was created to identify and celebrate the university's brand and inseparable connection to the city. "We were trying to get more integrated downtown and engaged in the community and have a bigger presence."
Local companies such as Augusta Candle Company, Freshwater Design Co. and Buona Caffe created unique Augusta University products that were sold at Augusta & Co., 1010 Broad St.
"We reached out to a handful of small, local businesses to partner with us. We asked them to create unique products with their personal, creative touches on our brand," she said. "Partnering with small, local businesses was always the goal."
While talking to Bassali about the possibility of an additional mural downtown, Rohdy said he inquired about Augusta University merchandise.
"He asked me, 'How do you sell the university's merchandise? Could we potentially sell it out of our stores?' And I immediately said, 'We would love that,'" Rohdy said. "Everything just fell into place. We started with merchandise at Escape Outdoors, and we recently added some T-shirts at Swank. If everything goes well there, we plan to add some items at Posh Tots. So, that is how it came to life."
Bassali said he has been pleased with the high demand for the Augusta University merchandise at Escape Outdoors and has already ordered more items.
"We view this collaboration as another way to reach our community, and draw in students who may not have heard of Escape Outdoors," he said. "Students attend Augusta University from all over the country, and hopefully this is a way to connect. We do not aim just to have them discover Escape as a place to shop, but hopefully, also a place to find a sense of community. Since our offerings revolve around so many outdoor activities, Escape has become a connection point for people with different interests through things like disc golf, camping, kayaking, running and more."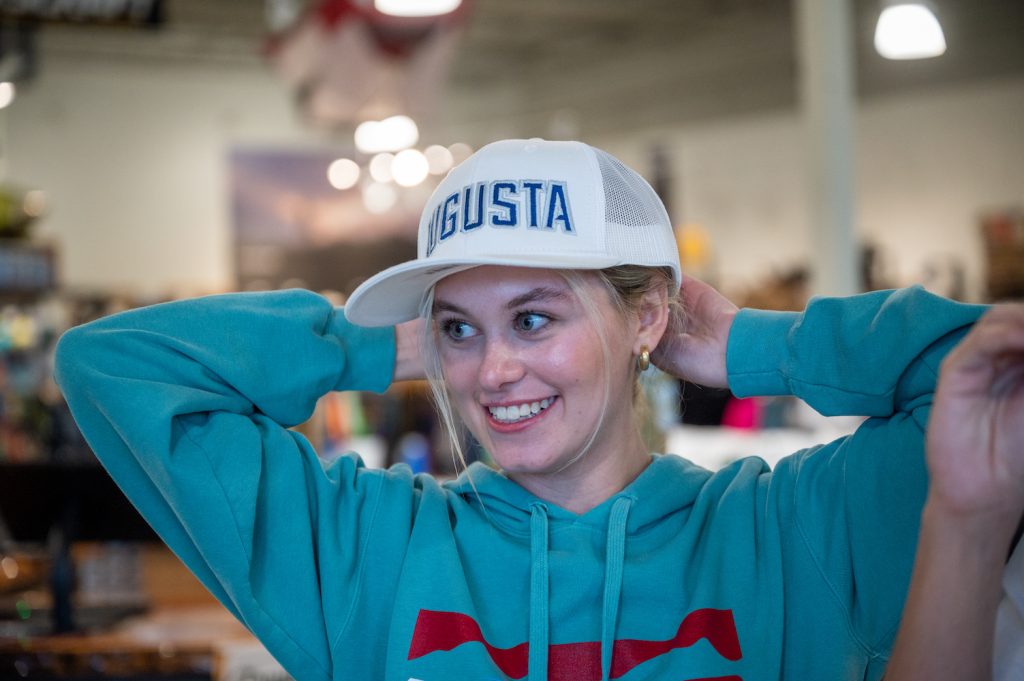 Elizabeth Wilson, a sophomore at Augusta University who is majoring in business administration with a concentration in digital marketing, is also an employee at Escape Outdoors.
Wilson said she is proud to have the Augusta University gear available to customers coming in the store.
"It is a good conversation starter when they pick up the merchandise, and I get to say, 'I go to Augusta University,'" Wilson said. "I am really proud of my school, and I love seeing people wear the AU shirts and hats. I feel a connection with them."
Seth Prior, a junior at Augusta University who is majoring in graphic design, also works at Escape Outdoors.
Prior said he was excited to see the Augusta University T-shirts at Escape Outdoors because he was able to meet local graphic designer Jason Craig, who designed the new Augustus logo for the merchandise, during one of the artist's talks at the university.
"It is really cool to see the T-shirts with his design in our store," Prior said. "And they are selling out quickly. We had to order some new stuff recently, so it is definitely great to see other people enjoying the school and seeing the community's support of AU."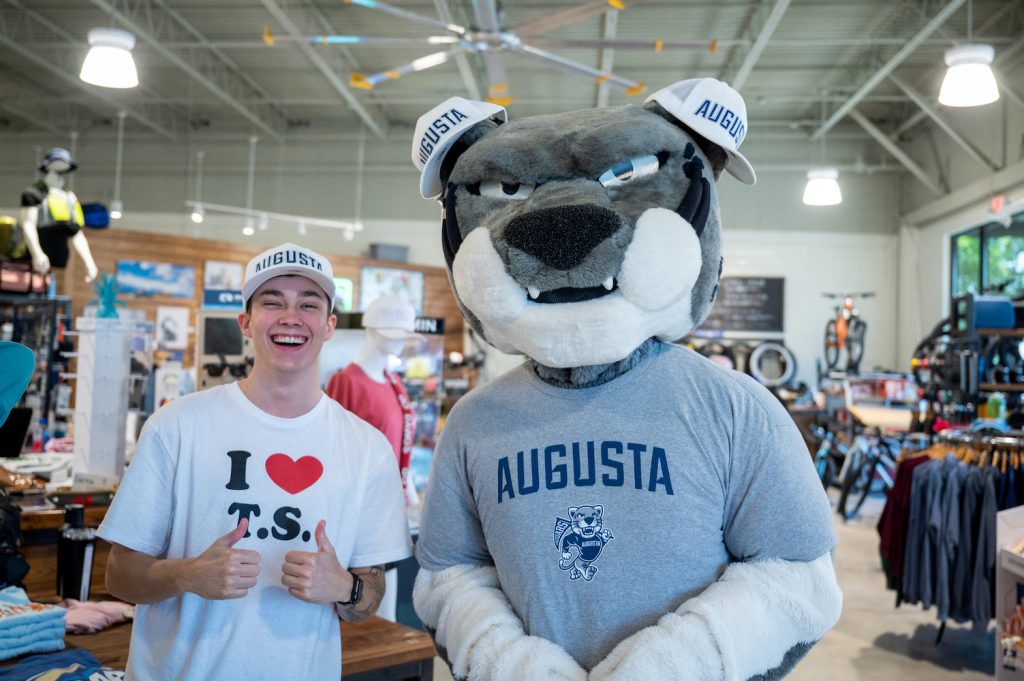 While looking around Escape Outdoors and talking to the owner and staff, Keen said it is clear this partnership is already a success.
"This creates a sense of pride. It is not only pride in the university, but pride in our community," Keen said. "And it speaks to our community engagement. If the university does well, the community does well. If the community does well, the university does well. And I think we're seeing that type of community engagement and partnership right here."
Bassali said he enjoys seeing his employees and customers so enthusiastic about the new Augusta University merchandise.
"Dozens of our employees over the years have been and are students at AU, as well as many of our customers," he said. "We were so excited to be able to work on a collaboration like this, and to see this project become a success is an added bonus. We hope to continue this partnership."
Local businesses interested in a potential partnership with Augusta University to carry the university's merchandise can contact Alison Rohdy. And to support more Augusta University alumni-owned businesses, check out Augusta University's alumni-owned business directory.