Augusta University, with its mission of educating students, has meant the world to Patricia Boerner for more than 50 years.
At 98, this mother of 10 has spent the majority of her life serving the students of Richmond County.
On June 1, Augusta University, the Augusta Literacy Center and the Rho Chapter of Delta Kappa Gamma International Society honored Boerner's legacy of teaching by accepting a special gift from her family.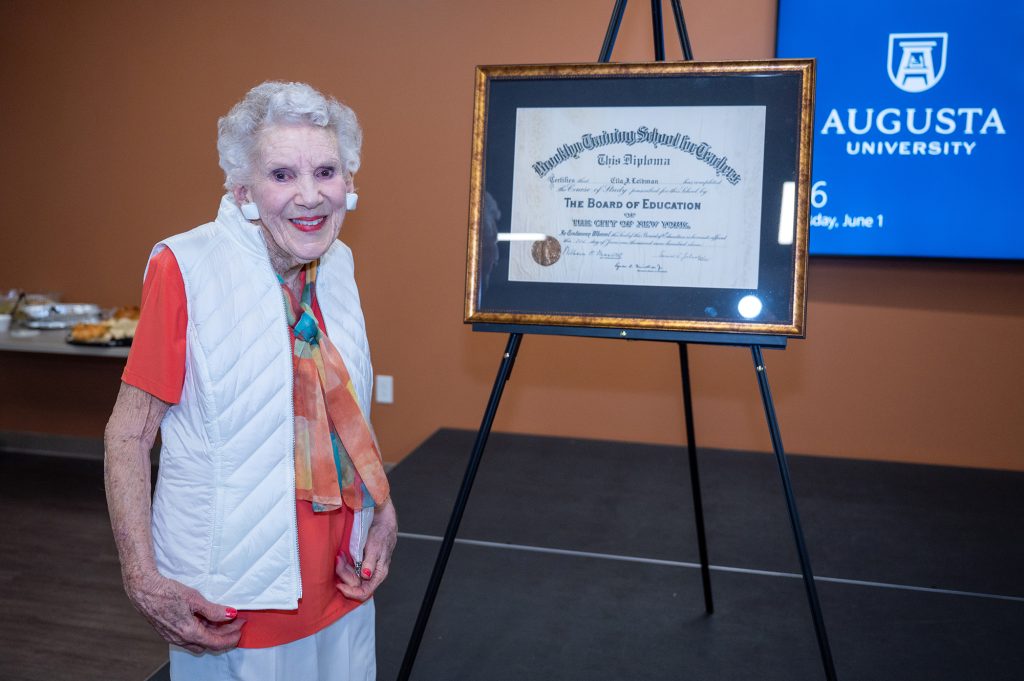 Boerner dedicated the 1911 New York teaching certificate of her mother, Ella Buckley, to the Augusta Literacy Center at The HUB in honor of the late Dr. Paulette Harris, a professor at Augusta University and the founder and former director of the Augusta University Literacy Center.
Harris, who was Boerner's good friend and member of Delta Kappa Gamma, was one of the longest-tenured professors on the Summerville Campus, serving more than 42 years at Augusta University until her death at age 71.
In 1990, Harris founded the Augusta University Literacy Center to provide children, adolescents and adults with free, high-quality literacy educational experiences that promote the development of lifelong readers and writers. For more than 30 years, Harris and the literacy center helped thousands of people across the Augusta area learn to read.
READ MORE: Legacy of Dr. Paulette Harris continues with new HUB for Community Innovation
Boerner, who earned an English degree from then-Augusta College in 1972, began teaching English in her oldest daughter's senior class in order to become a certified teacher.
She would go on to receive her master's degree in library science from Augusta College and become a librarian at the West End Free Library in Augusta. She later became a media specialist at Aquinas High School and then at A.R. Johnson Health Science and Engineering Magnet School in Richmond County. Eventually, she became a media specialist at Augusta University before retiring. In all, she worked in education as a media specialist for a total of 32 years.
Not only did she and her late husband, Robert, graduate from Augusta University, but so did eight of her 10 children. In total, 10 members of her immediate family are alumni of Augusta University.
Even after their retirement, both Boerner and her husband volunteered at the Augusta Literacy Center to continue their commitment to educating children and adults throughout the Augusta area.
Carmen Rachels, Boerner's daughter, said her mother could not pick a better place to display the 1911 teaching certificate.
"Momma was going through a chest that belonged to my grandmother — her mother — and there were several things in there including this certificate," Rachels said. "I'm a retired teacher, too, and I didn't know Grandma was also a teacher. This certificate is a testament to the legacy of teaching and the love of education of our family. So, my mother's whole vision was to have this certificate donated to the Augusta Literacy Center. This is where momma wanted it to go and this is where it belongs."
Boerner has been a member of the Delta Kappa Gamma International Society, a professional honor society of women educators from around the world, for 40 years. Members of the local organization, along with faculty and staff at Augusta University and the Augusta Literacy Center, celebrated Boerner's achievements during the dedication ceremony of the 1911 teaching certificate.
"Anybody who knows this lady or Dr. Paulette Harris knows that we are standing on the shoulders of giants," said Sheryl Wendzik, EdD, president of Rho Chapter of Delta Kappa Gamma. "They are very strong forces."
"I don't think anybody in this room wasn't touched by Dr. Paulette Harris. And same for this lady," Wendzik added, as she hugged Boerner. "She is the greatest storyteller in the world. She is so uplifting and so positive. You leave the room after Mrs. Boerner has been in there better than when you first entered the room."
READ MORE: Augusta University Literacy Center moves to The Hub for Community Innovation
Wendzik said both Harris and Boerner are true examples of lifelong educators.
"They have promoted education and they have encouraged others to take education further," she said. "You don't get an education and sit on it. You serve the community, and that's what these women have done all of their lives."
The 1911 teaching certificate will be a reminder to all who enter the facility about the importance of education, Wendzik said.
"You have had such an impact on all of our lives," she said to Boerner. "We are so thankful for you and Dr. Paulette Harris. And finding this teaching certificate gives us another opportunity to say how important education and you two have been in all of our lives. Education is a legacy. And you and your family of 10 graduates are evidence of that. We want to keep that legacy going for many years."
Judi Wilson, EdD, dean of the College of Education and Human Development at Augusta University, thanked Boerner and members of the Rho Chapter of Delta Kappa Gamma for their continued support of Augusta University and the Augusta Literacy Center.
"We would not be where we are without supporters like you," Wilson said. "We commit to you, just as I committed to Dr. Harris before she passed away, that we will continue growing and building and expanding the legacy of the Augusta Literacy Center because we know that literacy opens doors that no man can shut. That is our responsibility, and that is our mission. And we take that very seriously.
"Anything we can do to help your organization further that mission, know that we are open to that, and we are so appreciative of your support, and we look forward to continuing and honoring the certificate that we have been given for years to come."
Boerner said she was overwhelmed to be honored at the event.
"Let me just say to all of the group, it is because of you that I have existed this many years," Boerner said, laughing. "It is just a treat to know you all."
And to have her mother's certificate on display in the Augusta Literacy Center means the world to her and the entire family, Boerner said.
"That wonderfully special teaching certification goes back 112 years," Boerner said. "It means so much to have it recognized. I'm so grateful for that. Thank you all."