It has been almost a year in the making, but Augusta University's Department of Art and Design at Pamplin College of Arts Humanities, and Social Sciences has recently finished a large outdoor mural for the Draft Society Taproom courtyard area.
Initially, they planned to start the painting during the fall semester, but the project was postponed until after fall break. Now, it's complete and everyone involved in the project is thrilled with the result.
"It was exciting to have the opportunity to transform a space like this," said Cynthia Epps, lecturer in the Department of Art and Design. "A blank canvas is always intimidating and full of promise at the same time."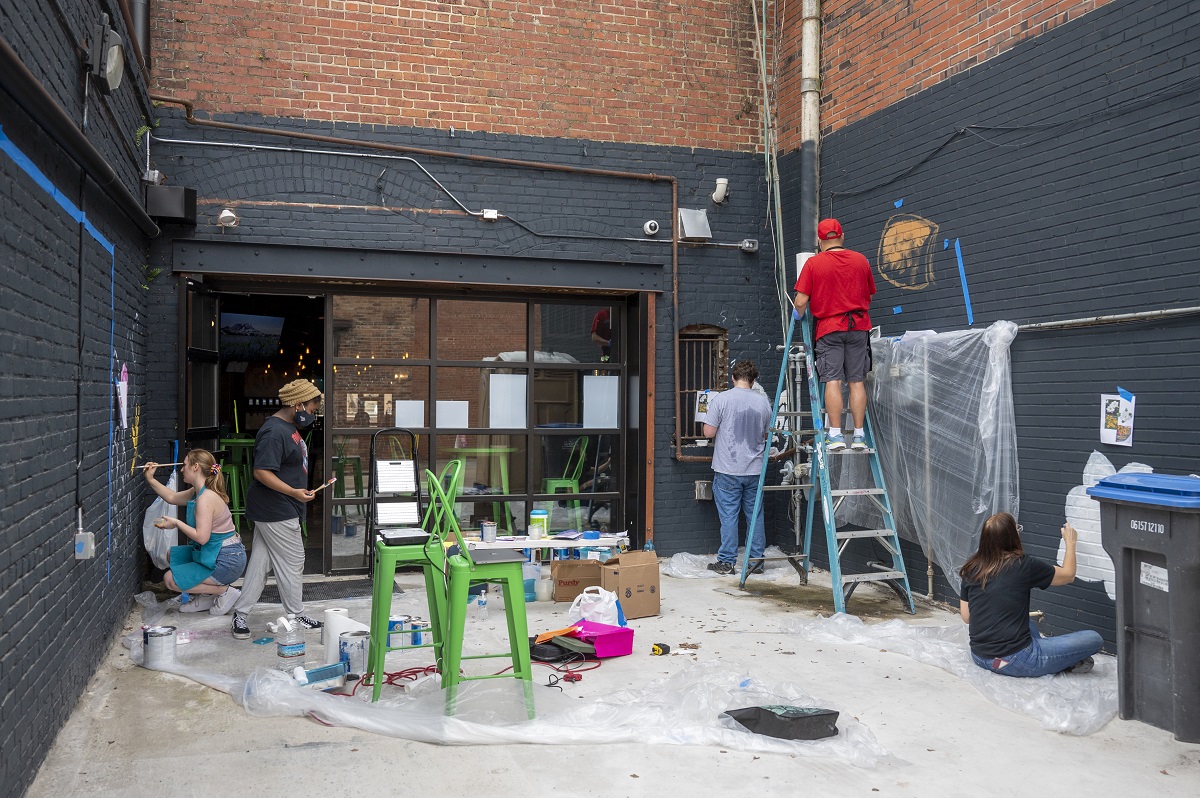 That blank canvas was an alley outside the taproom that was transformed into art to represent their business.
With 16 students in Epps's fall Painting I class, there were a lot of ideas on how the mural should look. After working together to narrow it down, they came up with a way to tie everything together for the beer garden design. Since it was a large space, they were able to incorporate flowers to flow throughout, beer hops with wings on them, a pouring keg and two overflowing mugs.
None of the students had worked on a mural this size before.
"I was nervous for sure. I had never painted on anything that wasn't a canvas or a primed house wall. But it was surprisingly quick to get used to," said Jacob Zimmerman.
"When I first saw it, I was taken aback because I know big projects like this are very hard to do to the fullest," added Onyx Jankiewicz. "The only hiccup I would say was painting on the material itself since it is uneven, and having to do some optical illusions to make sure everything seemed flat and perfect."
Epps said for some, it was out of their comfort zone as they had never painted anything of this scale, but they were able to work through the difficulties. She found out the strengths of some of her students and allowed them to contribute in those areas.
"When working on group projects like this, I typically ask students what aspect of the mural they find most interesting — what would they like to work on? By allowing them to contribute to areas they are most excited about, they are more willing to invest in what they are doing, and this produces better results," added Epps.
The green hop "wings" were one of the most important and probably the most challenging part of the mural. Alena Pfiefer designed the wings, but transferring that design to the brick wall became a challenge.
"Professor Epps explained these wings needed to be altered and scaled to fit the majority of an individual's height, as it was a photo-op piece for the customers," said Pfiefer. "I was intrigued with how we had to alter the height, width and length of the wings to fit a different scale of heights. This element was something so important, yet it surprised me so much!"
"We wanted the wings to be even, so we were going to use a projector on the wall. But we realized it was too bright outside to use it, so the wings were painted freehand!" said Dy'Ane Bunch. "Ms. Epps did a fantastic job making them even."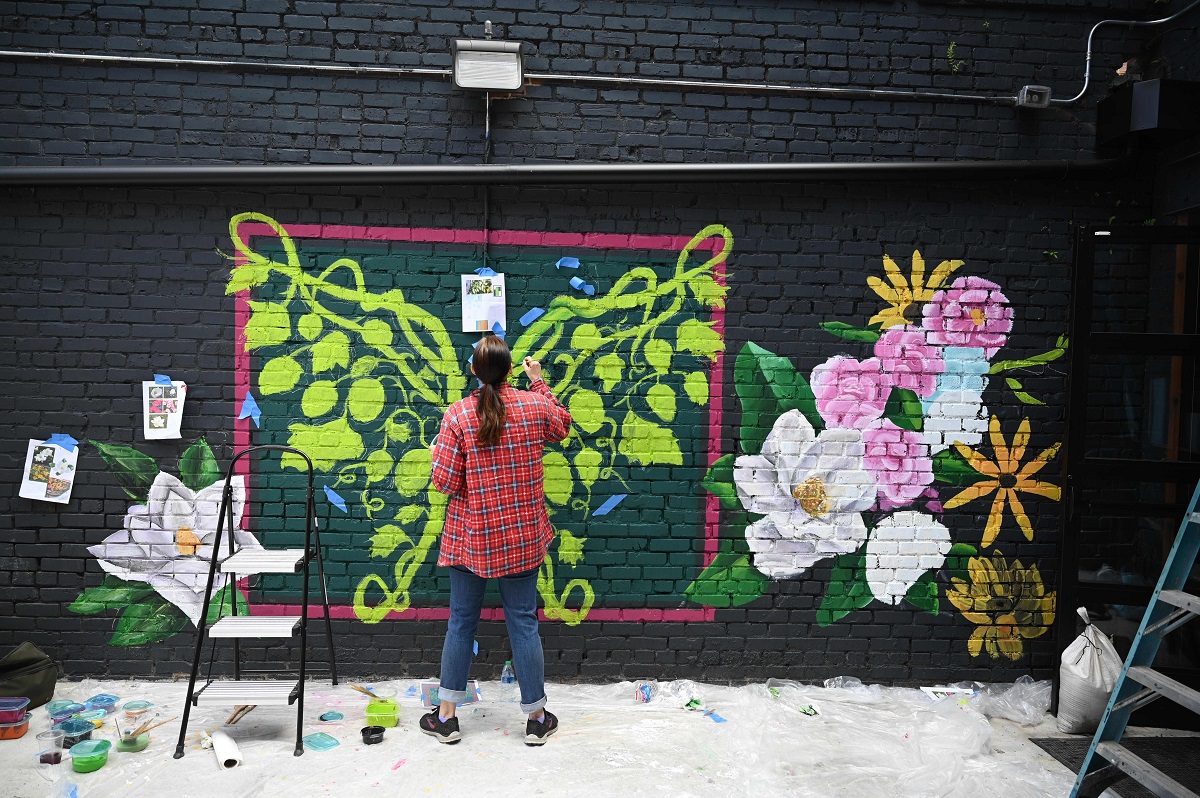 When the mural was all said and done, everyone was happy and proud of the finished project.
"I was really amazed at how well it turned out! The whole area transformed and seemed so much brighter. I don't feel proud of many things, but this was one of them," said Zimmerman.
"When I stood back to look at everything, I was impressed. I think anyone can tell we worked hard and diligently on this and we all worked together so well. We have different art styles and are on different artistic levels, but we flowed together artistically and it shows," added Bunch.
The mural at the Draft Society Taproom is just the latest addition to the Augusta art scene.
"This was a great opportunity for students to apply the skills they are learning in the studio and see they have the power to completely change a space. Public art is changing the perceptions of downtown Augusta, and participation in projects like this empowers students to be part of that change," Epps added.