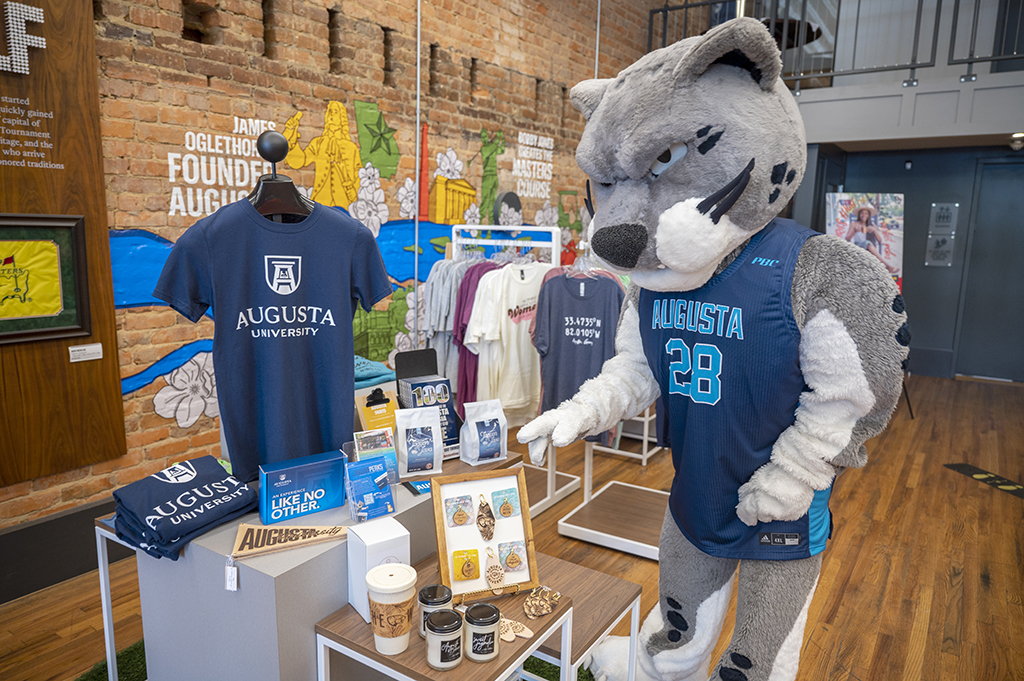 Almost a year after the process began, Augusta University and local businesses are excited to introduce a collaboration project
like no other
. Augusta University is working to make a difference in the Augusta community by highlighting the talent and craftsmanship of local businesses and creatives.
The Jaguar Nation Collaboration Project began with the vision of Augusta University graphic artist Alison Rohdy to identify and celebrate the university's brand and inseparable connection to the city.
"We reached out to a handful of small, local businesses to partner with us. We asked them to create unique products with their personal, creative touches on our brand," she said.
"Partnering with small, local businesses was always the goal. We wanted to strengthen our relationships with downtown business owners and grow our presence in Augusta. We wanted to support them, especially after the difficult year they all faced in 2020."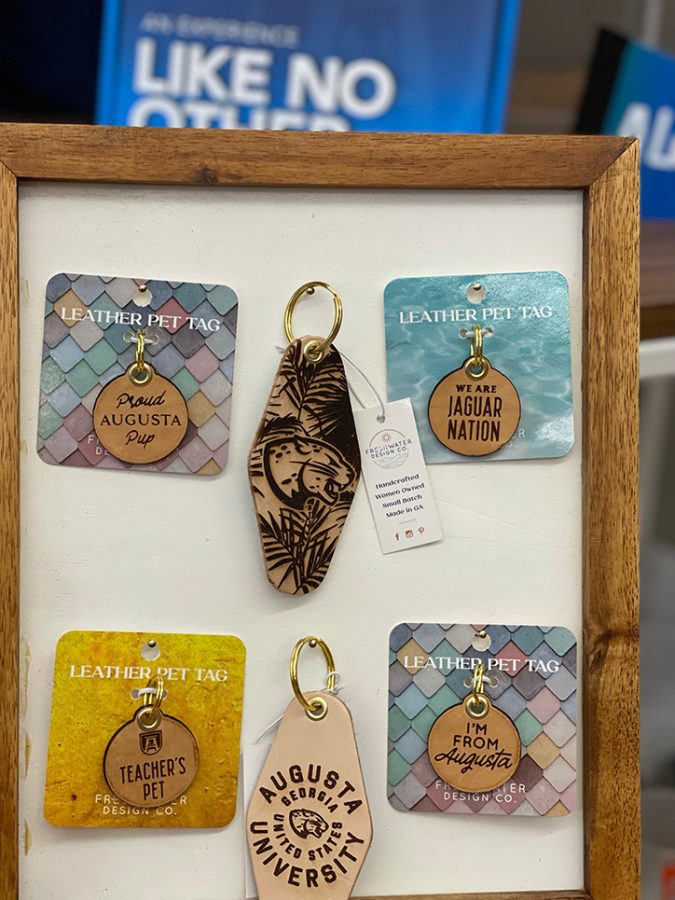 So far Augusta Candle Company, Freshwater Design Co. and Buona Caffe have created unique Augusta University products, which currently can be found downtown at Augusta & Co.
Connecting local businesses with each other is an excellent way to contribute to the success of locally owned small businesses in our area, said Sarah Childers, director of community engagement for Destination Augusta.
"Each of the items in the Jaguar Nation Collaboration are handcrafted by people that live here. Augusta & Co. is committed to propping up area businesses in our space and then sending shoppers or adventure seekers out into Augusta's River Region to enjoy our quality of place," Childers said.
"This collaboration between Augusta University and some of our most popular vendors is a great connection point to help these partners create collegiate merchandise that is hyper-authentic. In addition, it speaks to the culture that Augusta University is trying to create to the visitors to our region that see the display in our store and adds to the growing footprint that AU has in our downtown district."
Brianne Martin, who co-owns Freshwater with her sister, Danielle Harmadi, were excited to join forces with the university. "We've already had a working relationship with Augusta & Co., and have loved getting to work with Augusta University," Martin said.
Martin is a graphic designer and does all of the design and art work for Freshwater Design Co., while Harmadi is in charge of production.
"We're so thankful that Augusta University even thought of us to be a part of the collaboration," said Martin, who noted that Augusta University gave her a lot of freedom when it came to design concepts. "I always love bringing a brand to life with designs and products that people will actually get to use and love every day.
"[The project] was a big step forward in our belief that collaboration over competition is always the way to go," Martin added. "It made us super proud that our business has grown to be recognized as part of the Augusta community and we are so happy to be here."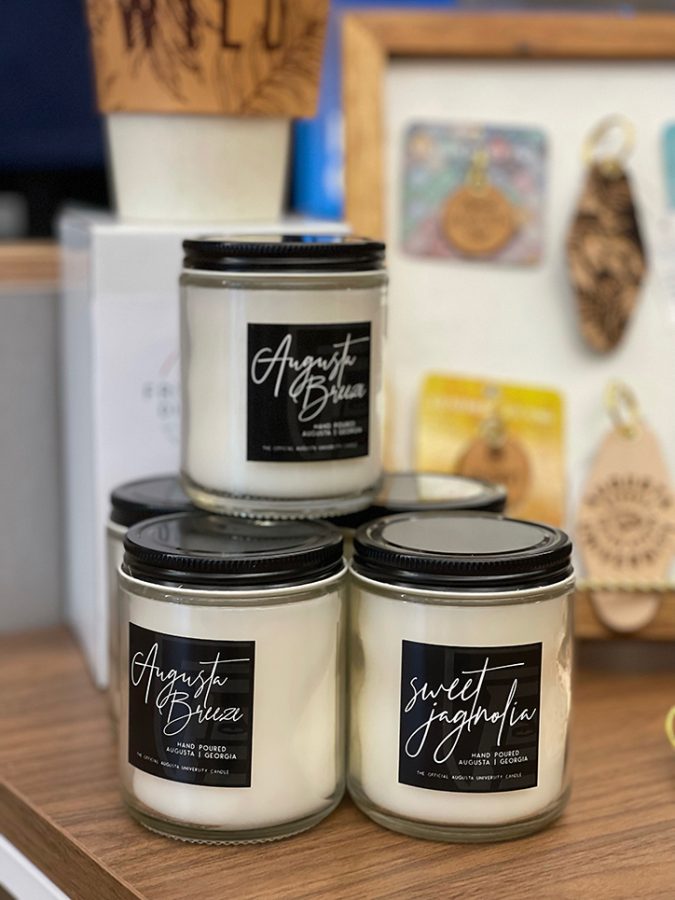 Amy Donaldson, owner of Augusta Candle Company, said she was excited that Augusta University would use a local company to produce custom candles for their brand.
"ACC has found over the last couple of years that working with local businesses to create custom lines for their brand/retail, etc., is the most rewarding part of our business," said Donaldson, who helped the university create the Sweet Jagnolia and Augusta Breeze scents.
"When the retail side fell apart last year, we had to find a way to reinvent ourselves. Working with other small businesses to create lines for them to sell was the perfect thing for us, as well as the many small businesses we work with.
"Working with AU is especially exciting, as we have employees who are students and many of our customers are students. We love being part of the Jag Nation!"
John and Pat Curry at Buona Caffe created Jaguar Java, the official coffee for Augusta University. They thought it was a great idea to have a university-themed coffee blend and were thrilled to be included in the project.
"We always start the process of developing a coffee for a new customer with collaboration," John Curry said.
"We hold a tasting with key members of their team to decide what coffees to put in their blend. We normally start with a medium and a dark roast and see what tastes best to them. Then we add other complementary coffees and adjust the ratios until the flavor profile is just right. The result is an exclusive coffee that people can't get anywhere else."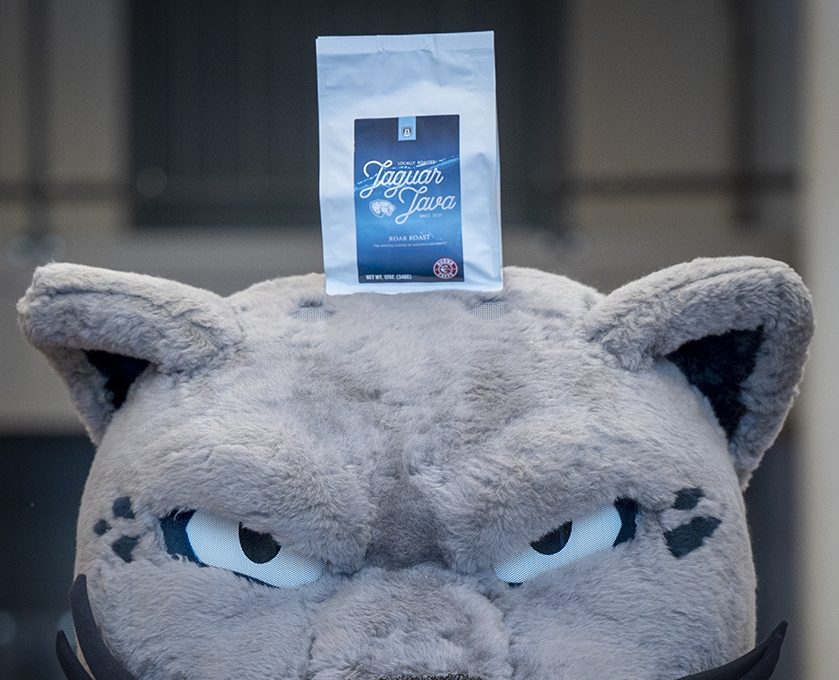 A lot of customers who visit Buona Caffe's locations on Central Avenue and at the Georgia Cyber Center are students. Curry said to be able to create the official coffee of Augusta University is an incredible honor.
"We love how people connect over our coffee and this collaboration has the potential to expand those connections exponentially," he said. "We can't wait to see people enjoying Jaguar Java all over campus."
Childers believes the partnership between Augusta University and the local businesses will mean plenty of opportunities down the road for more collaborations.
"The more community businesses that thrive, the better living experience for the young people coming to Augusta for school," she said.
"There are many opportunities for ongoing partnerships. From having Jaguar-themed products throughout area small businesses, to connecting with a current student or alumni product line for an even stronger message of collaboration, to working with a newer maker to create their first wholesale order, Augusta University can impact our community in many ways that will make choosing Augusta for higher education a worthwhile and unique experience."
Shop local and get your Jaguar Nation Collaboration merchandise today. If you have questions or are a vendor looking to get involved, email Alison Rohdy.