To bolster safety measures in case of an active shooter or hostile event, Augusta University and several community partners recently held a drill to test resources and responses during an emergency situation.
On Thursday, May 18, the active shooter simulation took place at the now-closed Southside Elementary School in Augusta and also at Augusta University Health, where actors who served as patients were treated.
As part of the #strongaugusta initiative, the school served as a building on the AU campus. Several law enforcement agencies, as well as other emergency personnel, responded to the scenario and apprehended the actor playing the role of the shooter, treated those who served as the victims and cleared the scene to make sure the school was secure.  
Read more: Augusta University, community collaborate on #strongaugusta response plan
All of this played out in real time as they look to address any gaps in strategies adopted from the National Fire Protection Service 3000 standard.
John Ryan, coordinator of the Office of Critical Event Preparedness and Response at Augusta University, is one of the driving forces behind #strongaugusta and knows the importance of cooperation through community partners to make the area as safe as possible using the NFPA 3000 standard.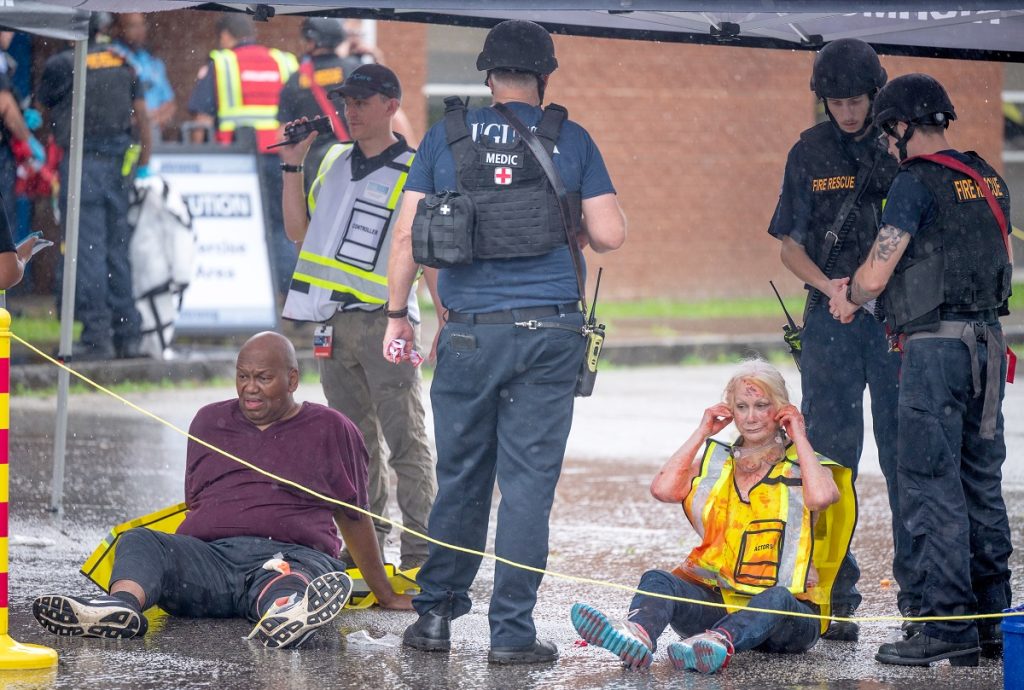 "The idea is that the entire community is involved and everyone, not just in Augusta/Richmond County, but in the adjoining neighborhoods, as well. They are all practicing for this horrible eventuality, as well," said Ryan.
Alejandro Baez, MD, vice chair of the Center of Operational Medicine at the Medical College of Georgia at Augusta University, was also on hand for the simulation.
"I think the reality is there; it is palpable," said Baez. "What we're doing is creating a community response from the community assets — EMS, law enforcement, fire, all the way into our hospital assets. It's integrated to actually save lives."
Watch WJBF TV coverage of the training event.