The cold and rainy weather didn't even dent the excitement at this year's inaugural Unite in the Fight Kickoff Breakfast on June 12.
The large crowd began the breakfast mingling with each other and networking before the official program started. Around the tables, conversations could be heard about who might be interested in forming teams for the 2019 Unite in the Fight Against Cancer walk.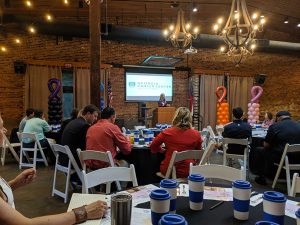 Before too long, Jane Barrett, associate director for development at the Georgia Cancer Center, took to the stand to introduce the event and show a video of last year's walk.
"We are grateful to all of you for being here today to show support for this year's walk," Barrett said. "Unite in the Fight raises much-needed funds for critical patient support services and cancer research, and it also creates awareness about the amazing work that our physicians, nurses, support staff and researchers are doing right here in our community on a daily basis."
One attendee, in particular, received a round of applause as she stood to speak: Patricia Schaffer.
Schaffer began treatments at the Georgia Cancer Center in 2013 after being diagnosed with endometrial stromal sarcoma, a rare cancer with tumors that grow in the supporting connective tissue of the lining of the uterus. She took special care to comment on those assisting with her care.
"You have to rely a lot on the support of your family and your friends, and trust your health care workers and trust that everyone has your best interests in mind and at heart," Schaffer said. "And they do. You just have to trust in all of that."
This is the second year Augusta University and the Georgia Cancer Center will host Unite in the Fight. The fundraiser was created as a way to bring three events from previous years into one signature fall fundraiser.
"Unite in the Fight Against Cancer is a wonderful community event that helps to celebrate those who have either passed from cancer or are current cancer survivors," said Al Dallas, chief of staff at the Georgia Cancer Center at Augusta University. "We're encouraging folks to recognize a loved one, a co-worker, a friend and form a team on their behalf to celebrate their cancer experience."
Most people are familiar with the pink ribbons for breast cancer awareness, but there are 27 other distinct cancers that need just as much support and recognition.
"When we created this event, we thought long and hard about what was missing," Dallas said. "It's the opportunity to celebrate lung cancer survivors, prostate cancer survivors, those that may not have formal venues to celebrate their journey, their fight, and so we're asking for those in the community to come out and unite in the fight against cancer."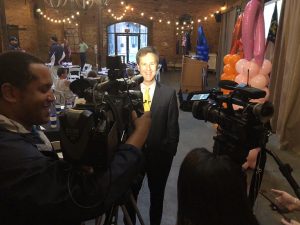 Participating in the event is free and open to the entire Augusta community. Almost everyone is affected by cancer somehow, and this walk is a way to celebrate and show support.
"Our goal for last year was $50,000, and I will say that I thought that was a very lofty goal for us at the time, but we were able to exceed that goal," Barrett said. "This year, we have set the goal at $100,000. So we have doubled the goal this year, but I think with all of us working together, it is very doable. That's going to help our patients and their families and our staff here at the cancer center."
This year's Unite in the Fight Against Cancer walk will be Saturday, Nov. 9, at the Lucy C. Laney High School football stadium on Laney Walker Boulevard. Participants can register for the 1.5-mile walk as an individual or create a team with family and friends. Individuals and teams will determine a fundraising goal, with money raised going to support patient care and cancer research projects at the Georgia Cancer Center. Walkers will also have the opportunity to purchase an official Unite in the Fight Against Cancer T-shirt in the color representing their cancer's awareness ribbon color.
"We want to see a kaleidoscope of colors," Dallas said.
For more information about Unite in the Fight Against Cancer walk, contact Mara Fountain or call 706-721-5751.