Imagine a play inspired by the fantasyland created by English author Lewis Carroll in Alice's Adventures in Wonderland, as seen through the eyes of the avant-garde master of surrealism, Salvador Dalí.
Theatre AUG is presenting this original adaptation of Carroll's classic tale by Melanie Kitchens O'Meara, PhD, and Augusta University students Amber Jordan and Shiloh Reimche, through Nov. 12 at the Maxwell Performing Arts Theatre.
The public performances of the play, which is directed by O'Meara and Augusta University alumna Kayla Johnson, will be held Nov. 9-11 at 7 p.m. and Sunday, Nov. 12 at 3 p.m., while hundreds of elementary students from local schools were invited to performances on Nov. 7-8.
"When I was in my 20s, I was backpacking with a friend through Europe, and we stumbled into an exhibit in the middle of nowhere in Bruges, Belgium," said O'Meara, an associate professor in the Department of Art and Design at Augusta University. "They had these prints of Salvador Dalí's take on Alice's Adventures in Wonderland. I had no idea that they existed. But I was really inspired and thought, "Alice in Wonderland needs to go on my to-do list.'"
While working with Jordan and Reimche during the Center for Undergraduate Research and Scholarship's summer program at Augusta University, O'Meara saw the opportunity to bring her idea of the play to life.
"We used those Dalí images and the concept of surrealism along with chamber theater to create the play," O'Meara said, explaining chamber theater is a method of adapting literary works to the stage using a maximal amount of the work's original text. "We were really trying to stick to the literature and see, 'Hey, what happens if we pull this literature off the page and put it onto the stage?'"
Since the story of Alice's Adventures in Wonderland is such a roller coaster ride itself, O'Meara said she wanted to capture that excitement in the play.
"The novel is such an odd, strange, fun, surreal experience to read, so we've created that on the stage as well," O'Meara said. "With the chamber theater adaptation, you're trying to maintain that narration rather than erasing it and just creating dialogue between characters."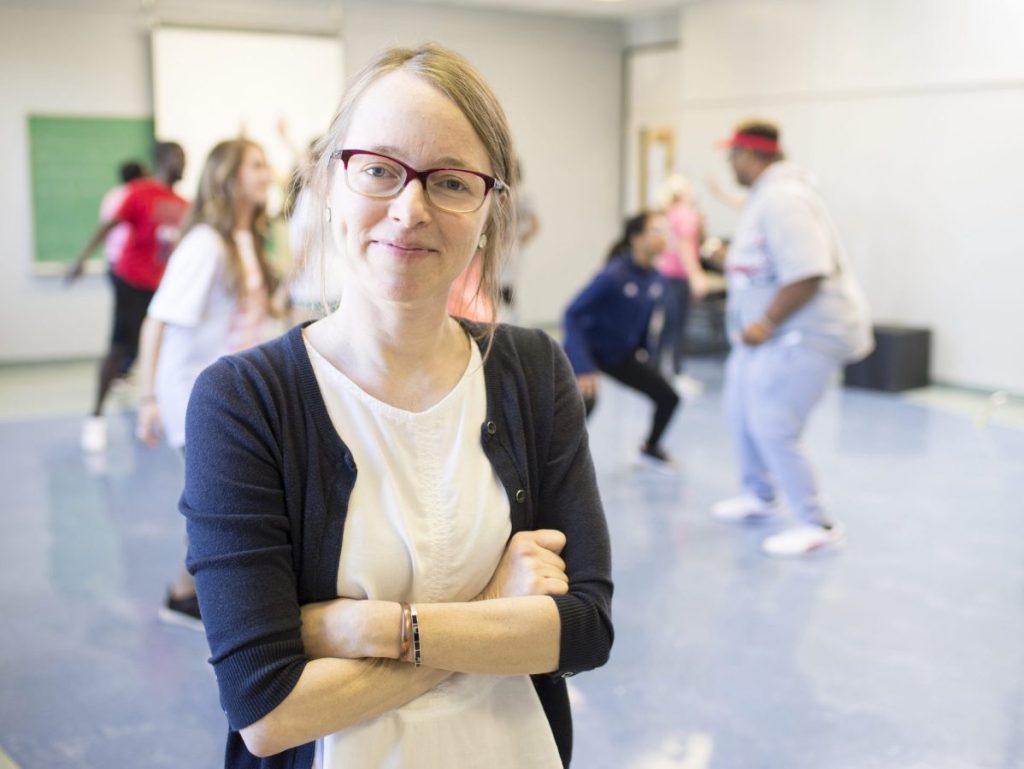 The audience will also be introduced to some of the novel's unique characters who don't usually get a lot of attention in other stage versions, O'Meara said.
"I thought, 'What if we keep some of these characters that we don't get to meet oftentimes in the adaptations of Alice's Adventures in Wonderland?'" she said. "What happens if we bring the Mock Turtle who's constantly sobbing to stage? So, it has been a lot of fun to see the performers bring those characters to life."
Mia Dickens, a junior majoring in the digital and visual storytelling program at Augusta University, plays Alice and has enjoyed interacting with all characters throughout the play.
"Much of the script has been taken from the original story of Alice in Wonderland by Lewis Carroll, and it has its own twist," Dickens said. "They're a bunch of different, cool characters that I've never really been introduced to until now. But they're all unique and fun and have their own traits. And I think they bring together the story quite nicely."
One of the best aspects of playing Alice on stage is capturing her curiosity and unlimited imagination, Dickens said.
"At first, I was a bit nervous playing my first lead here, but with the character Alice, I've always related to her because she's so curious. And I am very curious myself," Dickens said. "I just feel like this role fits perfectly for me."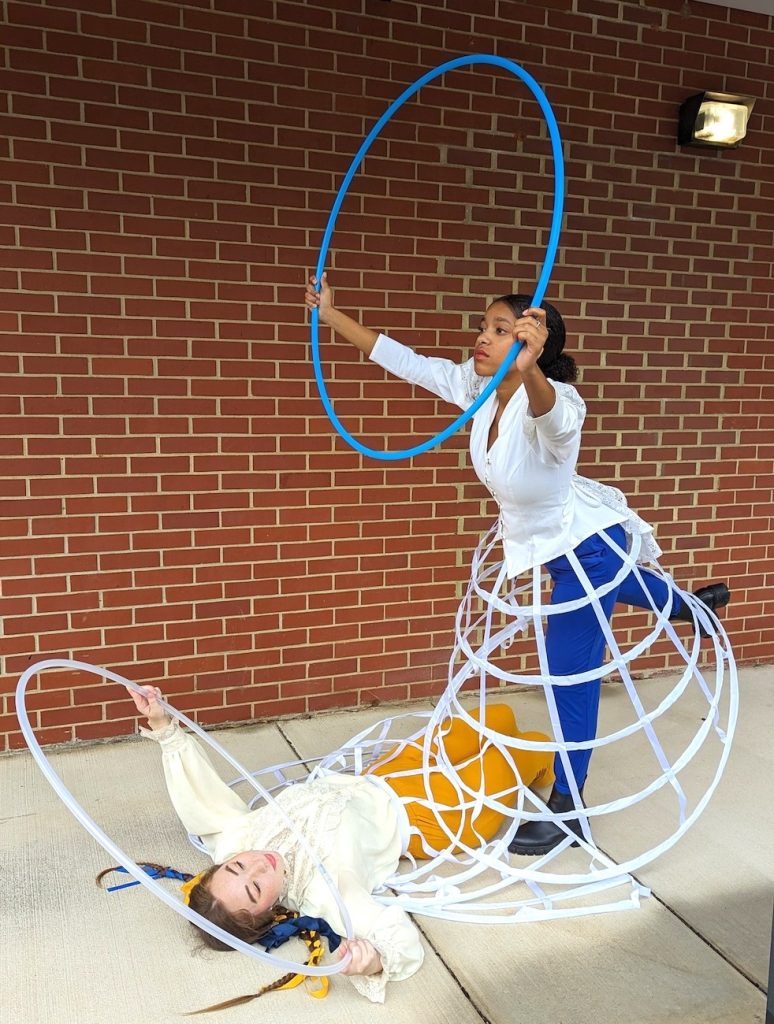 She also believes the local elementary students attending the play will quickly connect with Alice and her encounters with the variety of characters.
"I think there are going to be a lot of laughs," Dickens said, adding that she will have a tough time suppressing her own laughter. "But I feel like they will also learn a lot from it as well, just within the storytelling, and the messages that are spread throughout the whole play. And I have a real soft spot for kids. So, I really hope that as many kids can come and have a fun time with each other and just enjoy Alice in Wonderland."
Sebastian Greene, a junior in history education at Augusta University, plays the Mad Hatter and Mock Turtle in the play.
"Everybody knows the Mad Hatter," Greene said, laughing. "His whole deal is that he is mad, and he enjoys being rude to Alice. It's one of my favorite scenes to act in just because it is very fun and quick, and I can be rude to everyone."
Playing the Mock Turtle is also unusual because it is a "ridiculously weird scene," Greene said.
"He's a fake turtle who cries. That is sort of his whole deal," Greene said, smiling. "He doesn't cry because he's sad or because something upset him. That is just kind of his deal. That's how he's introduced. Alice asks why he's crying, and she is told that he's not crying for any particular reason. He just likes to cry. So, there are a number of ridiculous characters in the play, but I think the Mock Turtle is the most ridiculous."
Greene said he also gets the opportunity to directly interact with the audience, and he cannot wait to do so with the elementary school children.
"I think that has the potential to definitely blow their little minds," Greene said, laughing. "I think they are going to be like, 'Oh, wow, theater is so much crazier than I ever thought it was.' And I hope that somebody comes and sees the show and is like, 'Oh, this would be something I would be interested in doing.' That would be great, and I think it's very possible."
Jordan, a senior majoring in digital and visual storytelling with a minor in math, said she thoroughly enjoyed assisting O'Meara write this adaptation of the novel this summer.
"I got to be hands-on with this play and it's very, very surreal with a lot of influence from the Salvador Dalí images," Jordan said. "I particularly helped out with the Mad Hatter scene and tried to make it like a fun game show. We bring out some cards and we ask some questions of the kids in the audience. So, there is some really fun stuff in this play that you definitely won't see anywhere else. That's a promise."
Tickets to Alice's Adventures in Wonderland
AU and EGSC students, faculty and staff: Free with valid JagCard
General public: $10
Augusta University alumni: $7
Seniors (60+): $7
Military: $7
K-12 students: Free