The unlikely friendship between a pig and a spider takes center stage March 16-19 as Theater AUG and the Department of Art and Design present E.B. White's classic children's story, Charlotte's Web, at the Maxwell Performing Arts Theatre.
The play, adapted and directed by Melanie Kitchens O'Meara, PhD, focuses on the charming tale of a lovable pig named Wilbur, who is saved from slaughter and forms a deep friendship with a spider named Charlotte.
"I wanted to do a novel that people would get excited about and we could bring everybody to campus and even invite local elementary schools to come see the show," said O'Meara, an associate professor of performance studies in the Department of Art and Design at Pamplin College of Arts, Humanities, and Social Sciences at Augusta University.
"So many people that I have talked to are just like, 'I love this book. This was such a pivotal book for me as a child. I remember it.' And I feel the same way about Charlotte's Web. So that was one of the reasons that I wanted to do this play and see what I could do with it."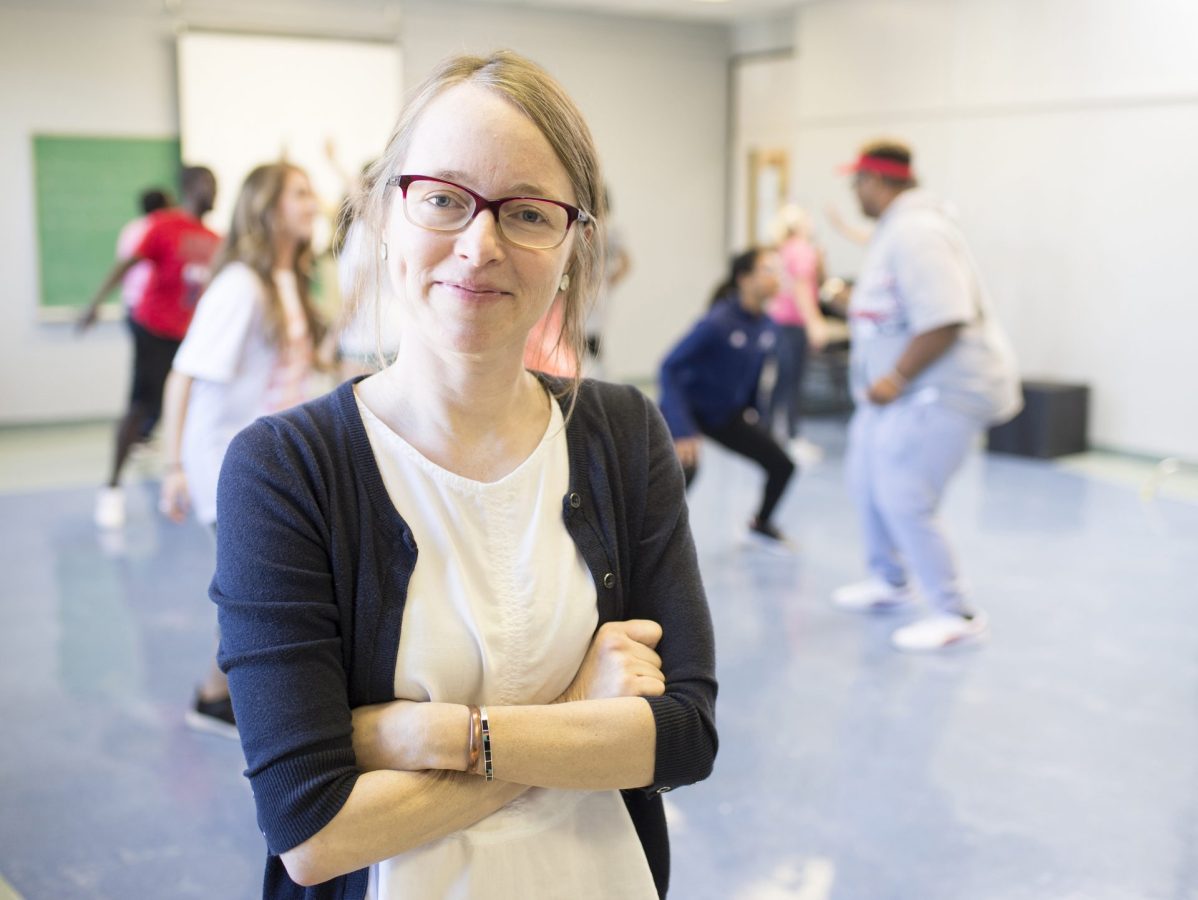 While O'Meara enjoys the dramatic dialogue between the barn animals and the 8-year-old girl, Fern Arable, who lives on the farm with her family, she also values the narrator's voice in her version of this play.
"To me, that's the beautiful stuff in the book, so I wanted to keep the narrator's voice to paint those pictures for my audience, but also have the dialogue, which is exciting," O'Meara said, adding that this version of the story has a unique take on the narrator that lends to a surprising twist at the end of the play. "It is important to me to maintain that voice and find creative ways to do it. And I think this was a fun approach."
O'Meara also wanted to recreate the meticulous spiderwebs Charlotte makes throughout the novel during the performance.
Avery Lewis, a senior majoring in the Bachelor of Fine Arts in Digital and Visual Storytelling program at Augusta University, is a narrator in the play. Throughout the performance, she knits an enormous scarf that stretches across the entire stage.
"I have always sewn and I feel like sewing naturally leads to knitting, so this summer, I bought a pair of knitting needles and I was going to learn, but then school started, so I put them down," Lewis said. "Then, over Christmas break, I decided I wanted to make something, so I started watching a bunch of YouTube videos on knitting and I brought some knitting needles into class and Dr. O'Meara noticed."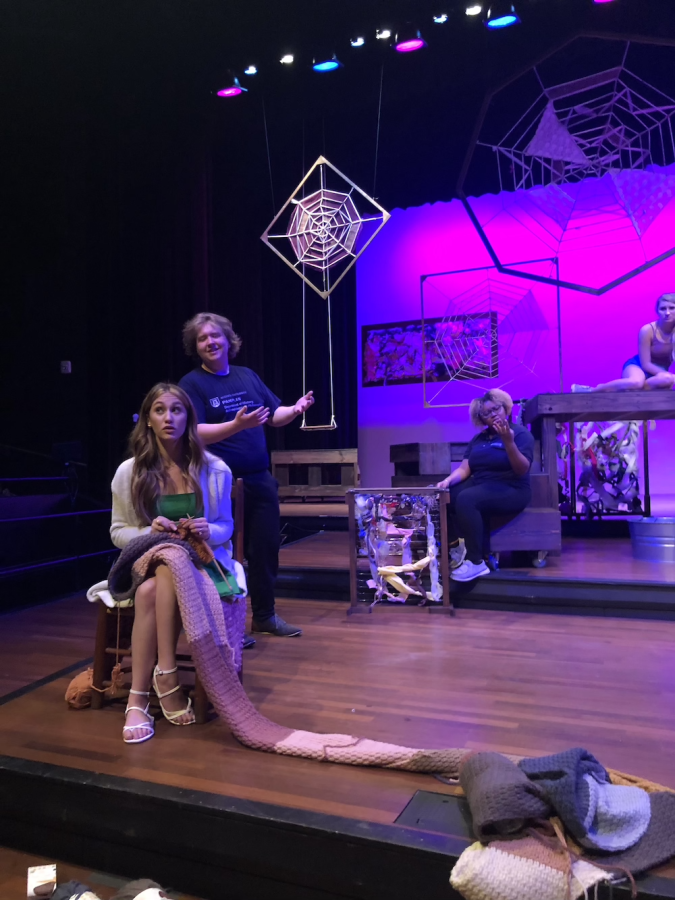 The next thing she knew, O'Meara had convinced her to knit a gigantic scarf that would symbolize Charlotte's web.
"Dr. O'Meara is very ambitious," Lewis said, laughing. "This scarf takes up my entire living room now. But I love it. It makes me very happy. There's lots of joy in this scarf. It truly is a labor of love."
Amber Jordan, who is also a senior in the Bachelor of Fine Arts in Digital and Visual Storytelling program and a math minor, plays Charlotte.
"My character is a little sassy and she's very confident," Jordan said. "And while she is very sweet and has a kind heart, she definitely has a sharp side to her because she's obviously killing and eating these insects for food. But she has a big heart for Wilbur when everybody else in the barn is kind of annoyed by him. Charlotte is a true friend."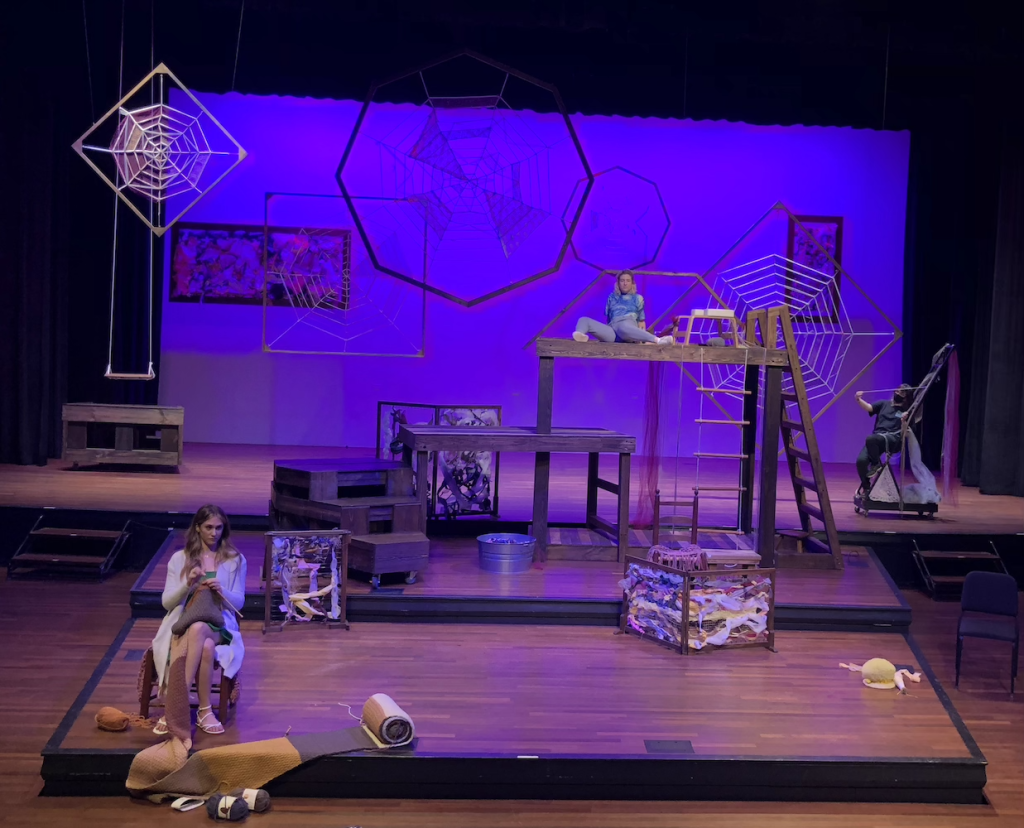 Local actress Kyndall Hullum, who plays Wilbur, believes the audience can't help but fall in love with this sweet pig.
"While he is humble, he's not confident in himself, so I think throughout the show, he finds a sort of confidence through his friendship with Charlotte," Hullum said. "And you kind of see him grow as a character. He is also clumsy. He is goofy. And he is so clueless. He doesn't know anything. But it's been so fun playing him and just seeing different ways to bring him to life. I think the audience is really going to enjoy him and the kids are going to love it."
Sebastian Greene, a junior in history education at Augusta University, plays the ornery character of Templeton, the rat.
"Templeton is kind of a jerk," Greene said, laughing. "He is like that person at the grocery store that sort of pushes their shopping cart right in front of you and they look at you like, 'Well, what did you want?' Templeton sort of has that relationship with all the other characters where he does something jerky, and they are all like, 'Why did you do that?' And he is like, 'What did you expect? I'm a rat.'"
While Templeton is not a "bad character," he is hostile to almost everyone in the barn, except for Charlotte, Greene said.
"Templeton mostly sort of yells at Wilbur and does quips for the whole show, which is fun. But what has been the most interesting is that, early on, I noticed that the only character Templeton really talks to is Charlotte, which is played by Amber," Greene said. "And I think Amber and I have come to the conclusion that the only person Templeton genuinely likes is Charlotte."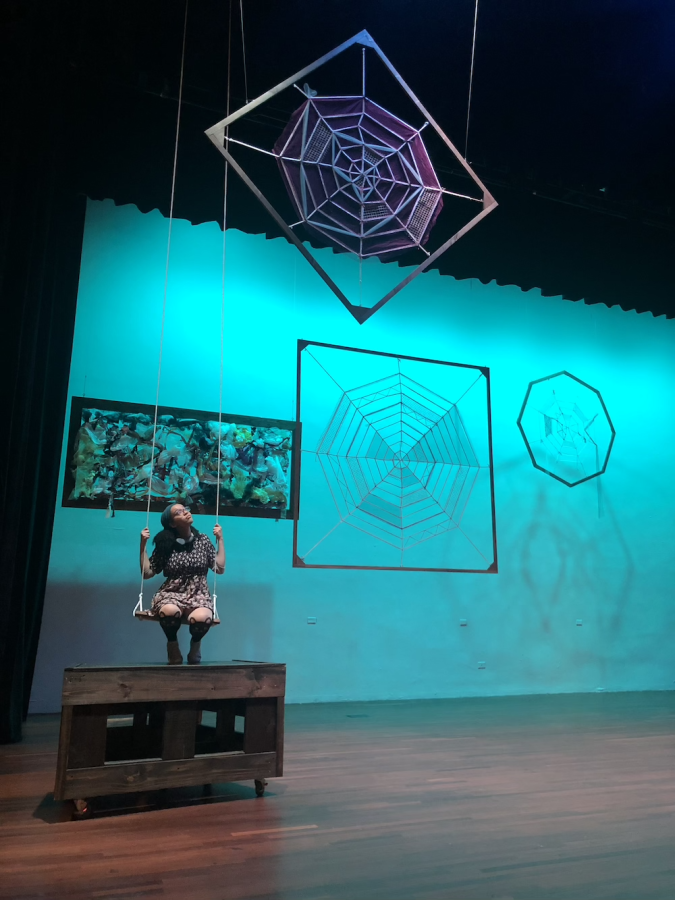 Specifically, there is a line in the show where Charlotte says, "Oh, well. A rat is a rat," Greene said.
"I think Templeton believes that Charlotte gets him and so he feels like he can be a little more honest with her," Greene said. "She doesn't blame him for being a rat like everyone else does. And it is not that Templeton is gross. I mean, he collects trash, but it is not that he's gross. It's just, he is interested in trash. And you can't judge him for that. We all have our interests, and some of them are weird. Templeton just likes collecting trash. And, in the end, Templeton does act heroically, even if for selfish reasons."
Wednesday Ayabarreno, a freshman psychology major, said playing Fern in the play has helped her relax and remember what it is like to be a carefree child.
"In my life, I tend to overthink a lot, so to be able to be Fern, a cute little girl on a farm, and just chill for a couple hours has been really nice. It's very therapeutic," Ayabarreno said. "But even Fern has some big emotions, like her parents not believing her about any of the animals that she talks to in the barn and thinking that she is weird."
Ayabarreno believes many people in the audience, especially elementary students, can relate to that feeling of awkwardness.
"Growing up, you have to deal with feeling weird for a while. Everybody goes through that awkward phase," she said. "That's why I like Fern, because she reminds me a lot of me as a child. Like, I call my bedroom my cave because that is my space. The barn is Fern's space where she can finally take a break and just be herself."