The Division of Enrollment and Student Affairs welcomes its new associate vice president for student affairs, Colin P. Stewart, PhD, beginning July 1. Stewart comes to Augusta University with 15 years of progressive leadership in higher education and 10-plus years at the director and dean level.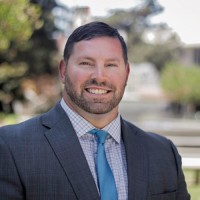 "Throughout his career, Dr. Stewart has distinguished himself as an innovative, student-centered leader who is connected with best practices for this generation of college students," said Dr. Susan Davies, vice president for enrollment and student affairs. "His creative spirit is exactly what we need to lead the continued enhancement of our student engagement efforts to cultivate a transformative college experience for all of our students now and in the future."
In his role as AVP, Stewart will advance services, activities and opportunities that engage students as well as support student persistence, retention and graduation rates. He will expand the co-curricular learning experience of AU students through strategic partnerships; plan for new student facilities as needed; collaborate with students, faculty, staff and senior administrators in fostering student development; and serve as an advocate for an inclusive campus community.
Specifically, he will supervise more than 30 staff members and 120 student employees who comprise Housing and Residence Life, Campus Recreation, Student Life and Engagement, Multicultural Student Engagement and the Maxwell Theatre, all of which are departments focused on student engagement, learning and success.
Stewart was drawn to Augusta University for its emphasis on students.
"I am honored to be welcomed to the Augusta University community and Jaguar Nation," he said. "As a creative leader who values innovation, engagement, and diversity, equity and inclusion, I am looking forward to  'creating a legacy like no other' in collaboration with the students, faculty, staff, and community."
Stewart served most recently at California State University (Fresno State) and previously at Illinois Wesleyan University; Franklin University in Lugano, Switzerland; Regis University; and Seattle University. He earned a bachelor's degree in retail business from Central Washington University, a master's degree in student development administration from Seattle University and a doctorate degree in higher education administration from Illinois State University.