As Augusta University prepares to celebrate the first graduates of 2022 at spring commencement, senior Ashley Sanchez, a graphic design student, is preparing for the next chapter as she eagerly waits to walk across the stage. 
Sanchez is an Augusta native, and her parents met when they were students on campus.  
"My parents met at this university — in Washington Hall — when it was the student center. When one of the rooms upstairs changed to the paint studio, I thought 'Oh wow! My parents met in this room, in this building and I'm taking a class here!" 
Although her initial interest was in health care, she was encouraged by her parents to apply to Augusta University and discover everything it had to offer. She felt she was following in their footsteps by choosing to attend AU. After some time on campus, she decided to switch to the art program, and will graduate with a Bachelor of Fine Arts from Pamplin College of Arts, Humanities, and Social Sciences. 
"I am an artist through and through. Since I was a young kid, I was into being creative — into drawing, coloring and writing stories," said Sanchez. "When I finally joined the art program, I questioned why I didn't do this sooner. This program was made for me. It was meant to be. I loved taking art classes and being a student in this program." 
As she entered her senior year, she was introduced to Ghazal Foroutan, a new assistant professor in graphic design. She mentioned how her experience was enhanced by learning from a new mentor.   
"She is a recent graduate, and she was knowledgeable about recent trends on social media and building digital portfolios. And she taught us how to go about getting into competitions and getting your name out there. She was a very good mentor." 
She also noted how helpful the university's Career Services was, as well as the ability to do her work on campus, even after hours.  
"Good work takes time sometimes, and I learned that a lot in that class," she said. "But being able to access the studio after hours so you can put in the time to get the work done was very valuable to me." 
While on campus, she became the designer for The Phoenix, the university's student-produced magazine. With that experience, Sanchez feels confident in the skills and connections she made over the years to enter the field. 
"I feel prepared skills-wise, and I try to make my work speak for itself or speak for me. I'm also learning outside of class. Moving forward, I have to teach myself, and I think they gave me a great foundation to build from," she said.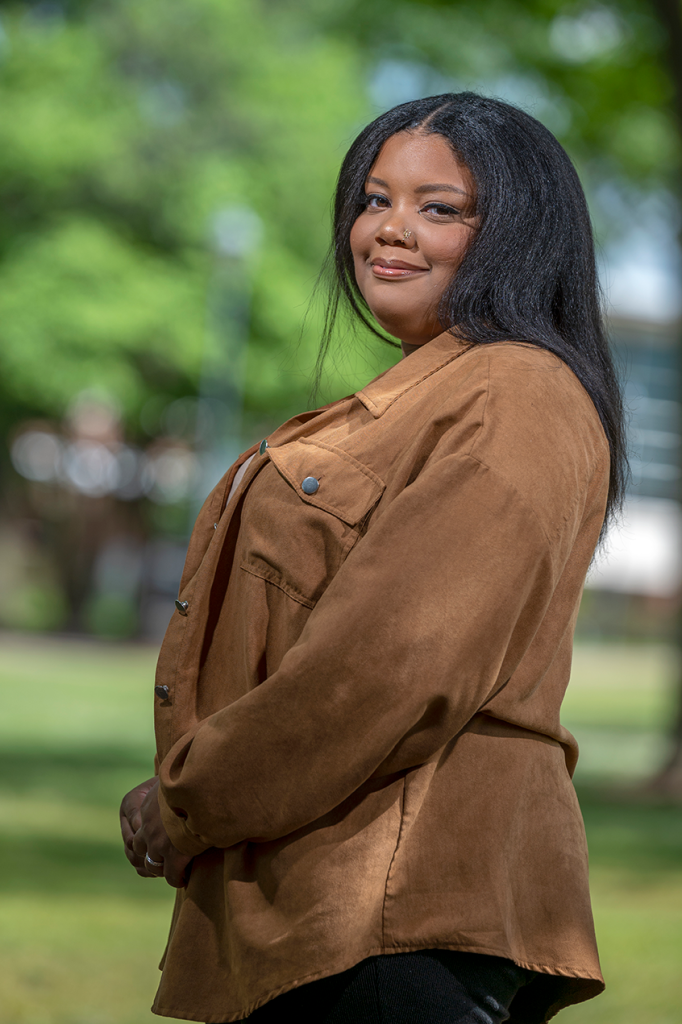 As she prepares for her next chapter, she's looking for opportunities to design packaging for products.
"I'm very interested in packaging design. I think that's what solidified my interest in getting into graphic design was seeing makeup palettes, packaging and foil. They're so pretty. I want to be able to make those too," she said. 
She strongly encourages upcoming seniors to get involved on campus as well as more involved in the graphic design field.  
"Take the time to really learn the design programs and software to become skilled in them. Reinforce those skills and critique your own work. And in order to get better, take time to do research and create mood boards for its inspiration from other designers." 
Augusta University's Spring 2022 Commencement ceremonies will be held Thursday, May 12 and Friday, May 13. Thursday's ceremony will honor graduate students, and Friday's ceremonies will honor undergraduate students. Watch the events via livestream.