Adam Sams loves being a musician, but a book he received from his brother-in-law changed his life.
Sams worked in Nashville, Tennessee for several years after a friend began a tour merchandise company. Sams and his wife, Anna, worked for the company and traveled the United States as merchandise managers.
While on the road, Sams began reading books by Wendell Berry, who is a novelist, poet, cultural critic and farmer. His brother-in-law Jamie gave him The Art of the Commonplace, which spoke to him.
"It talks about the importance of local communities, local knowledge and being grounded where you are," said Sams, who is graduating with an ecology degree. "I was reading that while we were on the road, living on tour buses, and it really spoke to me. I started having this desire to become more grounded, more connected to the people we live with, and more aware of our connections to the world around us."
The inspiration to stay connected led Sams to pursue a Bachelor of Science in Ecology from Augusta University's College of Science and Mathematics, a degree he'll receive this week.
When Sams initially moved to Augusta in 2010, he briefly attended college while studying music. Once the opportunity to pursue music full time presented itself, he decided to take a break from school.
He grinded it out as a solo artist, writing songs and recording two albums. When the Nashville job came up, his wife had just graduated from Augusta University with a public relations degree with a minor in studio art and was beginning a photography business. He was the first one to work on the road before she joined him almost a year later.
"From then on, we were able to be on the road together, and that was really good for us," he said. "We realized we work really well together. Some people said, 'I can't imagine spending that much time with my spouse,' but we loved it. I feel like we thrive on supporting each other and working together."
During one of their breaks, the Samses started discussing establishing roots and moving back to Augusta permanently to be closer to their families. When they finally moved back, he started picking up hobbies such as composting, gardening and beekeeping — all with the desire to do something that's tangibly connected with nature.
Sams decided with the move, it was the right time to go back to college. While looking at AU's website, he discovered they offered an ecology degree, and a light went off.
"I was like, 'That's exactly what I've been interested in; I've been building myself back up for this.' So I went to school the next day and signed up for classes."
The college experience has "been awesome," he said. Sams wanted to gain a better understanding of plants because he knew very little coming into it, so he took every botany-related course the university offered while also getting a chance to work in the greenhouses on campus for a year and a half.
"I keep telling my friends I feel like I've learned another language," Sams said. "The interest was there for me, but the knowledge was very scarce and needed to be pieced together. I really like being in school, and I've enjoyed being able to learn the names of different animals, or learn the types of plants that grow in this part of the country, or understand how the Savannah River connects to our cultural history here. All of those things have connected a lot of dots for me — taking this interest and giving a language to it. It's amazing to me how interconnected our lives are with the world around us."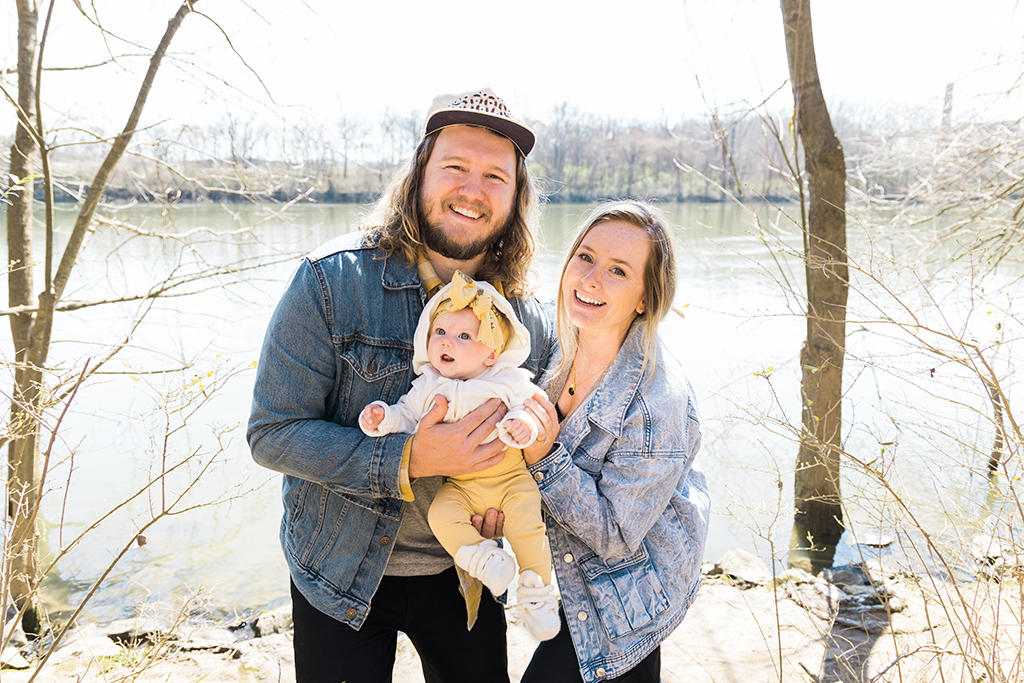 The Sams family expanded in November with the birth of their daughter, Penelope. He said she was born 10 days early and right in the middle of a research project. He had to figure out how to balance his studies and parenting responsibilities, but it's an experience he wouldn't trade.
"It's been a crazy ride. Waking up at 5 a.m. to study for exams, and then also helping my wife with the midnight feedings and diaper changes, so it's been a whirlwind, but it's been wonderful overall," he said.
"Our families and friends always say it goes by so fast, that 'They're going to grow up before you know it.' Having that input really inspired us to try to be present as much as we could and not miss those early moments. It was definitely stressful and sleep depriving at times, but I feel like we really tried to embrace being new parents and embraced each of those moments. Looking back on it now, I'm really thankful we did that because I have so many positive memories with my daughter already."
Sams received the Dustin Hayden Scholarship, named in honor of a former biology student who died from cancer in 2013. The memorial fund supports students studying ecology and environmental sciences. Sams was not aware of the scholarship beforehand and was honored by the "double blessing" of receiving the award around the same time his daughter was born.
Sams is working on his music again and released an album in 2021 with his band Timber Choir, which is inspired by everything he's learned in school as well as his lifestyle switch. They are currently working on another album, and he said it's been refreshing to work on music that also connects with ecology.
As he finishes up, Sams — who is part of the first cohort of scholars to graduate from POPUPS Scholars Program, a National Science Foundation-funded program — is thankful and appreciative of the support during his collegiate career.
"I'm so thankful to both our families. They have supported me and Anna and Penelope recently, but also the entire time I've been in school," Sams said. "I'm thankful to Jamie Garner for giving me that Wendell Berry book because that was kind of what opened the floodgates for me. Here at the school, I'm so thankful for Dr. Stacy Bennetts as my advisor. She teaches a lot of the plant-based courses here. She's been super supportive academically and personally with encouragement.
"Secondly is Dr. Donna Wear. She's also a gardener and a beekeeper and fellow Wendell Berry reader. We've bonded over that. I got to do research with her on a local endangered plant species. They are just a few of the people that have been super instrumental in my journey."
Augusta University's Spring 2022 Commencement ceremonies will be held Thursday, May 12 and Friday, May 13. Thursday's ceremony will honor graduate students, and Friday's ceremonies will honor undergraduate students. Watch the events via livestream.