OneUSG Connect goes live June 16, and as Augusta University prepares for this huge implementation that will significantly change a variety of workforce management processes, we want to make sure you are aware of key blackout dates that could affect faculty and staff.
PeopleSoft Human Capital Management's downtime is June 7-16 and June 21-24. There will be no transactions during these two blackout periods in the new PeopleSoft HCM System.
For the planned downtime from June 21-24, the OneUSG Connect web clock will be inaccessible; therefore, non-exempt employees who have been designated to use the OneUSG Connect web clock must complete paper timesheets for submission to Payroll.  More information, including specific instructions, will be communicated to departments. More specific information about other processes affected during these downtimes can be found at this link on the OneUSG Connect website.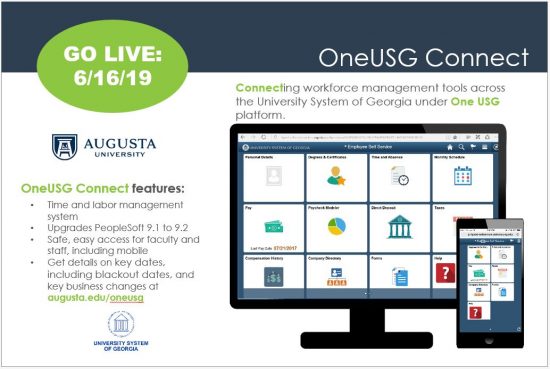 As was previously communicated, the OneUSG Implementation impacts processing of new hires due to system downtime and deadlines for new hires starting prior to go-live on June 16. Please plan ahead and ask questions in advance to ensure you have a complete understanding of these unusual circumstances, which will have an impact on our normal business processes.
For questions about blackout periods, please contact Carolyn Burns, Senior Director, Talent Acquisition and Development, at 721-7224, or Becky Williams, Assistant VP, University HR Services, at 721-4362.
You may also submit questions about OneUSG Connect at any time through the online submission form.
Thank you in advance for your attention to this vital business change.