The University System of Georgia Board of Regents recently approved three Augusta University faculty researchers as Regents' Entrepreneurs for their success in translating research into a commercial setting to improve patient care.
David C. Hess, MD, David Munn, MD, and Babak Baban, PhD, are the first three AU professors to earn the designation. The trio was recommended by President Brooks A. Keel, PhD, and Executive Vice President for Academic Affairs and Provost Neil J. MacKinnon, PhD, following an internal peer review conducted by Senior Vice President for Research Michael Diamond, MD, Executive Vice President for Strategic Partnerships and Economic Development Michael Shaffer and Associate Vice President for Innovation Commercialization Chris McKinney.
The Regents' Entrepreneur distinction is held for an initial period of three years that can be extended by the board and provides a one-time, $10,000 cash award.
"This is an incredible distinction for three researchers who continually foster a culture of discovery, innovation, diversity, inclusion and entrepreneurship at Augusta University, and each has distinguished himself as both a world-class researcher and educator," Keel said. "Drs. Hess, Munn and Baban have demonstrated exceptional knowledge and ability to promote discovery and innovation by moving concepts from the lab into practice where they can positively impact patients. They are all incredibly deserving of this honor, and we are fortunate to have them as a part of Augusta University."
"We are thrilled to have three of our researchers chosen for this honor," MacKinnon said. "As we were looking at the criteria, it was clear that Drs. Hess, Munn and Baban are more than deserving of this honor recognizing the hard work that they do for Augusta University, but more importantly bringing research from the lab bench to our patients' bedside."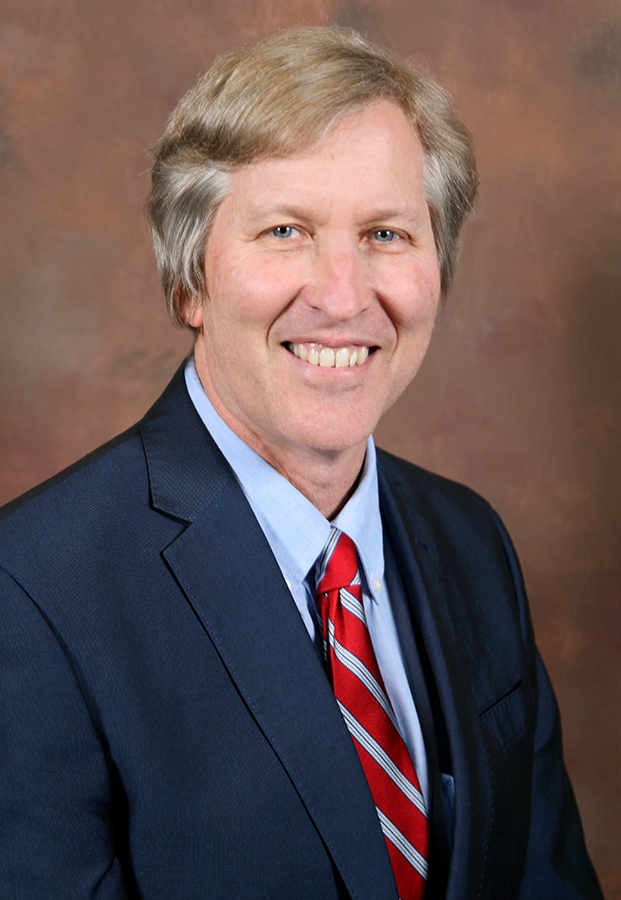 Hess serves as the dean of the Medical College of Georgia at Augusta University and executive vice president for medical affairs and integration, and is a Presidential Distinguished Chair and a professor in the Department of Neurology.
Hess, a neurologist and stroke specialist and researcher, co-founded and chaired the Board of Directors of REACH Health Inc., a telestroke company that spun out of the Medical College of Georgia. REACH Health Inc., based in Atlanta, was sold to InTouch and later Teladocs in 2019. The REACH telestroke network now numbers more than 20 hospitals.
Hess holds the patent on Multistem in neurological diseases, licensed by the former Georgia Regents University (currently Augusta University) to Athersys, Inc.
"I very much appreciate this honor from our Board of Regents," said Hess. "It is a privilege to have the opportunity to improve both the care patients are given and how that care is delivered. Medical schools like MCG enable this kind of innovation, and I very much appreciate the support that has been given to me and to our medical school."
In his notable 30+ year career with Augusta University, Hess has distinguished himself as a physician-scientist with over 200 peer-reviewed publications focusing on basic, pre-clinical and clinical stroke research. He is currently principal investigator on three National Institutes of Health grants and served as the clinical principal investigator for the MASTERS clinical trial, the largest stem cell trial for stroke to date.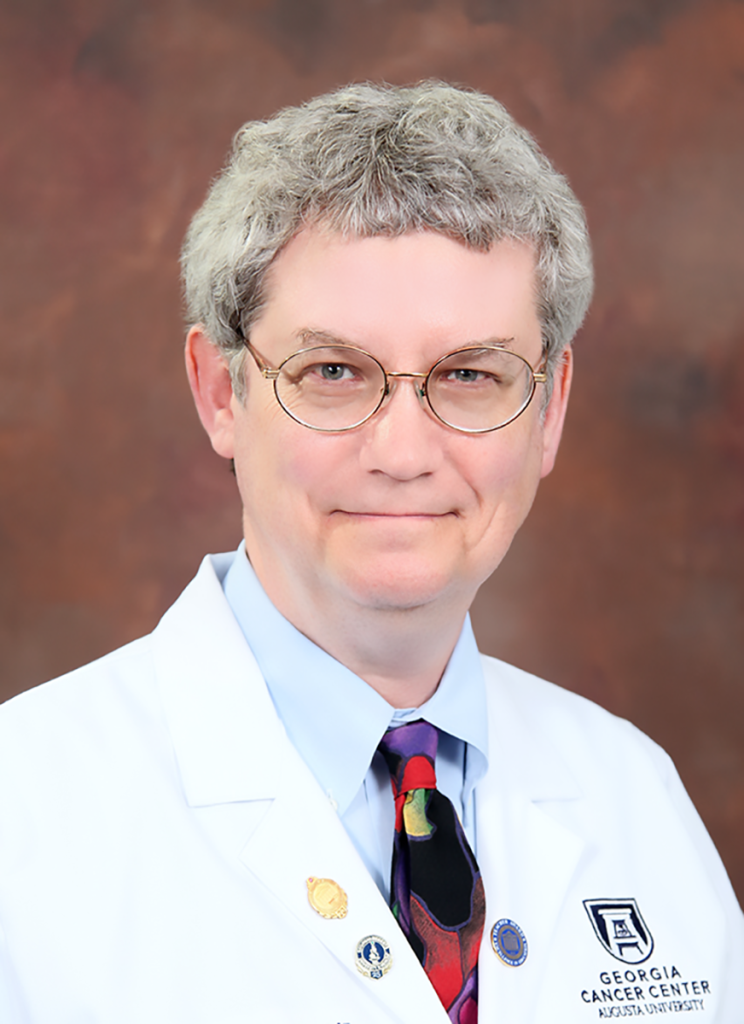 Munn is co-director of the Pediatric Immunotherapy Program at the Georgia Cancer Center where he is a trusted faculty member and active researcher.
His work has led to the development of 12 U.S. patents issued to Augusta University. Under Munn's direction, his research lab invented the prototypical IDO-pathway inhibitor drug, 1-methyl-tryptophan, and he was instrumental in driving this basic science forward into drug development. He has worked closely with biotechnology partners to design and implement several clinical trials involving this drug.
According to the Office of Innovation and Commercialization, Munn's licensed intellectual property to NewLink Genetics (now Lumos Pharma) has brought in $3,724,825.10 in revenue to Augusta University Research Institute.
"The institution has been supportive of my lab and me for 20 years in developing this technology and moving it into the clinic, and to be recognized for this work is a great honor," said Munn. "We are finally being able to see clinical fruits of the research translating into patients getting better. That's been the goal of the research for the whole time, to get to the point where it's no longer just bench laboratory research, it's actually being translated into patient care and that would not have been possible without the entrepreneurial aspect. In order to get drug companies involved with doing the clinical trials, manufacturing the drug and getting it to the point that you can actually treat patients with it, you have to have the entrepreneurial aspect to get it into the clinic, and this award recognizes that aspect of the work that is being done."
Munn is currently the principal investigator on three active R01 grants. He has been continuously funded by the National Institutes of Health for more than two decades and his current grant support exceeds $1.5 million annually.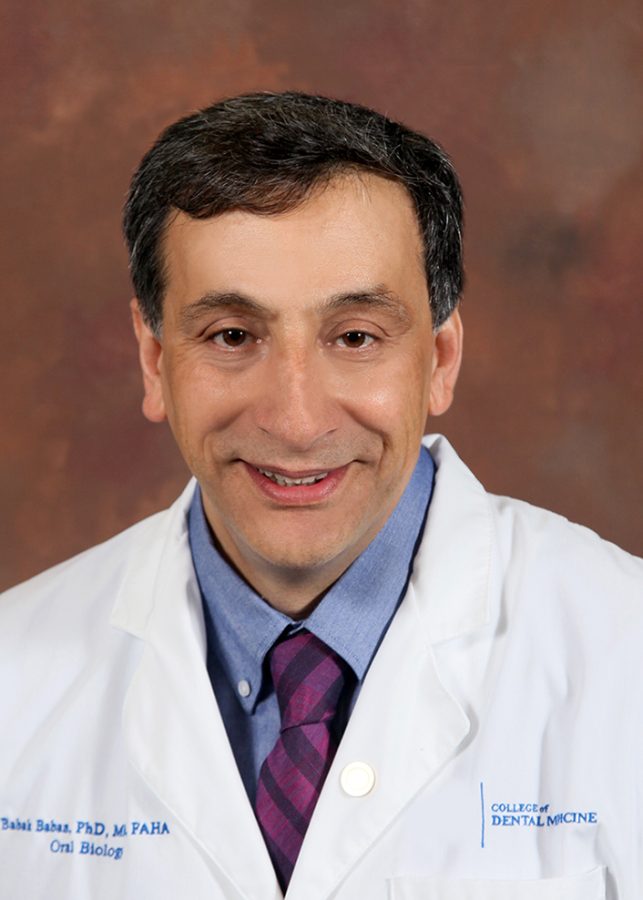 Baban is associate dean of research at the Dental College of Georgia, where he has served for 13 of his 20 years as a translational and clinical immunologist.
Baban founded Medicinal Cannabis of Georgia, LLC with AU's Bio-business Incubator, resulting in great strides in pre-clinical research. Through very productive collaborations with AU and DCG, they have published discoveries that brought promise for novel and potential treatments.
"This is a great honor, and I am incredibly thankful to Dr. Keel and Dr. MacKinnon for nominating Dr. Hess, Dr. Munn and me, and it is also a tremendous honor for Augusta University and the Dental College of Georgia," said Baban. "I think it brings even more recognition and appreciation for everything that is done here at AU. It shows the support our various organizations have and the hard work that each lab is doing in creating patents. The goal of biomedical science is to bring an idea from the lab bench to the bedside, and I think patents are one of the hurdles which you have to clear to see ideas set into practice to translate it to a patient and give them a healthier life and thus a better community."
He has published 134 peer-reviewed articles, has four patents issued and several pending.
The Regents' Entrepreneur designation
The Regents' Entrepreneur designation may be granted by the Board of Regents to an outstanding full-time tenured faculty member who has an established reputation as a successful innovator and who has taken their research into a commercial setting. The Regents' Entrepreneur designation shall be bestowed by the Board only upon the unanimous recommendation of the USG institution president, chief academic officer, and the Chancellor and upon the approval of the Committee on Academic Affairs.
A retired faculty member who, at the time of retirement has had 10 or more years of honorable and distinguished USG service and has previously held the Regents' Entrepreneur designation, may be conferred with the title of Regents' Entrepreneur Emeritus or Regents' Entrepreneur Emerita by the Board of Regents on the recommendation of the Chancellor.
Regents' titles are some of the most prestigious titles a faculty member can hold in the University System of Georgia (USG). The Board of Regents (BOR) recognizes outstanding faculty innovation and entrepreneurship through the granting of the Regents' Entrepreneur title. Faculty members who apply for nomination must have excellent track records in innovation and entrepreneurship and must be significantly far along in their commercialization journeys to be considered for nominations. For more information on the Regents' designation, see Section 8.3.2 of the USG policy manual.