For the first time since 2019, Augusta University held its Employee Service Recognition celebration in person.
The university's Human Resources department recognized the service milestones of 600 employees through four ceremonies held on Oct. 5 and Oct. 10. Dena Pickett, director of employment services, thanked employees for furthering the university's mission at each ceremony.
"Your amazing efforts continue to inspire those around you each day," Pickett said. "We applaud the determination and effort you have demonstrated during your time with us, and we look forward to seeing the great things you will accomplish in the future."
Of those recognized, 14 employees marked 30 years, eight marked 35 years and radiologist William Bates, MD, an associate professor in the Medical College of Georgia at Augusta University, celebrated 40 years of service at AU.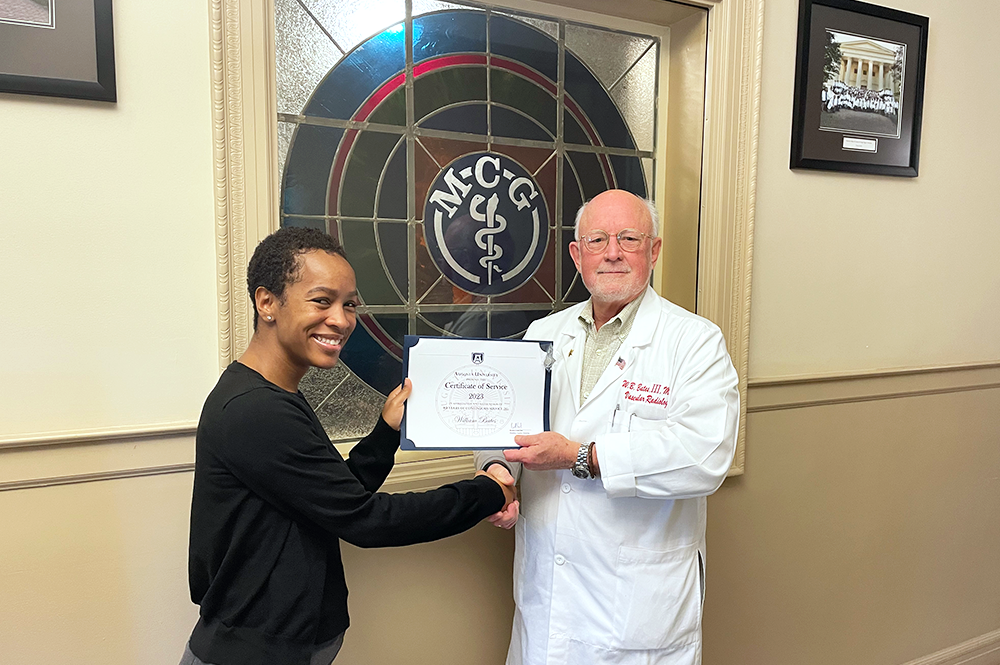 "The practice of medicine has been my life," Bates said. "The whole MCG medical community is my family. It's hard, it's a challenge, but for people that have gone into medicine for the right reasons, MCG is very special. MCG is a calling."
Bates' parents both attended the Medical College of Georgia, setting an example that would guide him throughout his career. His faculty mentor was William Strong, MD, a pediatric cardiologist for many years at MCG. As for the secret to longevity in the field?
"Love," Bates said. "Love to work – it's a privilege, not a right. Love of being a doctor – it's sacred. And the love of an extraordinarily understanding spouse."
Mia Jolly, the director of research technology for AU's Information Technology Services, reflected on her 30-year journey at Augusta.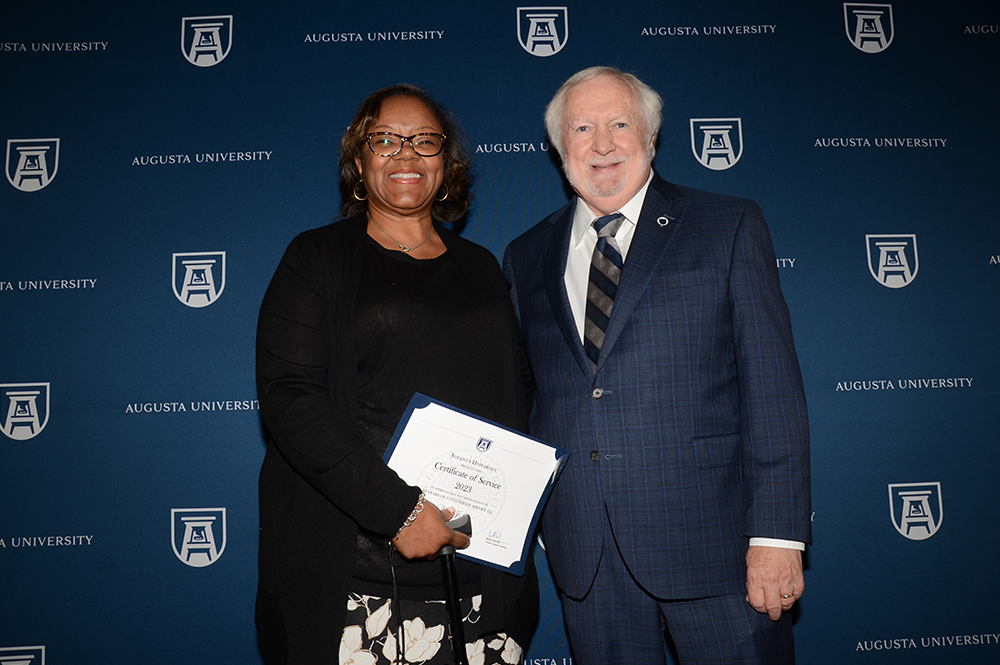 "It's awe-inspiring to see how technology has breathed life into our brilliant ideas, revolutionizing academics, health care, research and business operations at Augusta University," Jolly said. "My fondest memory is experiencing AU in its entirety, being a patient, a student, a graduate and proud parent of an AU graduate. I began as a young professional and have had the opportunity to see my peers successfully grow and develop along their career choice and paths. Each has their own unique story, and I will ever cherish their contributions to my personal/professional evolution."
For Jolly, the secret to an enduring career at Augusta University has been the ability to adapt to the ever-changing technology. She and Bates both pointed to deep bonds with their respective teams as a key ingredient to their success.
A full list of employees honored at the 2023 ceremonies is available on the Human Resources page.