Shared by Ellice Whatley Bowman, event operations and merchandise coordinator for Paceline Ride, LLC.
On Saturday, Oct. 24, 2020, Paceline hosts a bike ride and community celebration to benefit critical research and survivorship at the Georgia Cancer Center at Augusta University.
This story is a look at why Dr. Martha Tingen, associate director for Cancer Prevention, Control and Population Health at the Georgia Cancer Center, decided to get involved.
As Dr. Martha Tingen pedaled the last half mile of the Paceline Ride, she encountered an obstacle she was unsure she could overcome. Although her feet were firmly pressed against the pedals, her legs lacked the endurance she once had as she passed by her late son's neighborhood. Overwhelmed by the sight, she had to conjure up what little strength she had left to move onward to the finish line. 
As her bike sailed over the finish line, she emanated a strength that proved if she could survive cancer, perhaps she could survive anything.
The passing of her older son, Nathan, is a challenge she continues to struggle with daily. According to Tingen, "One of Nathan's big goals in life was to encourage us all to be very, very healthy." 
Nathan, along with her younger son, Joseph, are her two biggest motivators. They both push her to follow healthy habits and to constantly pursue a workout routine. "Mom, use your weights. Mom, walk. Mom, jog. Mom, ride your bike. Be in shape, Mom. Go to the gym, Mom. Eat healthy, Mom. Get more sleep, Mom," Tingen recalls fondly. 
Nathan's optimistic state of mind, his encouragement, and Joseph's continual reinforcement of the same ideas are what inspired Tingen to follow a healthy life. Despite Nathan's passing, he continues to be a primary motivating factor behind her work and healthy habits, one of which includes being a part of the Paceline Ride.
In her role as associate director for the Cancer Prevention, Control & Population Health program at the Georgia Cancer Center, Tingen targets all the different modifiable risk factors that are related to cancer and that cause cancer. These risk behaviors are well identified and lifestyle choices can influence the prevention of cancer. Tobacco use, alcohol use, being overweight or obese, lack of proper nutrition that focuses on meat-based choices rather than healthy plant-based options, lack of physical activity, and sun exposure are a few risk behaviors Tingen works to prevent.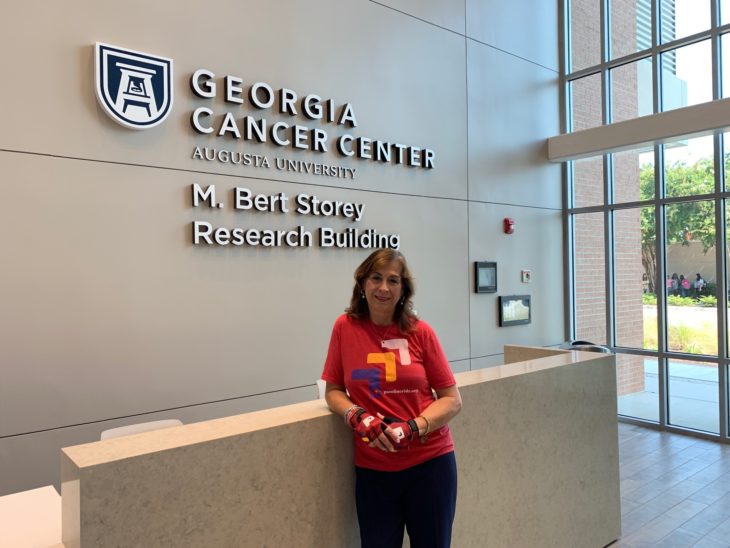 In the process of a focus on prevention, she discovered, "There are all kinds of research that show if cancer survivors get adequate sleep, adequate physical activity, adequate nutrition, and maintain a healthy weight, there is an association with longevity versus recurrence." 
In addition to having adequate rest, activity, and nutrition, it is also proven that intermittent fasting is another preventive measure that leads to longevity. Both Nathan's encouragement and her own diagnosis with bilateral breast cancer opened Tingen's eyes to the importance of maintaining a healthy lifestyle. Now as a survivor, she strives to continue the same healthy food regimen that she developed upon diagnosis.
After hearing about Paceline and its pursuits to find a cure for cancer, fund cancer research and improve clinical care, Tingen could not help but jump at the opportunity to be a part of such a noble cause, a cause that hit close to home. As a cancer survivor, she felt strongly about supporting the ride. 
"Paceline to me was a golden opportunity of really pulling the community together and to ride alongside each other for cancer research and a cure," she said.
Joining the Paceline Ride was a way for her to honor not only her loved ones, but also those who are struggling with cancer, those who have survived, and those who have not. Like many of us, Tingen carries the weight of loved ones she has lost to cancer or other causes with her, and she saw Paceline as a way to honor them. 
"I lost my sister to pancreatic cancer, who I loved very much. I took care of her for nine months before her death. I also lost my grandmother when I was just 12 years old to pancreatic cancer because that was long before CT scans were available, and you couldn't diagnose it; they only found it on autopsy. I rode in honor of my father who was a great WWII veteran, who had an early diagnosis by detection of lung cancer at 89 years old and lived three months shy of an additional 10 years with no recurrence," Tingen said. "I also rode in honor of my mother, who was the greatest and loveliest Christian woman I've ever known and died in my arms with a heart attack and had lost her oldest sister to metastatic breast cancer to the bone and brain. I lost two uncles to prostate cancer and two other aunts have breast cancer." 
As the day of the Paceline Ride drew near, Tingen felt as though she had not prepared herself enough, but with the echoing of Nathan's mantra through her son Joseph, she had all the encouragement she needed, even if it meant that Joseph had to strap her to the bike. 
"I did not want to disappoint him, and I would not have wanted to disappoint my son Nathan, who I lost, nor my sister Mickey nor my self," Tingen said thoughtfully. Participating in the Paceline Ride was a taxing but inspirational experience. "For me, the first ride was amazing; it was exceptionally challenging." 
As her 20-mile journey approached its end, Tingen encountered the most difficult obstacle of the ride — Nathan's neighborhood. Emotions crashed over her in waves and tears nearly obscured her vision. With Joseph's and her husband, Jim's, encouraging words constantly cheering her on, and praying all the while, she summoned the little bit of strength she had left and pedaled onward to the finish line.
"I pedaled and prayed."
One of Nathan's main goals in life was to be healthy and encourage everyone else to be healthy, including his mom. It is through his and Joseph's motivating words that she was able to participate in Paceline, an organization close to her heart.
"In honor of Nathan and all the other family, friends, and coworkers who have lost their lives, in honor of those who are fighting for their lives right now, and for those who will hear the words this year or maybe next year, 'You have cancer,' I encourage you all to join the Paceline Ride and fight for what is right — a cure," Tingen said.
Join the Paceline
Paceline is more than a ride. It's a community event where 100% of all fundraising goes to fund critical research and survivorship at the Georgia Cancer Center. Learn more or register to ride at pacelineride.org.
A wide range of volunteer options are available, including bike management, food and beverage tent operations, photography, rider check-in and more. Register as a 2020 Paceline Volunteer.