In celebration of Valentine's Day, we're featuring some of the on-campus couples who make the Augusta University community a little sweeter.
Two couples — Raymond and Janice Whiting and Gregg and Susan Murray — have been pillars at the university for several years.
Raymond and Janice Whiting
Dr. Raymond "Ray" Whiting, associate vice president for curriculum and instructional innovation and former political science professor, and Professor Janice Whiting, recently retired professor of art, have been married for 18 years — and both have spent their entire 30-plus-year academic careers at Augusta University.
Their story starts in a place far from Augusta. They had worked together at the university for years before growing close on an international trip.
"Because Janice and I were both faculty members and were both active in university governance, we had met several times at faculty gatherings and events, but we didn't really get to know each other in any significant way until we both participated in a University System of Georgia faculty development trip to India," said Ray.
"Janice and I both loved India and we became strong traveling partners who looked out for each other."
Their strong partnership continued into their relationship and eventual marriage.
"We are what we call a 'bonded couple.' We love to be in each other's company, and we love being able to see each other during the day. We always tried to eat lunch together or meet for coffee. Working at the same institution has been a gift we have never taken for granted," he said.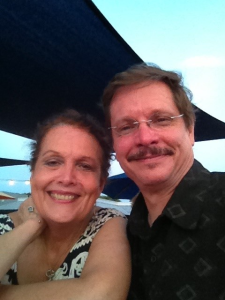 Their nearly 20-year marriage has caused both to grow in unexpected ways — not just personally, but also academically. Janice remembers one instance where she became a de facto American government instructor for a student in need.
"It was Ray's policy to always be available to his students, any time, night or day. One semester Ray had a conference in another state during the time period students were given to complete a midterm paper assignment. This was pre-cell phone days, and I ended up being the one to answer the phone helping to answer student questions at 2 a.m.," said Janice.
"The students later reported how impressed they were that the art professor knew so much about American government."
Janice is proud of her husband's passion for his work regardless of the role in which he serves.
"He was an outstanding professor but has also taken on the hard work of being a part of the university administration. It can be thankless work, but through it all he has never lost sight of what it was like to be a faculty member and has been a tireless advocate for our faculty and our students."
Ray is proud of the impact his wife made on the university in her over 40-year tenure at the institution.
"For years we have been meeting graduates of our institution and it is very common for them to tell me about the profound impact Janice had on how they see the world and how grateful they are for the experience," he said.
"She has helped so many people learn how to look at and appreciate art and I am sure that our world is a better place for it."
Reflecting together on their time at Augusta University, the community they've created here is one of their favorite parts of being together.
"We have both been at the institution so long it has become our home."
Gregg and Susan Murray
Dr. Gregg Murray, professor of political science in the Pamplin College of Arts, Humanities, and Social Sciences, and Dr. Susan Murray, assistant professor of accounting in the James M. Hull College of Business, have been together since 1984 and married in 1988.
They met at the University of Texas when Susan was waiting outside for a campus bus. She was with her roommate, who happened to have went to high school with Gregg.
Both starting working at Augusta University as faculty about six years ago, and are thankful to be at the same institution.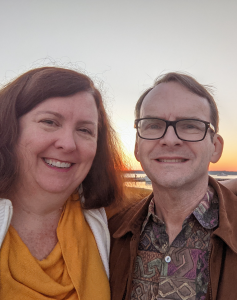 "After working as far apart as Texas and Illinois, it's been wonderful to literally work in the same building one floor apart. We're very appreciative," they said.
The two work together in Allgood Hall on the Summerville Campus, and one of their favorite things is running into each other in the hallways. For a local lunch date, they enjoy The Chef's House, a soul food spot on Walton Way — but warn "you have to be hungry."
Despite teaching two very different disciplines — they cited it would be "a complete disaster" if they swapped jobs for the day — they've learned to appreciate different things about each other's teaching style and professional interests.
"Susan is wonderful with students and really enjoys working with them. She takes great care of her students and teaches them a marketable skill that has set many of them on a path to life success," said Gregg, reflecting on his wife's accounting expertise.
Susan appreciates her husband's work in research.
"Gregg is very curious and enjoys the opportunity to work on research and other projects that interest him," she said, adding that creating new knowledge in his field gives him great pride and satisfaction.