Born out of love for family, community, each other and the university where they've built their careers, Dr. Raymond "Ray" Whiting and professor Janice Williams Whiting recently created two named endowments to support student scholarships at Augusta University. Through a combined planned gift of $200,000, the Whitings have established the A.L. Williams, Jr. Scholarship Endowment ($100,000) and the Janice and Ray Whiting Scholarship Endowment ($100,000).
"For us, Augusta University has been a family," said Ray. "We have always cared about the students we've taught, and we care about the mission of the university. This is a way that we can give back and we really try to focus on helping people."
Both the Whitings came to Augusta University (then Augusta College) early in their academic careers: Janice in 1981 and Ray in 1990. Even though there were opportunities to leave, both chose to stay and make Augusta University not only a place to work but also a home and extended family.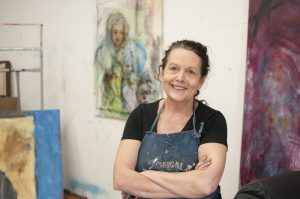 Janice received her Bachelor of Fine Arts from the University of Georgia and her Master of Fine Arts from Indiana State University before joining the faculty in Augusta. All four of her children grew up attending art exhibitions, spending time in their mom's studio or playing on campus. Not only has Janice taught painting, drawing, color theory and world humanities, she has also served as director of the Italian Studies Abroad Program and director of the art gallery in the Department of Fine Arts (now Art and Design), years before the Mary S. Byrd Gallery of Art was created.
Janice, now emeritus professor, has had a long and fruitful career at the university, and in 2003 received the Outstanding Faculty Member award for Teaching. But her roots in Augusta go far deeper. She was born and raised here, and the university was a cornerstone of what it meant to be from here. Her father, sister and two of her children graduated from Augusta University.
Ray came to Augusta after earning his PhD at Syracuse University, thinking that his first job after graduation would be temporary and that he would eventually move on. But years turned into decades, and decades turned into a lifelong career. During his time at Augusta University and its legacy schools, Ray served as a professor of political science, special assistant to the vice president, special assistant to the president, assistant vice president for Academic Affairs, associate vice president for Academic Affairs, associate vice president for Institutional Effectiveness and associate vice president for Curriculum and Instructional Innovation.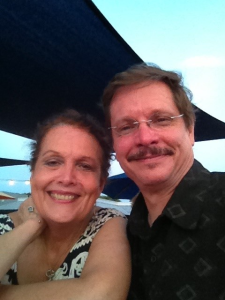 Ray raised three children, so when he and Janice met, became friends, fell in love and ultimately married, they became a blended family of nine.
A.L. Williams, Jr. was Janice's father and a beloved member of the community. While this new scholarship endowment is certainly a tribute to A.L. Williams Jr., it is not the first naming to honor his achievements. The A.L. Williams Park at Broad and Eve streets and the baseball diamond at the Academy of Richmond County are also named for him.
Coach Williams began his career at the Academy of Richmond County in 1948, serving as a teacher, coach, athletic director, assistant principal and finally, principal, before retiring in 1983. Under his leadership, the baseball teams won seven consecutive state championships and three Southeastern championships. Coach Williams was inducted into the Georgia Sports Hall of Fame in 2002 and the Georgia Dugout Club Hall of Fame in 2011. Unsurprisingly, he was named an Augusta College Outstanding Alumnus, received the Exchange Club of Augusta Golden Deeds award and was made a lifetime member of the Georgia High School Association.
Perhaps more fulfilling than these honors, Coach Williams' former students and players loved and respected him, according to Janice. She recounted many stories of former players who would drop everything if "Coach" needed help, and said that many of them still have reunions to celebrate the good times on the ball field under Coach Williams' leadership and mentorship. In fact, when Coach Williams passed away at age 92, several donned their old baseball uniforms in his memory at the funeral.
Since Coach Williams himself was the recipient of a baseball scholarship to Wake Forest after graduating from what was then Augusta Junior College, the Whitings have set criteria for the A.L. Williams, Jr. Scholarship Endowment to be awarded to a student athlete on the Augusta Jaguars baseball or softball team.
"Scholarships meant something to him," said Janice. "He came from a very poor family with a lot of children. School meant something," adding that her father's values and passion for education will live on through this endowment.
On its surface, the Janice and Ray Whiting Scholarship Endowment was established to provide a scholarship to students enrolled in the Pamplin College of Arts, Humanities, and Social Sciences at Augusta University, with a declared major in the Department of Art and Design. While anyone may be considered to receive the scholarship, the Whitings have stipulated that the first preference should go to a female student. As with many fields, the arts can be a difficult path for women, and the Whitings have seen this firsthand.
"As a female artist, you were expected to go and teach school someplace and not to become a powerful, influential artist," explained Ray, before adding, "the world has been stacked against some people, and we're very interested in making sure we address that."
On another level, Janice and Ray wanted to move the university forward while celebrating their careers and their institution, as well as a love for aesthetic value, compassion, equality and opportunity. It is their collective hope that this scholarship will further those values.
"Janice and I love knowledge, but not just for the sake of knowledge," said Ray. "We love it because you then use it and reflect it back into the world to try and make the world better, and these scholarships are a part of that."
Learn more about these funds and how to support them by contacting Philanthropy & Alumni Engagement.