Since being appointed the Morris Eminent Scholar in Art at Augusta University in August 2020, artist Anila Quayyum Agha has continued to take the world by storm.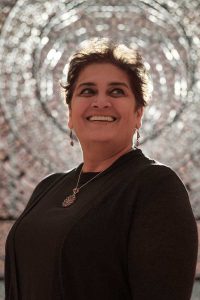 Her artwork has been shown in galleries across the globe, including in Singapore's Sundaram Tagore Gallery and at public events like the Noor Festival in Riyadh, Saudi Arabia. Her work is also featured in museums like the Amon Carter Museum of American Art in Fort Worth, Texas; the Cincinnati Art Museum; the Peabody Essex Museum in Salem, Massachusetts; the Chrysler Museum of Art in Norfolk, Virginia; and the Jule Collins Smith Museum of Fine Art at Auburn University.
Starting Feb. 19, students at Augusta University and the local community will have an opportunity to see her captivating installations in person at the Columbia Museum of Art in Columbia, South Carolina.
Agha, who was born in Lahore, Pakistan, creates artwork that explores global politics, cultural diversity and mass media as well as social and gender roles. In her installation projects, she masterfully uses light and shadows to create patterns that aim to evoke emotional experiences in the audience.
Her sculptures are created from intricately cut steel and often illuminated by a single light source, which dramatically fills the room with ornate patterns of light and shadow. In just the past year, her artwork has been included in two published books: One Thing Well: 22 Years of Installation Art, published by the Rice Gallery of Art in Houston, and  A Beautiful Despair: Anila Quayyum Agha, a limited edition signed artist-book published by the Amon Carter Museum of American Art.
The exhibit at the Columbia Museum of Art is called  Let a Million Flowers Bloom.
The artwork uses geometric and floral shapes and patterns inspired by Islamic art and architecture from South Asia and the Middle East.
Agha explained the exhibit explores contradictions such as masculine and feminine, public and private, religious and secular and particularly addresses social ills related to racial, class or gender biases, displacement and the search for safety for large refugee populations across the world due to natural and man-made disasters and the resultant economic problems of the aftermath.
"People shouldn't be excluded or devalued due to race, creed, gender or class," Agha said. "It requires tremendous determination and grit to deal with the pain of losing one's own agency, along with one's home, country and identity, and be armed with the hope of establishing them both anew in a new country."
After graduating with a Bachelor of Fine Arts from the National College of Arts in Lahore in 1989, Agha eventually moved to the United States and received a Master of Fine Arts from the University of North Texas. Her work has been exhibited in more than 35 solo shows and 55 group shows across the world.
She will be discussing her artwork with Jackie Adams, the director of art and learning at the Columbia Museum, at 2 p.m. Saturday, Feb. 19.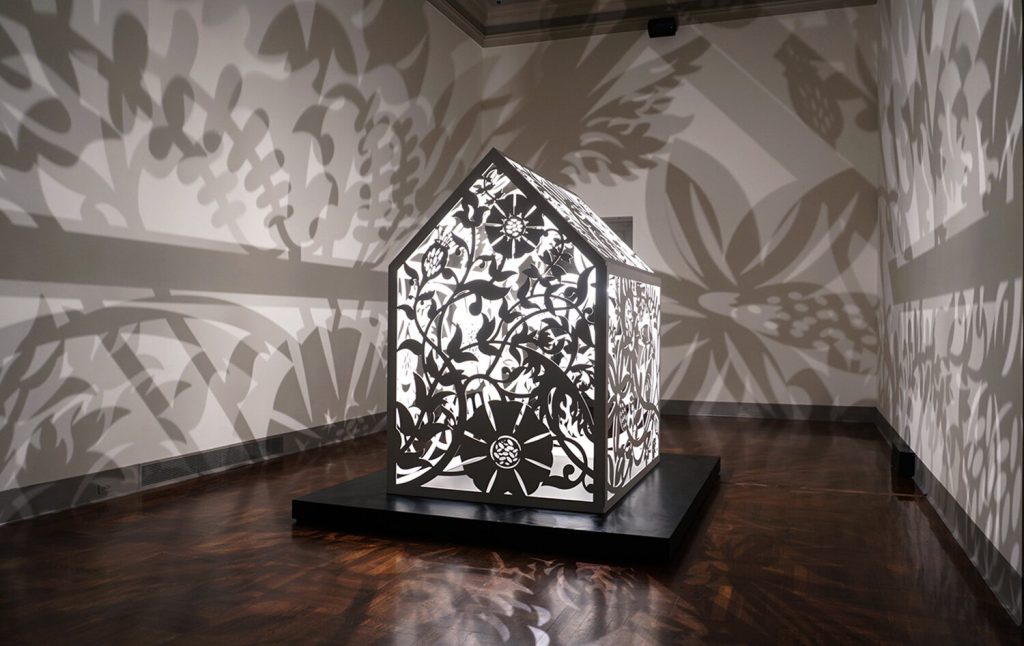 The Columbia Museum of Art selected two of Agha's large-scale installation projects for the exhibition.
One installation, This is NOT a Refuge!, uses architectural form, light and shadow to provide commentary regarding the struggles of immigrants and refugees on their journey to safety across the world. The second installation project is called All The Flowers Are For Me and it creates a healing feminine space for all audience members irrespective of their race, color creed or gender, Agha explained.
Anila Quayyum Agha's exhibit, Let a Million Flowers Bloom, will run from Feb. 19-May 29 at the Columbia Museum of Art in Columbia, S.C. Learn more about the exhibit.