As first-year students set foot in Augusta University's classrooms and labs, new faculty members will be embarking on their own journeys at Augusta alongside them.
The university held its annual New Faculty Conference for roughly 80 new faculty members on Aug. 10 in the Hull McKnight Building of the Georgia Cyber Center, followed by a second day of talks and workshops Aug. 11 at the Maxwell Theatre.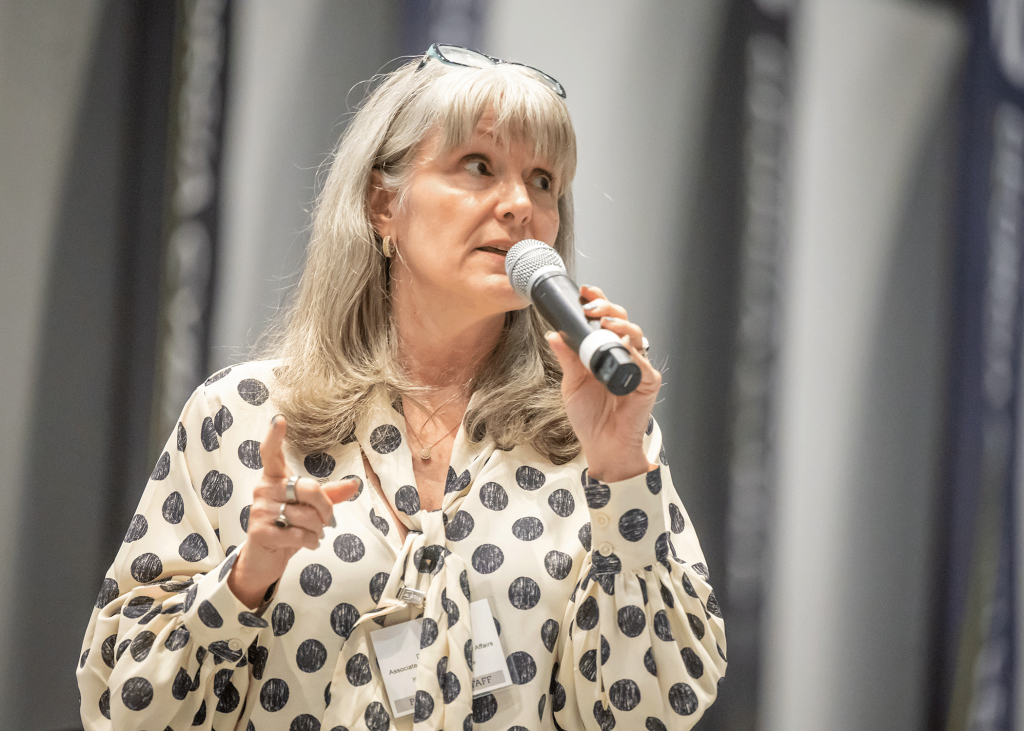 "Just in the same way that students have convocation and their opening moments, we want faculty to understand that they're joining a community," said Karen Head, PhD, associate provost for Faculty Affairs. "We want them to be able to ask their questions and get critical information in these first few days so that they're ready to launch themselves and their careers, which we hope will be very long ones here. The sooner we can create that sense of belonging, the better."
Read more: Augusta University announces new associate provost for Faculty Affairs
From panels on student success to presentations about campus resources, breakout sessions for tenure and non-tenure track paths to presentations on community engagement, attendees heard from dozens of faculty, staff and students.
For Latria Graham, the fall semester will mark a return to Augusta University, albeit in a new role. Graham, an award-winning author, editor and cultural critic, served as a Faculty Inclusive Excellence Initiative visiting scholar in the Department of English & World Languages in Pamplin College of Arts, Humanities, and Social Sciences during the past spring semester.
Graham, now an assistant professor, said she enjoyed learning about how faculty and staff can come together to support students, and she looks forward to playing her own part in their journeys this fall.
"Now, I get to see some of the rhythms and traditions in Augusta," Graham said. "I'm really looking forward to being able to spend time with students and getting to meet freshmen, who are coming into this with their curiosities and anxieties, and getting to help soothe some of those and help them understand things about the world they may not have known existed."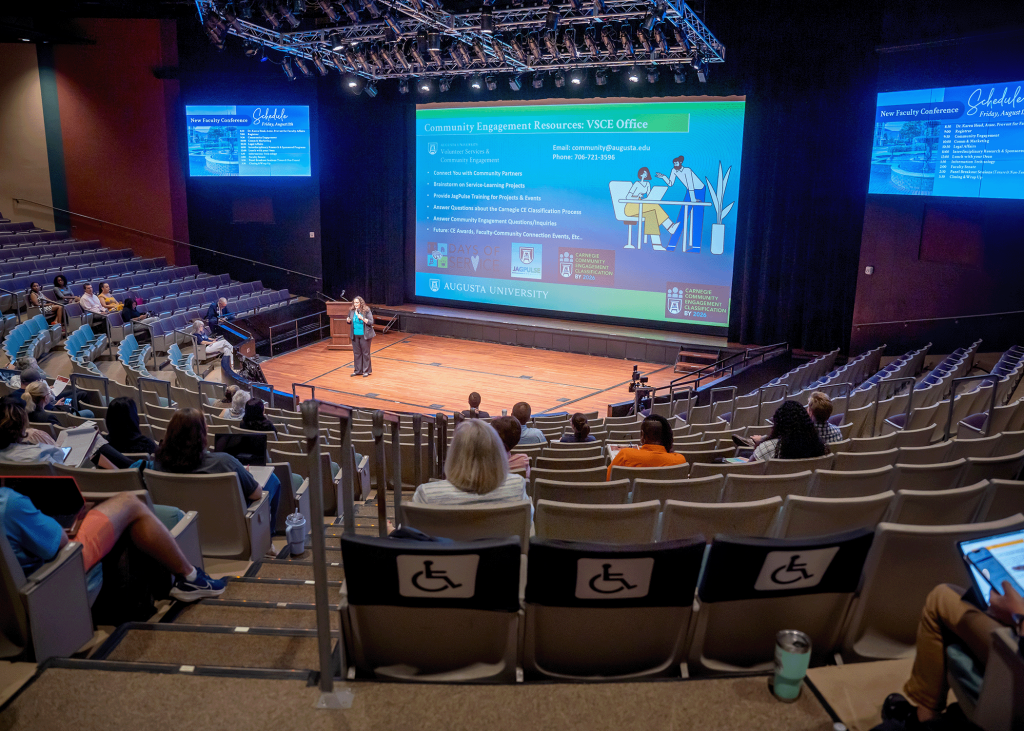 For some, including assistant professor Isaac Brinberg, DMA, this semester will mark the very beginning of a career in higher education.
Brinberg, who will serve as wind ensemble director and low brass instructor in Pamplin's music department, said he's excited to be part of a university that is so student-centered.
"The best advice that I've received so far is to look at how our work impacts the community," Brinberg said. "We're not just looking at the short-term goals, but also what we need to do for the next step to build relationships that have lasting impact beyond campus. How do we build research lines that create this impact? How do we expand curriculum? How do we innovate our own teaching in way that connects with our diverse student body and fosters an inclusive, welcoming and compassionate environment?"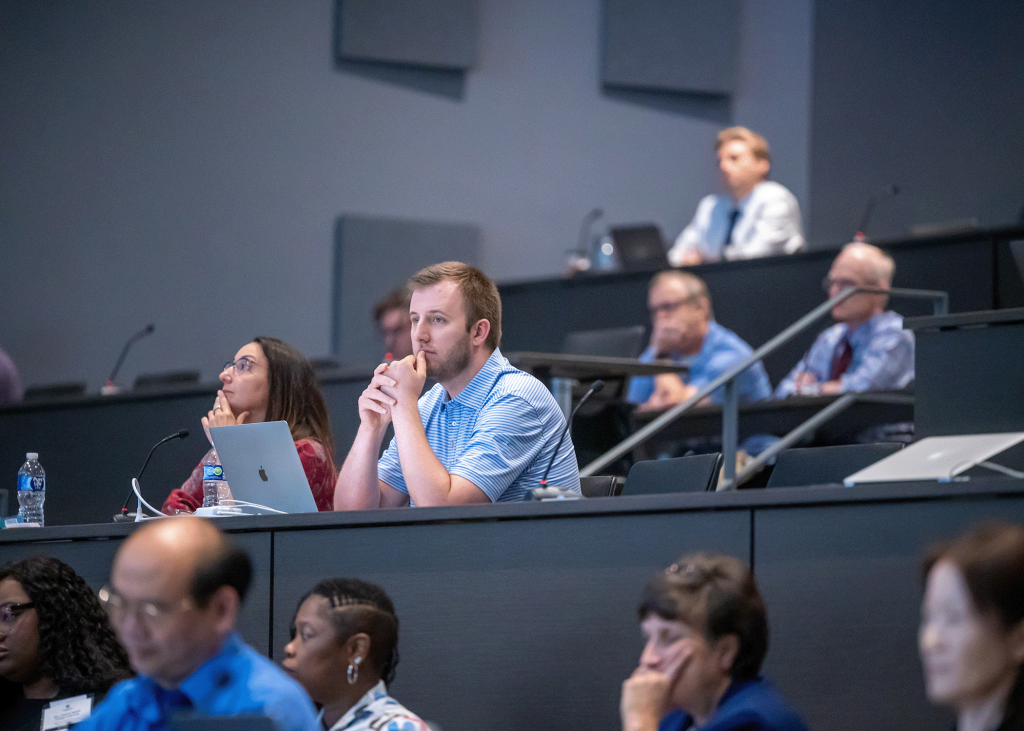 For the second year in a row, Augusta University has received national recognition as one of the top universities in the nation when it comes to return on investment. The university has grown its enrollment numbers for the past seven years, with record enrollment anticipated this fall. Augusta also continues to expand its wide variety of degree programs, including the new School of Public Health.
The school welcomed its inaugural dean, Teresa Waters, PhD, at the start of August. She said she was thrilled to be able to join other new public health faculty at the orientation.
"It's just really fun," said Waters. "We're building a brand-new school, and so there's an excitement in the air. We're meeting, and we're planning, and we're dreaming, and I think that's really exciting."
In addition to the new School of Public Health, the university is launching three new majors in neuroscience, sports management and biomedical systems engineering. Augusta's 2022-27 strategic plan also includes goals of reaching 16,000 students enrolled by 2030, achieving a top-60 NIH ranking by 2030 and earning Carnegie Community Engagement Classification by 2026.
"I think the skills and background of the new faculty joining us will really accelerate the momentum," said Neil MacKinnon, PhD, Augusta University provost and executive vice president for academic affairs. "We're bringing in some true superstars. We're thrilled with who we've recruited here."