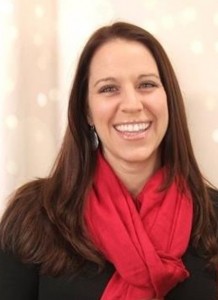 Born and raised in rural Kansas, Dr. Gina Besenyi enjoys the simple things in life.
A recent addition to the Department of Clinical and Digital Health Sciences, she likes to eat healthy, exercise and spend quality time outdoors with her family, all pastimes which are, admittedly, uncomplicated, but play an essential role in her research interests.
As director of the Physical Activity Research in Community Settings (PARCS) Lab, Besenyi studies how active living behaviors and population-level health outcomes are affected by the biggest environmental factor of all: the environment itself.
More specifically, her research focuses on the impact and utilization of parks and public green space and how communities can become their own best advocates in the civic arena.
"Where we live, work, and play affects our health. For me, parks were the most natural setting for my particular research interests," Besenyi said. "They're under-utilized, family-friendly resources that promote a variety of health benefits that we can tap into with the aid of community support."
Having grown up in the rural Mid-West, she said the decision to study healthy behavior and built environments was second nature.
"I was always an active child," Besenyi said. "When I got to school, I was very interested in helping people be more active and how that related to health outcomes."
Although physical activity and personal health have always been fundamental parts of Besenyi's lifestyle, she said she recognized the importance of taking a more comprehensive approach to producing positive health outcomes while working toward her Master of Public Health degree.
"The individual level was, in the past, the way people approached changing health behaviors," she said. "Things like our knowledge, skill, or self-efficacy, but they often require targeted individual or group-level interventions to improve physical activity or health and results are often difficult to sustain. It isn't always a model that works."
One model that does work, she says, incorporates a multi-level approach, including the community and built environment. But even that can be tricky. Many times, the first step is introducing residents to their own environments.
"A lot of my work is to get both youth and adult populations to engage civically with their communities to learn about and improve their parks and green space," she said. "So, I'll ask them, where is your closest park? what condition is it in? what features and facilities does it provide? what could be done to help you use it more often?"
Locals are often not aware of all of the great parks and recreation facilities they have access to. Once they fully understand their resources, though, something incredible starts to happen.
"Once the community realizes what they have access to, research shows that not only do they use those resources more often, but they are more likely to become advocates for parks in their community," Besenyi said.
Involving residents in a participatory research process, she claims, has an even greater long-term impact on both engagement and positive health outcomes. That's the focus of one of her most recent studies.
"Right now, the study I'm working on expands upon previous work creating tools to help collect information about parks in the community," Besenyi said.
Referred to as the "electronic Community Park Audit Tool," or "eCPAT," this user-friendly mobile application allows community members to visit parks and collect information regarding park accessibility, quality, and safety among other things.
"Our goal was to give researchers, professionals, and community members a quick, reliable mobile tool that could collect park information that could be used in a variety of ways to promote physical activity and health."
The electronic tool was originally conceived by Besenyi and a team of researchers from the University of South Carolina and the University of Missouri. Tested in Kansas City, MO and Greenville, SC, eCPAT proved a hit with community stakeholders, especially youth.
"The idea behind the app was that anyone in the community could do it," she said. "Everyone is online these days. Apps like Trip Advisor give people information to help them make decisions where to go. Why not create a mobile platform that gives them accurate information about the parks in their community."
Besenyi said the community outreach portion of her research is crucial, especially with youth populations.
"Instead of just asking youth what they want from their parks, we're involving them in an evidence-based process," she said. "Later, they can present that evidence as a service-oriented project to community leaders while also giving them valid information. It's a citizen-science type of project, and it helps open up lines of communication between the community and those with the power to make the necessary changes."
The benefit of community outreach goes far beyond facilitating communication between community leaders and their constituents, though.
"Just having that sense of ownership, especially for youth when they know they've helped make a change in their community, is priceless," Besenyi said. "They've got a sense of civic pride, and they're more likely to utilize and advocate for those resources in the future. That's always the best-case scenario."
Currently, Besenyi is in the process of expanding eCPAT technology to create an online database and infrastructure to support a variety of health promotion or park improvement projects and would like expand into community advocacy or Park Prescription interventions in the area. New to Augusta, Besenyi said one of her first steps will be to make more community connections and try to understand local needs. In the meantime, though, she encourages those interested to contact her.
For now, Besenyi is settling in nicely. "I have to say I have a really supportive department and great students," she said. "On top of that, the university and Augusta as a community is wonderful. There's a great mix of neighborhoods and parks and great people. Being from rural Kansas, I like the idea of knowing my neighbors and my community, and I look forward to working together to make our space a better place. For me, Augusta is an ideal place and hopefully, my work can make a difference on people's health and on our community."
In the near future, maybe you'll find that Augusta is a little greener and a little leaner place for everyone.
For more information about her research, contact Gina Besenyi at 706-721-2829 or GBESENYI@gru.edu.