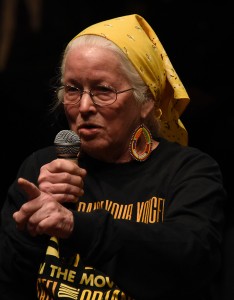 Civil rights activist Joan Trumpauer Mulholland visited Augusta University as the keynote speaker of the Dr. Martin Luther King Jr. Birthday Celebration held on Jan. 15.
The annual event, hosted by Augusta University, Paine College and Augusta Technical College, celebrates the life and achievements of King and other prominent civil rights activists.
Mulholland, who was the first white student to integrate Tougaloo College in Mississippi, had a few words for the late doctor.
"We know it wasn't just you, all by yourself, but you were the inspiration, the voice and the spokesperson for all of us, for all of us thousands of folks who were following you and working for change," Mulholland said.
And when Mulholland says "us," she truly means "us."
Her involvement with the fight for civil rights as a Freedom Rider brought her face-to-face with the Ku Klux Klan. It also earned her a cell on death row at the Mississippi State Penitentiary.
Those struggles, she said, only helped to strengthen her resolve, as similar acts strengthened the resolve of other civil rights activists across the country.
One such act was the March on Washington, an event Mulholland remembered fondly.
"Now, at that March on Washington Speech, he was dreaming," she said. "That wasn't even part of the speech. King gave his speech, and then he just went off, pie in the sky dreaming'. Us students, we thought, 'Man, get your feet back on the ground and do something!'"
Looking back, Mulholland said she could now appreciate what King's speech accomplished.
"Today, I can see that that dream was really a beautiful expression of the world we wanted to see and we're not there yet," she said. "We've still got a long, weary road. But you know, you just do one little thing, and you don't know where it'll lead."
She cited the lunch counter sit-ins and the expression of the Freedom Rides, claiming both had an immeasurable impact on American civil rights.
"Four guys sat at a lunch counter in Greensboro," she said. "Within weeks, thousands of people were demonstrating across the country. Virtually every southern town with a college had students sitting at those lunch counters. Mississippi was a little behind the times; they didn't get to it until 1963, but I was there."
Dr. Brooks Keel, president of Augusta University, said it was a tremendous honor to host the Martin Luther King Jr. Birthday Celebration on the university's historic Summerville Campus and that it was fitting for such a celebration to be hosted by higher education institutions.
"One of our great privileges and one of our greatest responsibilities is to create leaders, to provide the education, inspiration and opportunities for our young people so that they are equipped to step up and lead our community, our state, our nation and our world through the challenges and opportunities of tomorrow," he said. "Those challenges and opportunities are no less momentous and no less historic than those faced by Dr. King so many decades ago."
Keel ended his welcome by echoing Mulholand in asking that all students, all community members, carry on the legacy of Martin Luther King Jr in their everyday lives.
"Let us pledge to continue his legacy of leadership, to both be today's leaders but also to strive to educate and inspire tomorrow's leaders," he said. "To have the courage, the vision and the passion to make the world a place where Dr. King's enduring dream holds true for all."