Katie Foley, Jasmine Coleman and Isaiah Maddox have been selected as the student speakers for Augusta University's Spring 2023 Commencement ceremonies.
Katie Foley, who will receive her Master of Physician Assistant from the College of Allied Heath Sciences, lives by the "just be kind" motto and focuses on the value of grace and kindness. After graduation, she will take her national board exam in August and hopes to practice family medicine in the CSRA.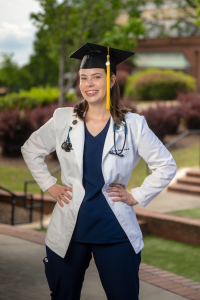 "As a PA student, I have also had to deal with the loss of a relative and some difficult changes in my family," she said. "I've gotten through all of this through prayer, making space for self-care, the support of my husband and parents, and simply learning to process and balance it all."
During her time as a student, she has received several honors and awards and currently serves as an elected Student Delegate for the American Academy of Physician Associates.
Foley is from Waynesville, North Carolina, and pursued a career in medicine for many years before moving to the greater Augusta area and getting accepted into the PA program. She will give the invocation at the Graduate Hooding and Commencement Ceremony at 6 p.m. Thursday, May 11.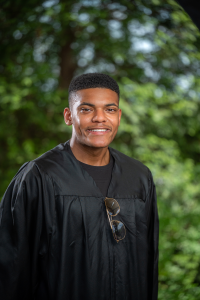 Isaiah Maddox, who will be receiving his Bachelor of Arts in Health, Society, and Policy from Pamplin College of Arts, Humanities, and Social Sciences, said one of the most difficult challenges he faced as a student was changing his major. He later discovered that college is not a straight path, and it took him finding the HSP program to realize that more opportunities come on a jagged path.
"Fail forward. That's the No. 1 thing I want the audience to remember from the ceremony," he said.
Maddox is from Covington, Georgia, and came to AU to pursue an education because of the university's ROTC program. He served as a mentor for the Multicultural Mentorship Program, an 1828 Ambassador and cadet in ROTC. He will give his speech at 2 p.m. Friday, May 12.
Jasmine Coleman, who will be receiving her Bachelor of Science in Elementary Education from the College of Education and Human Development, realized she should not be so hard on herself and not compare herself to other people by acknowledging that she is her own individual.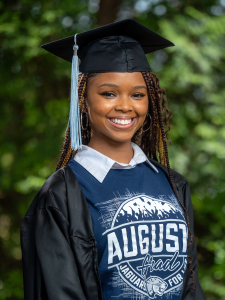 With her program, she has taught from kindergarten all the way up to fifth grade. After graduation, she plans to pursue her Master of Education in Instruction.
"It would be a really great mark to leave on Augusta University. To be able to share my speech with my fellow class, to give them a little bit of encouragement, because I know we're all going to face some struggling going into our lives," said the native of Swainsboro, Georgia, giving a sneak peek of the theme of her commencement speech.
You can hear her deliver her speech at 10 a.m. Friday, May 12.
Listen to Foley and Maddox on the In the Wild podcast and catch the livestream of commencement ceremonies.