When she was a child, Greenville, S.C., teacher Tonia Wideman lost her mother in a car accident. Last year, Dr. Doshandra Nelson lost her brother to illness. His death left his two children fatherless.
"It was laid on Tonia's heart for those kids, to help them through that grief period and on," Nelson said.
Wideman and Nelson, who are first cousins, formed C&B Arts Memorial Foundation to provide scholarships for high school seniors who have lost a parent. Recently, they began distributing Bear Hug Bags — personalized bags with the foundation's logo that contain a book about grief, a Teddy bear and a gift card.
The foundation has distributed about 20 bags to nonprofit organizations, schools and churches in Georgia and South Carolina. Nelson and Wideman reach out whenever they hear of a child in need, which includes a recent donation to Augusta University Health.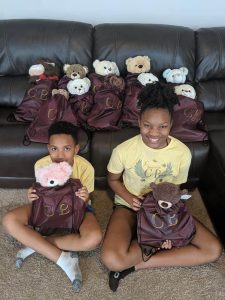 "The reason why AU is one of the hospitals we decided to try to work with is it is where my brother passed away. We grew up in Augusta, and so Augusta is kind of home for us," Nelson said.
They reached out to David Hunter, the AU Health family support coordinator, and learned of a colleague who had lost his battle with COVID-19. The employee had a 7-year-old daughter, Nelson said.
"One of the bags went specifically to her. We gave a couple of extra to be handed out as the situation arises," Nelson said.
Wideman said in addition to comforting children who are grieving, the foundation aims to support them not only with scholarships but also with workshops on interviewing skills, applying for scholarships and how to present themselves professionally.
"If anyone knows of anyone who can benefit from the bags or resources, please contact us," Wideman said.
To learn more about Patient- and Family-Centered Care at AU Health, call 706-721-7322.