In this series, Jagwire continues to feature people from around Augusta University and AU Health who keep Jaguar Nation running. Email the media relations team to share your story. This week we speak to Allise Riney with the Center for Patients and Families.
Where is your spot in JagNation?
Center for Patients and Families, as the Blue Coat Ambassador supervisor.
How long have you been a part of JagNation?
I joined AU Health in January 2018.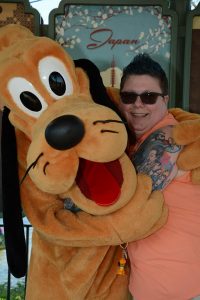 Most interesting thing about your job?
The most interesting thing about my job is that I lead a team of 25 hardworking individuals that are dedicated to serving our patients and guests. We as a team truly believe the words of Maya Angelou, "I've learned that people will forget what you said, people will forget what you did, but people will never forget how you made them feel." I love coming in, meeting new people, hearing their stories, connecting with them and making their experience better. Personal connection is key in the healing process.
Favorite thing about JagNation?
It does not matter one's title or role, everyone here at AU Health is committed to making our patients' and family members' experience the best it can be. The care here at AU Health is genuine. The patients are not just case numbers; they have names, families and unique stories.
Family:
I have been sharing my life with my beautiful wife Melanie Riney since 2005. Melanie also works for AU. We have two wonderful sons, Jesse Stroup and Johnathan Stroup. We will be welcoming Ian Kinlaw into our family through marriage in April of 2022. We are very excited for this blessed addition to our family.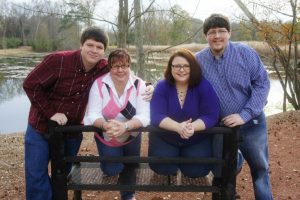 Hobbies:
Drawing, painting, camping, fishing, traveling, gardening, game nights with family and collecting anything Disney. Ink enthusiast.
Something the JagNation does not know about you?
I am an ordained minister and part of the pastoral team at The Way Worship Center. This is a ministry based on community, family, fun, connection and service. We don't "do" church. We "are" the church, purposeful about diversity on all fronts. We boldly celebrate God's children of all ethnicities, orientations, classes, gender identification and all other manner of social classification.
Something else not many know about me is I am covered in tattoos.
Augusta University values are compassion, collegiality, excellence, inclusivity, integrity and leadership. Describe how you fulfill one or more of these values.
I believe a team is only as strong as its leadership. I try to lead by example. I do not ask my team to do anything I am not willing to do myself. "Leadership is not about a title or a designation. It's about impact, influence and inspiration." — Robin S. Sharma
Inclusivity is so very important to me because I know what it is like to feel excluded.  I am happy to be part of an organization that is striving to be inclusive in all areas, that is willing to hear the stories of all people, working to make everyone's experience here better, excluding no one.