Augusta University's College of Science and Mathematics received numerous research grants during fiscal year 2019. Dean John Sutherland hosted a celebration of those accomplishments on Sept. 6, 2019, at the Maxwell Alumni House.
Fast-forward two years, and while the COVID-19 pandemic induced many challenges, the principal investigators of these grants carried on their research with students by their side.
Dr. Josefa Guerrero-Millan, assistant professor in the COSM, received funding from the Petroleum Research Fund, an endowed fund managed by the American Chemical Society that supports fundamental research directly related to petroleum or fossil fuels.
"My proposal tries to improve fuel extraction from rocks modeling the rocks' pores using microfluidic devices," she said. "This grant has given me three years of funding, allowing me to continue my research and support the students working in my lab, as 40% of the funding is allocated for students' stipends."
With the help of this grant, one of her students, Benjamin Overlie, who graduated with a Bachelor of Science in Biology in spring 2020, presented his results that year at meetings of the American Physical Society and the APS Division of Fluid Dynamics, both important conferences in the field.
Adapting through challenges
One of the many challenges Guerrero-Millan faced due to COVID-19 was that Nellie McKinney, senior physics major, had to switch her experimental project on 2D whipping instabilities to a computational method that could be used to predict this instability.
The 2D whipping project was completely experimental and required McKinney to be in the lab, which was closed from March to July 2020. When the fall semester started, it was not clear that the lab would remain open as the pandemic lingered.
Considering the risk of McKinney not being able to finish her project as a requirement for her graduation, Guerrero-Millan made tentative arrangements to allow McKinney to satisfy her graduation requirement as a computational project on her laptop. To the relief of both, the campus remained open, so the lab was open for McKinney, and she was able to complete the research project as it was originally designed.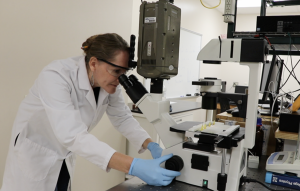 "This last year has been quite challenging," Guerrero-Millan said. "I look forward to continue working with my students to forward my research projects as well as seeing my students grow as independent researchers."
Sharing a similar sentiment, Dr. Laurence Miller, associate professor in the COSM, echoed his experience as the principal investigator of an NIH grant. Due to the nature of his research, COVID-19 and other obstacles prevented physical presence in the lab for a significant portion of 2020, which disrupted his ability to conduct his research with students.
"As is the case for everyone at Augusta University and beyond, COVID-19 and other obstacles have presented a significant challenge over the past year or so," he said. "But I am more excited than ever to make discoveries with these talented students and see what exciting things they go on to do next."
His grant's scientific aims include answering questions about the role of aging in the expression, mechanisms and treatment of pain-related functional impairment. An equally important aim of the grant is to allow students to engage in research and advance their professional development.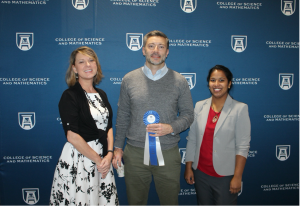 One highlight he noted is a research article  published in the journal Frontiers in Pain Research. The manuscript was written by students Jamani Garner, Laura Marshall, Nate Boyer and Vinaya Alapatt alongside Miller. Most importantly, it reports the findings of experiments examining the effects of the non-steroidal anti-inflammatory drug ketoprofen and the opioid analgesic morphine on pain-related functional impairment in mice.
The project had its origins as a Center for Undergraduate Research and Scholarship Summer Scholars Project conducted in 2019 by then undergraduate psychology students Garner, Marshall and Alapatt. Boyer assisted with some follow-up experiments as a first-year graduate student in the Master of Science in Psychological Sciences program's experimental track.
Garner, too, has continued her education with the Department of Psychological Sciences as a graduate student, where her thesis focuses on this work. Marshall and Alapatt advanced to Augusta University's graduate program in psychology as well.
Miller has also welcomed new students to the lab, including Lauren Green, Alison Herrington, Katherine McCartney and Abraham Teklu. They have been building their technical skills and will likely start on independent projects to address other questions raised in the grant.
Committed to research progress
Even with the disruption in the earlier part of 2020, Miller's research resumed in fall 2020 and spring 2021. The progress he and his student researchers have accomplished has been particularly gratifying.
"I've had the opportunity to work with some outstanding students. I'm extremely proud of what they've accomplished and pleased that they are starting to see some hard evidence of their efforts," he said.
Dr. Jennifer Bradford, associate professor of biological sciences, expressed similar satisfaction about working with students on her NIH R15 grant, which has a mission of exposing students to meritorious research and strengthening the institution's research environment. Bradford's project is focused on understanding the involvement of microglial NF-kappaB signaling on glioblastoma progression and treatment resistance.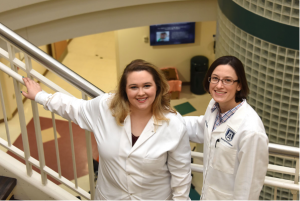 "Even with the disruptions caused by the pandemic, this grant has already allowed me to work directly with eight undergraduate students in the lab," she said. "These students include Honors Program students, CURS Summer Scholars and students enrolled for credit in research courses. Notably, we are finishing work on a manuscript started by former Honors Program student, Deanna Doughty, who is now a medical student at MCG."
Honors student Ryan Frerichs has contributed to work on a novel animal model, and a new honors student, Ashley Koch, has joined the lab and will take over this project. Frerichs, who was selected to represent Augusta University at this year's USG Academic Recognition Day, credited a lot of his research experience to Bradford's grant.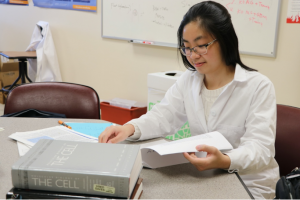 Bradford has also welcomed into her research lab her first graduate student, Amy Trang, from the college's new Master of Science in Biomolecular Sciences program.
"Amy has been a wonderful addition to the lab and has hit the ground running on several different aspects of the project. She has brought a high level of focus to the lab, and I'm excited to see where her project takes her. In-person mentorship and bench work were practically non-existent last summer, so I'm excited to be in the lab this summer working with her and Ashley, who will also be a CURS Summer Scholar."
Collaborations continue on
Bradford's grant also allowed for the continuation of meaningful collaborations with Dr. Ali Arbab's team at the Georgia Cancer Center.
"Dr. Arbab and his lab members have been wonderful about including my students in the portion of work being conducted in his lab, which expands their opportunities to learn additional techniques," she said.
The NIH R15 grant provides funds for Bradford and her student researchers to travel to present research findings at academic conferences.
"Although the COVID-19 pandemic canceled in-person conferences this year, my students could still present their work via an online format," she said. "We are looking forward to traveling next spring to present research findings in person."
Dr. Jessica Reichmuth, associate professor of biology, received a second two-year grant from the Georgia Department of Natural Resources Coastal Resources Division to further investigate the water quality impacts Noyes Cut has on the estuarine biology of the Satilla River estuary in coastal Georgia.
"We were hoping our long-term study could provide insight for agencies like the U.S. Army Corps of Engineers, DNR/CRD, water manager scientists looking to tackle similar proposals dealing with closing an obsolete navigational channel," Reichmuth said.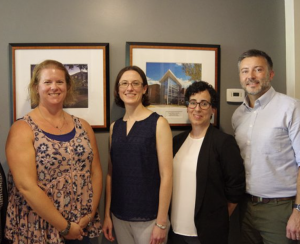 Even before Reichmuth received the first grant award from the Coastal Resources Division of the DNR in 2018, she and her research partners had been engaged in studying the impact of the Noyes Cut on the estuary. As early as 2014, seven CSM faculty and a large contingent of AU undergraduates began collecting samples to investigate the effects of the cut on the estuarine dynamics of the Satilla River.
Since no one variable could account for the disruptive biological impact of the Noyes Cut on estuarine ecology, or the impact of the restoration of the natural riverbed on the estuary, this research project was designed to be a holistic investigation. The project examines both bottom-up and top-down forces in the estuary focusing on vertebrate and invertebrate ecology, microbiology, plant communities, population genetics, geomorphology and water chemistry.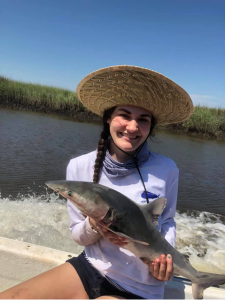 "Before our investigation, the last time anyone studied the Satilla River estuary was a fish distribution study conducted by Coastal Resources Division in 1987," she said. "Our project and the data created has created a long-term data set of one system where one didn't exist before, and the U.S. Army Corps of Engineers has used that data for a federally funded restoration project closing Noyes Cut."
While the initial project had several primary questions to answer, many student-generated projects also developed. Students who participated in the monthly sampling crews asked questions about snail response to nutrient enrichment (Lauren Wheeler and Skyler Walker), diatom diversity on the marsh surface (Elise Thomas), flatfish abundance and population dynamics (Abigail Bickle and Alex Coleman), fiddler crab response to increasing ocean water temperatures (Alex Kerce), and cartilaginous fish population diversity (Garrett Johnson, Rebecca Patterson, Brennan Silliman).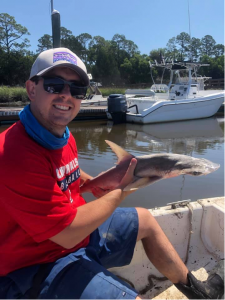 During the second year of the grant, Reichmuth and her students interviewed people fishing at two public fishing areas on the Satilla River to compare their catch to those who spend recreational time on the water. She recalled all the work was interrupted when the pandemic happened.
"Just like elsewhere in the scientific community, research in the field came to a grinding halt. Our in-progress creel survey stopped in March 2020."
Field research was non-existent during that period and was one of the last types of research to be revived due to travel restrictions and social distancing requirements. The pandemic impacted state and federal entities. For example, USACE's initial plan for construction in mid-2019 has been pushed back to late 2021/early 2022. On the plus side, the money has been earmarked for Noyes Cut closure.
"Nonetheless, this downtime has provided us a chance to do some lab work with our food web project, using DNA extraction to build complicated food chains," said Reichmuth. She explained that a food web consists of all the food chains in a single ecosystem and is much more complex. "We have had the time to analyze other data and are preparing two manuscripts for submission in late 2021."
Separate from the food web project, a manuscript on mitochondrial gene haplotypes will be published in a forthcoming volume of Southeastern Naturalist. Reichmuth and her team have also become a professional resource to Science for Georgia, a nonprofit organization. As a part of Water Quality Month, the team contributed questions to that organization's Scavenger Hunt.
Even though the project funding has ended and the USACE Noyes Cut closure project is on hold, Reichmuth and her team of students have continued analysis of data already collected.
They look forward to being out on the water to monitor and investigate the effects of a closed Noyes Cut in the future, post-pandemic.
"What has been most everlasting in this scientific endeavor is the community friendships we have made with people who live near and have an interest in the Satilla River. These types of relationships are refreshing because they, too, are rare," Reichmuth said. "AU faculty and students became extended family members and vice versa."