Augusta University vocal performance major Lily Brannigan recently placed third in the country in the musical theatre division at the National Association of Teachers Singing (NATS) conference in Chicago. She was accompanied by Rhett Lever, an AU vocal performance major with a secondary focus in collaborative piano.
Dr. Christina Amonson, an assistant professor of voice and the director of the Opera Initiative at Augusta University, said Brannigan and Lever submitted video auditions for the NATS competition, which were adjudicated by national-level voice teachers.
"Lily was advanced to the semifinal round held at the national convention in Chicago," Amonson said. "Rhett Lever was her sensational pianist. They gave a fabulous performance in the semifinals and were selected as one of four finalists. In the final round, Lily won third place with a scholarship award of $450."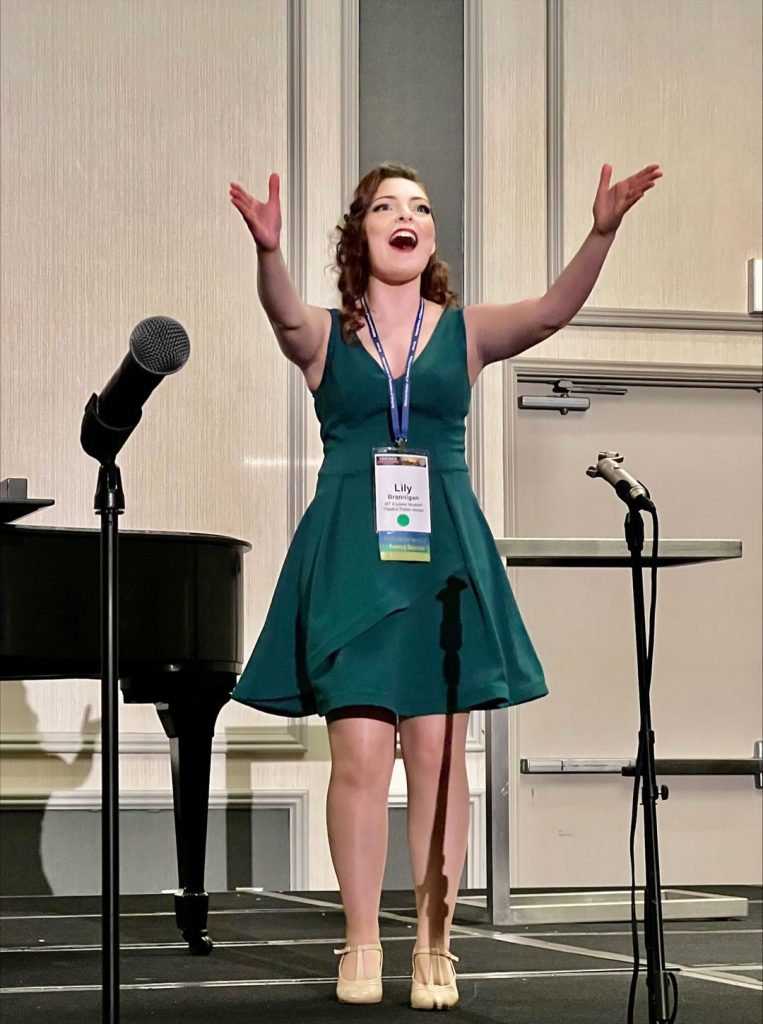 For the national semifinals, Brannigan sang "Roll in the Hay" from Young Frankenstein by Mel Brooks, "Mister Snow" from Carousel by Rodgers & Hammerstein and "My New Philosophy" from You're a Good Man Charlie Brown by Clark Gesner. For the national finals, Brannigan sang "Roll in the Hay."
"There's something extraordinary about being in a room with students from across the nation who share the same passion," Brannigan said. "It was incredible to witness how music can connect us, despite all odds. It was an honor to perform, and I couldn't have done it without the incredible guidance I've received under Dr. Amonson and the AU Music Department."
There was a long road that led Brannigan and Lever to NATS in Chicago.
"More than 3,000 students sang in the initial round of competitions across the country," Amonson said. "First is the state level for Georgia NATS, and those auditions were held in October."
Augusta University had 10 students compete at GANATS. Brannigan and Larianna Goss won for musical theatre and Rhett Lever won in both classical and musical theatre categories.
"Next was SERNATS in March, which is the southeast region of NATS held at Florida State University," Amonson said. "AU had six students compete. Lily, Larianna and Rhett all placed in the top five, qualifying them to audition for the national competition. This all led to Lily winning third place in the final round in Chicago."
Dr. Angela Morgan, chair of the music department at Augusta University, was thrilled when she learned of Brannigan's success at NATS.
"The music department is so proud of Lily Brannigan's outstanding work at the NATS national conference in Chicago this year," Morgan said. "Kudos to this exceptional student and her mentor."
Amonson said Brannigan has worked hard to earn this national recognition.
"Lily sang the role of Mary Lennox in AU Opera's production of The Secret Garden and she has sung leading roles in productions with The Augusta Players," Amonson said. "She is a talented singer and performer and her work ethic sets her apart. Her dedication to her craft offers audiences something special every time she sings. I'm so proud of her hard work and delighted for this recognition."