Concluding a remarkably successful 40-year career in research and higher education administration, Augusta University President Brooks A. Keel, PhD, today announced he will retire next summer following the 2023-24 academic year. Keel will retire after more than 14 years in the University System of Georgia, serving as president of Georgia Southern University before moving to Augusta. Keel has been president of Augusta University since July 2015.
"Serving as the president of Augusta University has been the capstone of my career and one of the greatest honors of my life," said Keel, who received his undergraduate and graduate degrees from the university's two legacy institutions. "The decision to leave as so many wonderful things are happening at Augusta University is bittersweet, but I have always wanted to end my career on a high note, at a point when First Lady Tammie Schalue and I can most enjoy the next chapter of our lives together."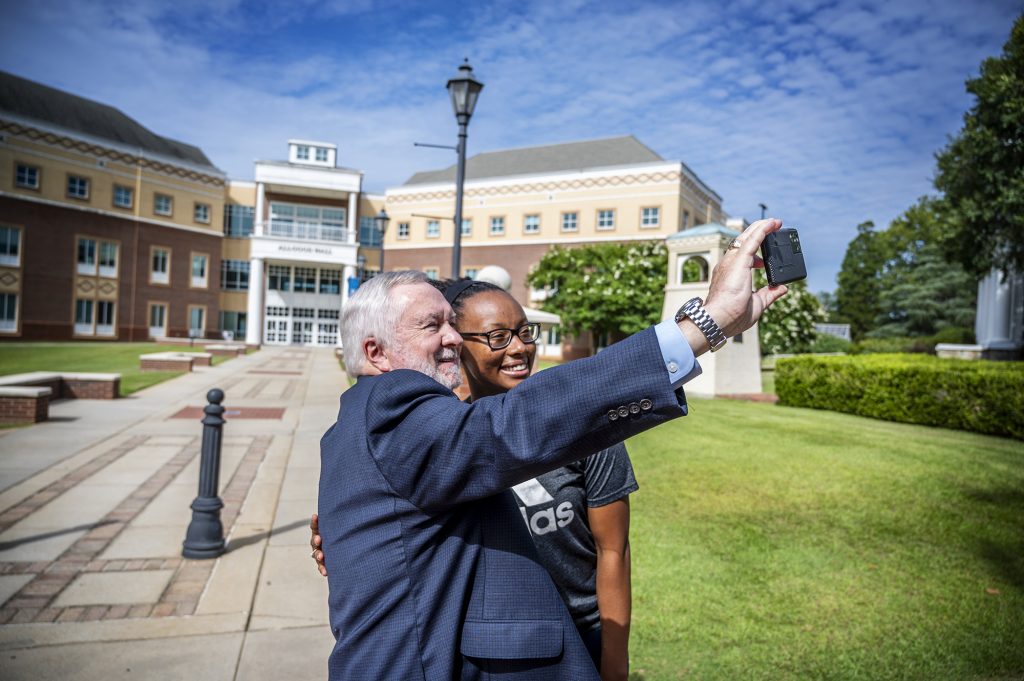 Keel arrived at Augusta University during a critical time in the institution's history. In 2013 the two legacy institutions, then known as Georgia Health Sciences University and Augusta State University, merged into the short-lived Georgia Regents University, becoming Augusta University in 2015 following Keel's appointment as president.
As Keel led a comprehensive, enterprise-wide rebranding campaign for Augusta University to unify the two main components of the institution and to regain alumni, donor and community support, the university achieved the first of what would become eight straight years of enrollment growth averaging 3% per year and totaling 25% since 2015. Funding to the university from the National Institutes of Health has also increased 37% during that time, and the university's economic impact on the state has grown by nearly $1 billion, a 48% increase since Keel's appointment.
READ MORE: Augusta University adds nearly $3 billion, 21,000 jobs to Georgia economy
"President Keel's lasting legacy of service and leadership will impact Augusta University and its campus community for years to come," University System of Georgia Chancellor Sonny Perdue said. "He has been a steadying presence for our students for more than a decade and has played a key role in building up Augusta University's research and reputation. Brooks will be missed, and we wish him and Tammie our best as they move toward their next adventure."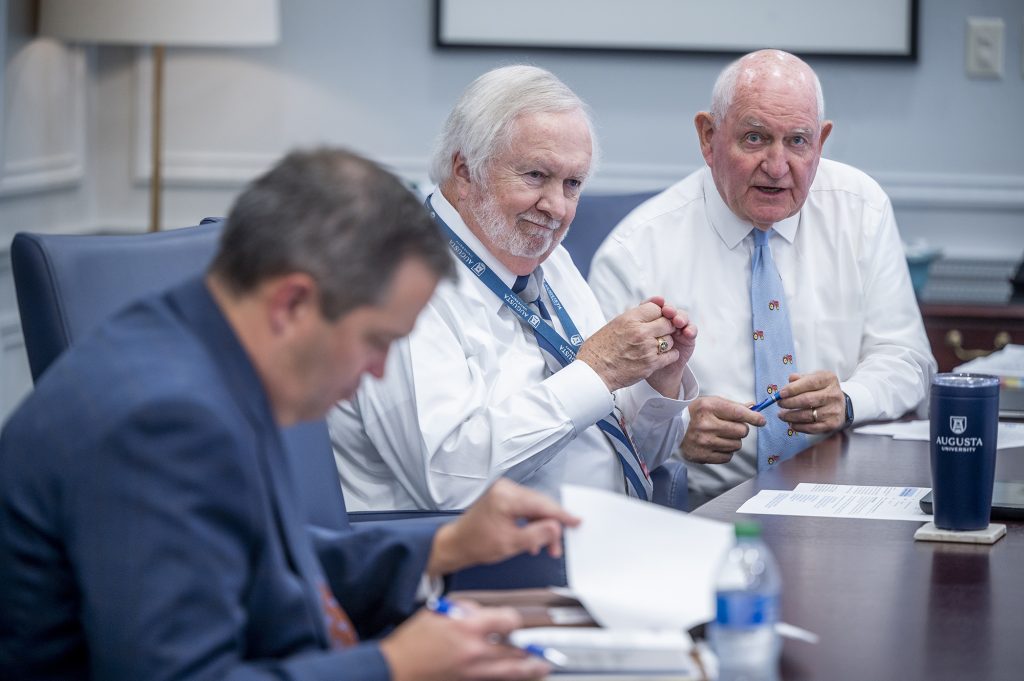 During Keel's presidency, more than 18,000 students have graduated from Augusta University and gone on to success in job fields as varied as the 160-plus academic programs at the university, 40 of which were added since 2015, including cybersecurity engineering (Augusta University's first engineering degree), animation, biomedical systems engineering, neuroscience, digital and visual storytelling, and sports management, among many others.
READ MORE: Augusta University posts second-highest enrollment growth among USG institutions for fall 2022
"Since the day I set foot on campus, I have been so proud of the academic achievements, community engagement and career success of our students and alumni, who are the real reason we all do this job," said Keel. "I also have had the honor of working alongside outstanding faculty and staff throughout my time at Augusta University who have allowed me to serve as a mirror, reflecting the many, many academic, research and community engagement accomplishments they have achieved for the university."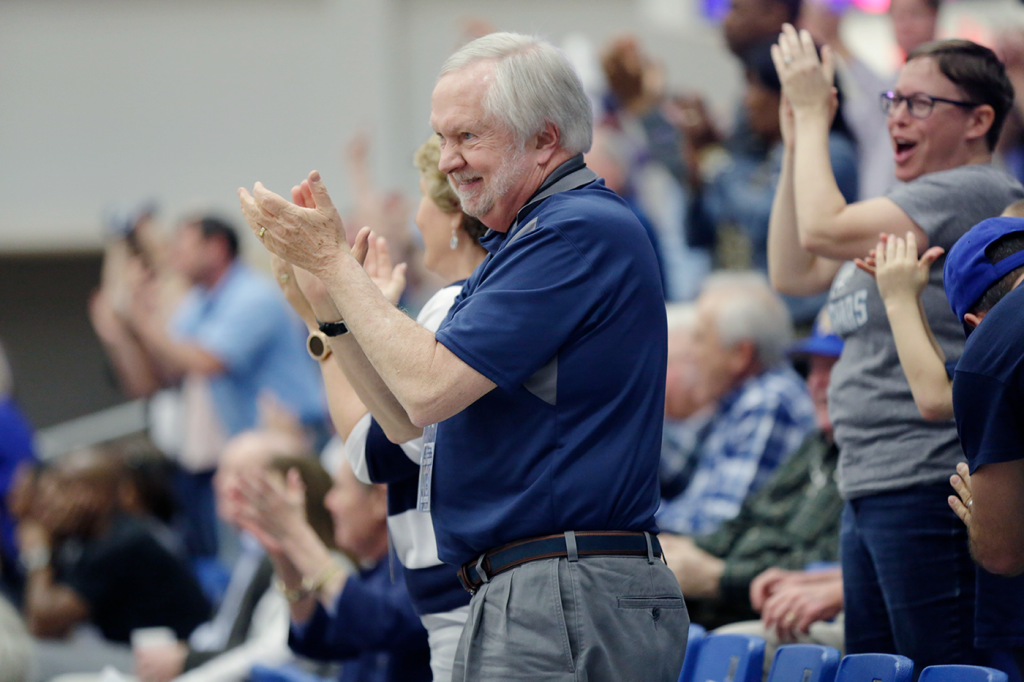 Today, Augusta University is the only university in the country that has more than $50 million in annual NIH funding, while also being part of the U.S. Cyber Command's Academic Engagement Network and in the top 5% of universities that improve economic outcomes for students with low- and moderate-income backgrounds. The university is home to the state's only public academic medical center, anchored by the Medical College of Georgia, and is also home to the state's Georgia Cyber Innovation and Training Center, which opened during Keel's tenure as the largest single investment in cybersecurity of any state in the country.
Other significant additions to Augusta University during Keel's presidency include the founding of the School of Computer and Cyber Sciences, Augusta University Online, and the School of Public Health; the Transdisciplinary Research Initiative in Inflammaging and Brain Aging, and the Immunology Center of Georgia; the four-year Medical College of Georgia Partnership Campus in Savannah; and a new College of Science and Mathematics building, two on-campus residence halls, and a major expansion of research laboratory space in the M. Bert Storey Cancer Research Building.
Most recently, in his capacity as acting CEO for Augusta University Health System, Keel oversaw the completion in late August of a partnership with Wellstar Health System to create Wellstar MCG Health. Through the partnership, Wellstar will invest nearly $800 million over the next 10 years in facilities and infrastructure, including more than $200 million allocated to Augusta University Medical Center; and capital for a new hospital, medical office building and ambulatory surgery center in Columbia County.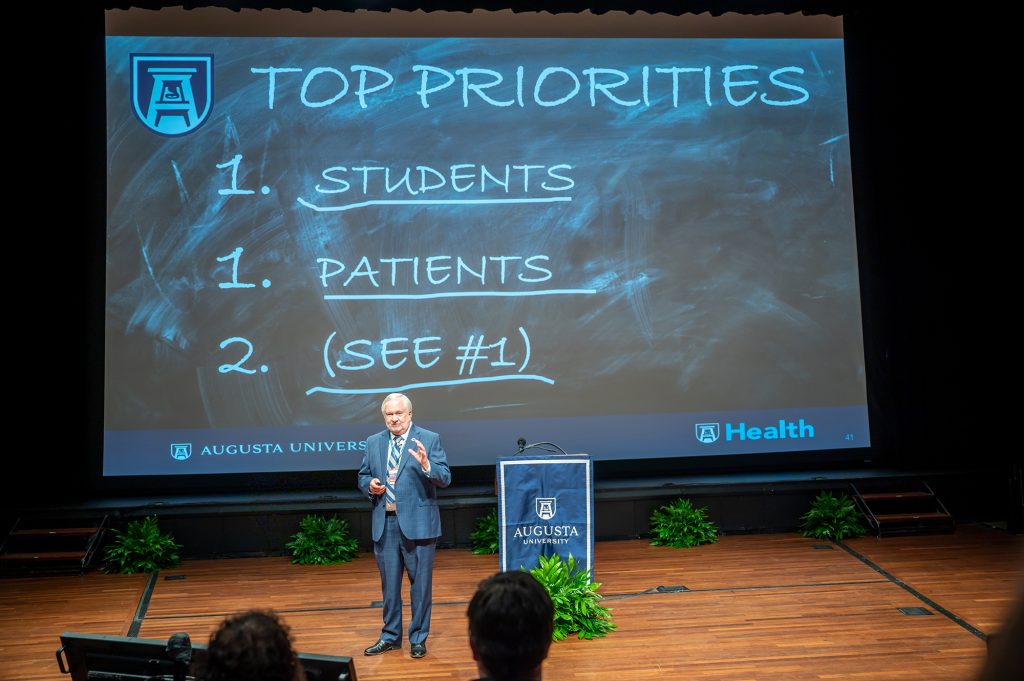 Keel came to Augusta University from Georgia Southern University, where he served as the university's 12th president. As president of Georgia Southern, Keel focused on expanding undergraduate and graduate programs and worked to raise the national profile of Georgia Southern academically and athletically. Under Keel's leadership, Georgia Southern launched the Allen E. Paulson College of Engineering and Information Technology; secured funding for over $190 million in campus capital improvements; and moved the athletic programs to the Football Bowl Subdivision, the highest level in college sports.
Prior to returning to his home state of Georgia, Keel served in the top ranks of academia, research and economic development in successive appointments at Louisiana State University, where he served as vice chancellor for research and economic development, Florida State University and the University of Kansas School of Medicine–Wichita.
An internationally recognized expert in reproductive medicine, Keel is a member of the Society for the Study of Reproduction, the American Society for Reproductive Medicine, the American Association of Bioanalysts and the Society for Gynecologic Investigation, among others. He has also served on numerous boards, including the American Board of Bioanalysis, the American Association of Bioanalysts Board of Registry, the Oak Ridge Associated Universities, the Southeastern Universities Research Association, and the Executive Committee of the Council on Research Policy and Graduate Education of APLU.
During years as a basic science and clinical researcher, Keel served as principal investigator or co-principal investigator on externally funded grants and contracts totaling more than $26 million. He is the author of 66 peer-reviewed scientific publications, 78 peer-reviewed abstracts, 19 book chapters and has edited four books in the areas of reproductive medicine and biology.
Keel earned a bachelor's degree in biology and chemistry from Augusta College in 1978, and a doctorate in reproductive endocrinology from the Medical College of Georgia in 1982.
"Over my career I have had the pleasure of working for 10 chancellors and presidents in four different university systems, and I can say without hesitation that the University System of Georgia is the very best system I have experienced, and I have enjoyed working with Chancellor Perdue," said Keel. "Over the coming months, I will continue to work with Chancellor Perdue and the Board of Regents to ensure a smooth administrative transition next summer. We still have much work to do, and so many more things yet to accomplish, and I remain enthusiastic for a very bright future at Augusta University."