As Hurricane Dorian approaches the Georgia and South Carolina coasts, Augusta University volunteers are welcoming evacuees with open arms and medical care.
Over 185 students, faculty and staff have already signed up through the university's Office of Volunteer Services and Engagement to serve those in need in the Augusta area, and there are 131 active members in the university's Medical Reserve Corps ready to assist.
"I am overwhelmed at the positive response that our AU family has had to our call for volunteers in the relief effort for Hurricane Dorian, and I applaud the teams in the Office of Volunteer Services and Engagement and CEPaR for managing these efforts," said Joe Webber, director of the Office of Critical Event Preparedness and Response (CEPaR) at Augusta University. "There has been such a great spirit of generosity and I feel even more proud to be a member of this institution."
By Tuesday, Augusta University had received four Neonatal Intensive Care patients from Savannah's Memorial Health University Medical Center, and AU volunteers have already cared for dozens of evacuees at various shelters in the Augusta area. However, as the Category 2 storm approaches, university officials anticipate the number of evacuees will grow significantly over the next few days.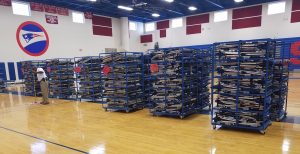 If you are interested in volunteering in any capacity during Hurricane Dorian, complete the Emergency Relief Volunteer Application form here. If you would like to make an even bigger impact in the future, consider joining the university's Medical Reserve Corps, which is a team of medical and non-medical volunteers who assist in a public health emergency or disaster.
All volunteers are required to undergo a background screening and attend a brief training orientation related to their specific assignments to ensure they are fully equipped to be successful. The application form will also allow you to share your schedule availability and any special skills or certifications that may support this effort.
Once your application has been processed and confirmed, you will be contacted, based on need, by a member of our emergency response team within the next couple of days with instructions regarding your volunteer placement and schedule.
Volunteer responsibilities include tending to evacuees' medical needs, training other volunteers on how to serve in a shelter environment and doing physical work like loading and unloading shelter supplies.
The Augusta Fire Department will be accepting donations for Hurricane Dorain evacuees at the old fire station at 2163 Central Ave. until 7 p.m. today, Sept. 3. Items needed include packaged diapers, baby wipes, unused pillows, insulin syringes, AA batteries, saline solution and disposable bed pads.
See news coverage of how Augusta University is serving evacuees from News 12/NBC 26, News Channel 6, Fox 54 and the Augusta Chronicle.